Brooklyn Magazine's 4 Rising Stars at The Other Art Fair Brooklyn
Ahead of the third edition of The Other Art Fair Brooklyn, we asked the local experts at Brooklyn Magazine which artists they are most excited to see. 
Brooklyn Magazine is a smart & stylish quarterly that celebrates the authenticity, charm and diversity of Brooklyn through the people living there. BK Mag is division of Northside Media. Witness the Brooklyn Magazine team's own creativity in action at the Northside Festival where they will be largely curating most of the events, features and content.
Luis Martin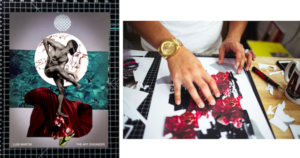 Los Angeles born but now practicing in New York, Luis Martin is a self-proclaimed 'Art Engineer'. Of his practice Luis states that 'Collage, to me, is the ultimate democratic and political art practice… I give meaning to the images around me instead of it imposing itself on me, through media and advertisement.' See more of Luis' work.
Gregory Reid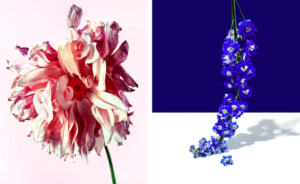 Photographer Gregory Reid beautifully and skillfully accentuates the vivid colours of the natural subjects in his photographs. Having graduated with a BFA in photography from the School of Visual Arts, Gregory's photography ranges from fine art to editorial. The upcoming edition of The Other Art Fair will be Gregory's second time exhibiting. See more of Gregory's work.
Jean Louis Frenk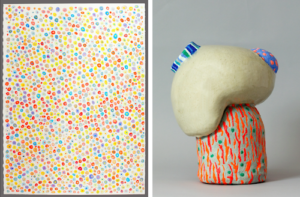 Ranging from assemblages with found objects to encaustic paintings and drawings, Jean Louis Frenk is best known for his colorful and biomorphic ceramic sculptures. This upcoming edition of The Other Art Fair will be Jean Louis's first time exhibiting. See more of Jean Louis' work.
Dan Sabau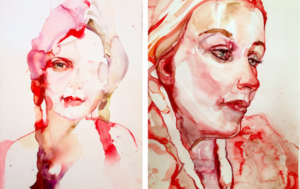 Known for primarily working in portraiture, Dan has recently moved to using watercolour as a medium rather than his traditional oils. Of working with watercolour Dan Sabau states that he enjoys '…its unpredictability and tension' and that he appreciates the nature of watercolour and it's ability to force him to relinquish his control. See more of Dan's work.
The Other Art Fair Brooklyn returns for its third edition from May 3-6 2018 at Greenpoint's Brooklyn Expo Center. Meet and buy directly from 130 of today's best emerging artists. Buy your tickets for the fair online now.
SaveSave
SaveSave
SaveSave