Brooklyn: Introducing the Faces Behind the Campaign
Meet the talented Fair artists specially selected to take part in The Other Art Fair Brooklyn's marketing photoshoot.
This coming edition of The Other Art Fair (November 9-12, Brooklyn) will mark the twenty-second edition of the fair. Exhibiting artists Carlyn Janus, Evan Paul English, Mikka Stiegler and Keri Oldham were selected to take part in this landmark edition's marketing photoshoot to be the face of the Fair's leaflets, tickets and posters. Meet and buy from them all at The Other Art Fair this November 9-12.
Carlyn Janus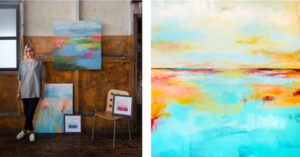 Carlyn Janus is a native-born Chicago artist, living in NYC, specializing in acrylic on canvas and mixed media on paper. Her work is abstract in nature, often mixing the organic elements of her surroundings with surreal, dream-like textures and layers. She is a graduate of the Art Institute of Chicago and has over 15 years of professional experience working within many art fields. 
Evan Paul English
Evan Paul English is an interdisciplinary artist, born and raised in Meridian, Idaho, and currently resides in Brooklyn, New York. Evan's work ranges from sculpture, installation, painting and tattooing. This upcoming edition of The Other Art Fair Brooklyn will be Evan's first time participating."
Mikka Stiegler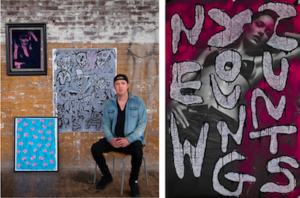 Mikka Stiegler is an Australian contemporary visual artist working in the mediums of painting, drawing, photography and printmaking. He currently lives and works in New York City.
Keri Oldham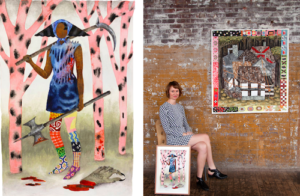 Keri Oldham's large scale watercolor paintings depict bloodied tableaus inspired by folk art, mythology, medieval demonology and fantasy. Her paintings are modern allegories for women's continued fight for success and identity in modern life.  Oldham's work was recently spotlighted by New York Magazine/ The Cut, AM New York and Arte Fuse for her solo-exhibition Blood Banner at Lazy Susan Gallery, NY and work in Nasty Women at the Knock Down Center in Queens.
The Other Art Fair returns to Brooklyn's Brooklyn Expo Center on November 9-12, 2017. Meet and buy from these artists and many more! For more information about the November Fair Program visit The Other Art Fair's website.