Brooklyn: Introducing Selection Committee Member Jessamyn Fiore
We are thrilled to unveil our esteemed Brooklyn Selection Committee. These members of a globally significant art community set the high standard of the fair, ensuring you can buy from our artists with the confidence that you are investing in the very best of emerging talent.
Fourth to join the selection committee is New York based Curator and Writer, Jessamyn Fiore.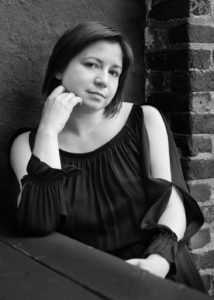 Jessamyn Fiore is  also currently the Curatorial Advisor for Rawson Projects gallery in New York, a co-founder of Nasty Women Exhibitionas and the co-director of the Estate of Gordon Matta-Clark. She was the curator of the Jean-Paul Najar Foundation in Dubai, UAE, from 2015-2017 and Director of Thisisnotashop, a not for profit gallery space in Dublin, from 2007-2010. She received a Masters in contemporary art theory, practice, and philosophy from The National College of Art and Design, Dublin, in 2009.
Exhibitions curated include 112 Greene Street: The Early Years (1970–1974) at David Zwirner in New York (2011), which led to her editing the critically acclaimed, eponymous catalogue, published by David Zwirner and Radius Books (2012); and a second exhibition for David Zwirner New York titled Gordon Matta-Clark: Above and Below (2013).
In the past few years she curated II Machines: Clive Murphy & Trevor Tweeton at the Knockdown Center in Mespeth, Queens (May 2015), was a partner at Rawson Projects gallery on the Lower East Side (Sep 2014- May 2015) organizing exhibitions by Nathaniel Mary Quinn and Lilja Birgisdottir among others; curated the inaugural exhibition Vision & Legacy at the Jean-Paul Najar Foundation in Dubai, UAE (March 2016); curated Liz Nielsen & Max Warsh at Sirius Arts Centre in Cork, Ireland (June 2016) and at Pallas Projects, Dublin, Ireland (August 2016).