Bristol: The Other Private View Project
Exclusive to the 2017 edition of The Other Art Fair Bristol (1st – 3rd September), the team are delighted to present a collaborative Private View invitation with one of the Bristol fair's 80 promising artists. For this special Private View project, fair artist Joanne Hummel-Newell was invited to produce a unique response to the fair's ethos in presenting 'The Other'.
_
_
Having recently been selected to take part in a number of prestigious exhibitions from the Royal Academy Summer Exhibition to a collateral exhibition at the 53rd Venice Biennale, The Other Art Fair recognised emerging artist Joanne Hummel-Newell as the perfect candidate to design this summer's Private View invitation. Joanne has taken her inspiration from the Bristol waterfront, the historic Arnolfini building and our unique Summer fair and used it to create this vibrant collage, 'Riverside'.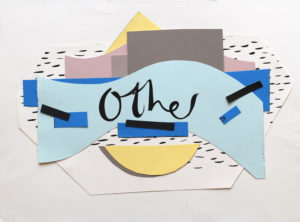 Joanne Hummel-Newell will be taking part in her 3rd edition of The Other Art Fair this summer in Bristol, having exhibited at the past three consecutive London edition. Alongside a collection of her work to sell at the fair, Joanne will also be bringing her recent collaborative project, the Cardboard Castle for visitors to enjoy.
'A towering structure built from willow and found cardboard. An evolving platform for public free  expression.Visitors paint, write and colour using children's poster paint. What they create is thoughtful, funny, political, loving, spiritual and sometimes a little rude. It's a message board, political placard or a shrine to absent friends. Sometimes its a giant colouring book.The democratic nature of the artwork means that the artists become facilitators in the creation of an ephemeral collaborative intervention and the ownership of the work is shared.'
The Other Art Fair returns this 1 – 3 September to Bristol's harbourside Arnolfini, presenting 80 handpicked emerging artists for art lovers to meet and buy directly from. View the fair's Summer Programme or scroll through the exhibitor list to plan your visit to the fair.