Bristol: Rebecca Wilson's 10 Must See Artists at The Other Art Fair
This 26-29 July 2018, The Other Art Fair returns to Bristol to a new venue at The Passenger Shed, to present 100 of today's best emerging artists to an audience of art buyers and enthusiasts. Celebrated for its unique visitor experience, The Other Art Fair's 27th edition will continue to delight and inspire art lovers with a tightly curated and distinctive program of fair features that will create a platform for the unexpected at the fair. Buy your tickets for The Other Art Fair Bristol, opening 26 July 2018. 
Saatchi Art Chief Curator Rebecca Wilson selected 10 of the fair's exhibiting artists she's most excited to see. Meet them all below…
Fintan Whelan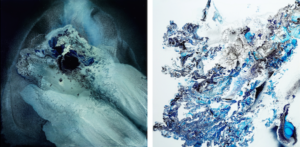 Fintan Whelan's method of painting is characterised by an immediacy of process and a urgency of vision, which he has been developing over several years. Despite the appearance of serendipity, Whelan's technique involves constant assessment, measurement and exploration of pigments and their configurations, combined with varnishes, oils and a variety of materials. See more of Fintan's work.
Alexander Korzer-Robinson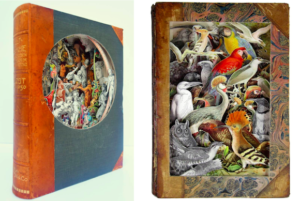 Alexander Korzer-Robinson creates narrative scenarios using antiquarian books and the art of traditional collage. Through deconstructing and reconstructing nostalgia, Alexander illustrates the processes that form our inner landscapes and our subconscious. He also sets himself and his work boundaries by using pre-existing media and working in a small format. See more of Alexander's work.
Iain H. Williams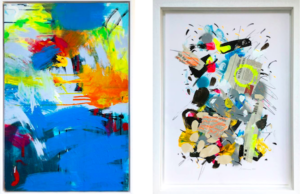 Iain Williams works across a range of mediums within painting and photography. An artist with over 25 years experience, Iain will be participating in his debut edition of The Other Art Fair this summer. See more of Iain's work. 
Tomasz Cichowski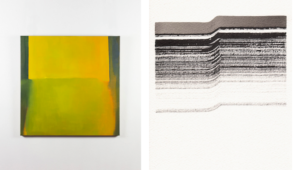 Tomasz Cichowski practices across a number of mediums including painting, drawing and photography. Of drawing Tomasz states that 'Drawing is a fundamental type of expression: It's a trace left on the piece of paper, never preprogrammed, planned or prebuilt.' See more of Tomasz's work.
Mari Quiñonero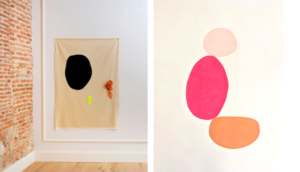 Of her work and technique, Mari Quiñonero says: 'I love to play. I feel passion for volumes, shapes, textures, colours and different materials. All these elements allow me to play around and define the compositions that make my own creative universe. I am completely self-taught and I feel absolute freedom when choosing techniques." See more of Mari's work. 
Maxim Fomenko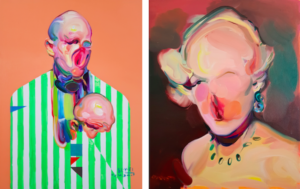 Maxim Fomenko's work often interprets the masterpieces of his role models, Picasso, Bacon or Hockney. Using the old technique of layer painting, Maxim adds a combination of craftsmanship and modern humour to make the work truly original. See more of Maxim's work.
Sophie Capron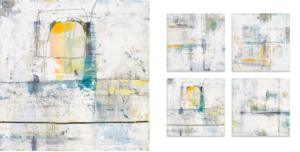 Sophie Capron's art celebrates the process of decay and the interaction of the old and the new. To reflect on this motif, Sophie upcycles and reuses old canvases, leftover paint and other donated componants to make up the staple materials used in her paintings. See more of Sophie's work. 
Hermione Carline

Exploring themes of light and shadow, translucence and opacity through her paintings, drawings and prints, Hermione Carline imbues her work with an immersive and atmospheric quality creating pieces that are abstract but firmly rooted in the material world. See more of Hermione's work. 
Karen Stamper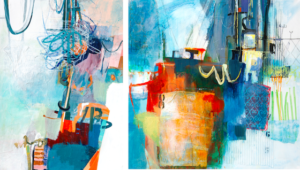 Karen Stamper's signature style consists of collaged surfaces, bold vibrant colour, and strong architectural shapes and patterns. By layering painted tissue, found pieces of paper and acrylic, Karen created an integrated collaged surface for the viewer to enjoy. See more of Karen's work.
Clare Crouchman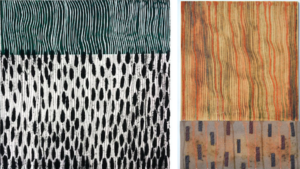 Clare Crouchman has been creating her highly distinctive ceramic wall panels since setting up her own studio in 1997. For Clare, painting layers with different stained clays and inlaying different clays, drawing into the clay is a crucial element to her work. See more artworks by Clare Crouchman.