Spring Pops of Color The Understated Way
Spring has sprung! At Saatchi Art HQ in Los Angeles, California we've been treated to a dazzling display of flowers this year.  Sunny yellows, chartreuse greens and pops of pinks and blue have made for a veritable outdoor wonderland of cheerfulness and inspiration, but how to keep the Spring-in-your-step once you're back indoors? Somehow scattering a bunch of neon or primary-colored accessories throughout your mostly neutral home feels a little… rash?
Here are a few suggestions for incorporating bright spring accents in a more understated way…
1. Statement-making artworks in slightly softened brights are an incredibly adult way to give your home a spring refresh.

"Suggestion-23" by Saatchi Art artist Ira Ivanova, 35.4 H x 35.4 W, $1,890 (Image: Saatchi Art)
This neutral bedroom maintains a sophisticated vibe and it's calming energy, but feels instantly more cheerful with the addition of a Springy abstract painting by Norwegian artist Ira Ivanova. The slightly muted greens, blues and pops of orange give the sense of being in a poppy-field under a clear summer sky. Certainly a lovely thought to fall asleep to every night, no?
2. A small accent table in a vibrant hue gives just enough pop, while still playing well with a minimalist space.

"Reality & Ideality No 1108," by South Korean artist Taeil Kim, 36 H x 24 W, $5,410 (Image: Saatchi Art)
How much do you love that little yellow table? It looks like the spunky sidekick. The extrovert to the introvert chair. What we also love about it, is how well it compliments the aqua blues and pinky-reds of this original figurative painting by Saatchi Art artist Taeil Kim.
If you're willing to be a little more daring with your Spring refresh, check out this Pop Art bull terrier from UK based Saatchi Art artist Andy Shaw.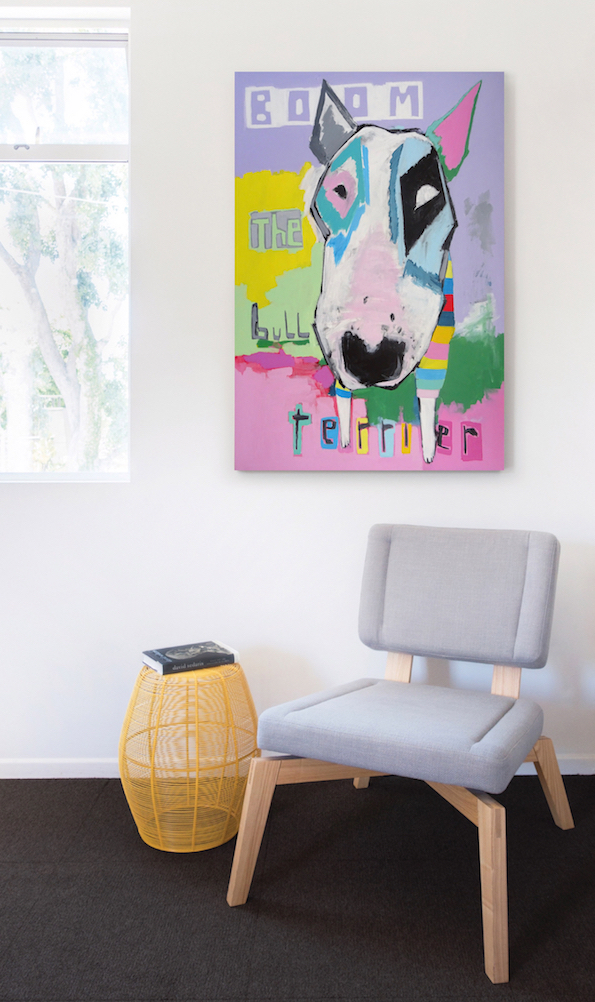 "Boom the Bull Terrier," by Andy Shaw, 46.1 H x 31.9 W, $2,225 (Image: Saatchi Art)
3. Get a little sneaky and a little cheeky with touches of bright paint in unexpected places.
This bathroom was already lust-worthy with it's gray beadboard wall and minimalist chrome accents, but the unexpected orange accents are down right delightful. How excellent would this small Limited Edition figurative work by Patricia Derks look in there?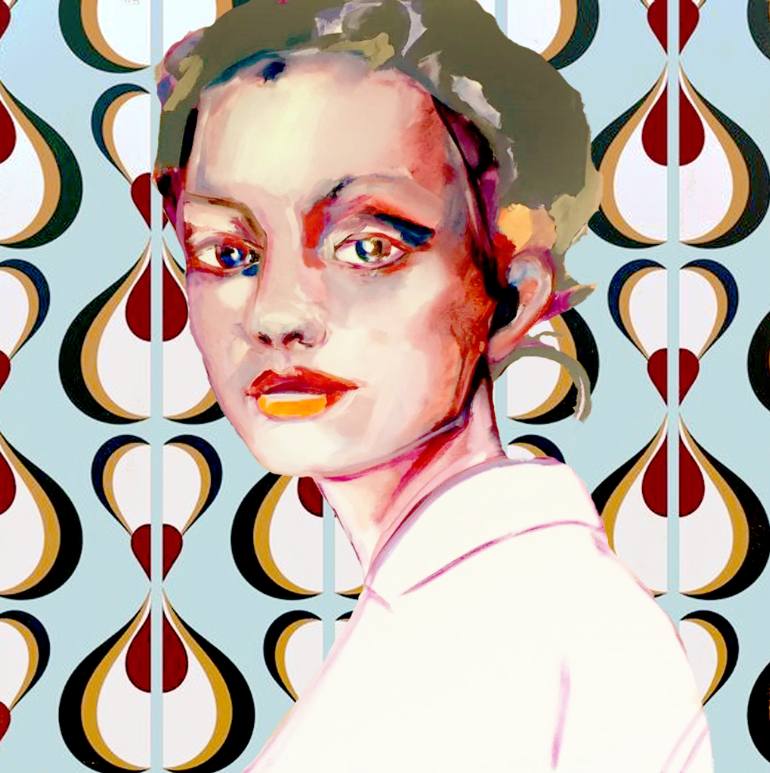 "
Mia
," Limited Edition of 10 by Patricia Derks,15.7 H x 15.7 W, $345 (Image:
Saatchi Art
)
Also surprising and playful, a pop of Strawflower Orange in an otherwise neutral stairway.
Shop the cheerful, Spring-y artworks featured here and more in our 'Bright Pops of Color' Collection, and feel empowered to spread the season's colors in a totally chic and understated way.