Q&A with Wendy Haworth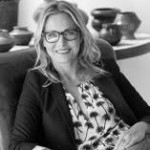 Los Angeles-based Wendy Haworth and her team specialize in residential and commercial interior and product design. Wendy Haworth Design, Inc. is a full service design studio offering design consultation, space planning, custom furniture design, and branding services.
Wendy creates custom interiors with a collected feel that reflect the personality / vision of her clients. She travels the globe to seek out furniture and accessories and assembles collections of unique pieces for her projects.
Before turning to interior design, Wendy worked for Vogue and Elle magazines as a photo editor. WHD Inc.'s most recent commercial projects are Café Gratitude in Venice, Winsome in Echo Park, Gratitude in Newport Beach, and Gracias Madre restaurant in West Hollywood.
How would you describe your taste in art?
That's a tough question. I love so many different artists/mediums but tend to favor abstract painting the most.
What type of art do you collect?
Anything that speaks to me. There isn't any one medium or genre that I gravitate to but tend go with my gut instinct. As a designer, it's fortunate that I can live with a piece for a while and then release it into the world when I'm ready to let it go.
What is the one work of art you would want to own if you had an infinite budget?
Willem de Kooning's Door to the River —I love the color and scale. However, I'm sure  the Whitney won't ever let it go…
What music (genre/band) do you have on your playlist?
As with art, my tastes are broad. I love listening to the Paris station Radio Nova as well as KCRW – particularly Anne Litt's weekend program. Some favorites are: Edward Sharpe, Devandra Banhart, Nina Simone and Miles Davis.
How do you select art for your design projects?
It starts with the client and what they like, obviously, or what fits the vibe of the space i.e. if it's commercial or hospitality. Again, it's more intuitive than anything. Ideally, it's great to have an adviser to help educate the client on pieces and navigate through all of the options.