Q&A with Team HC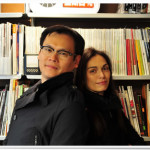 Hannah and Clarence originally formed Team HC in 1998 while riding on the dot com wave, with a furniture sourcing website supported by their design and architecture practice. Today, their focus is on creating individualistic projects that personify their clients' character, with meticulous attention to craftsmanship and a strong sense of place. They treat every job as if it was their baby and are very hands on, with a studio of talented people backing them up.
Team HC prides itself on bespoke and understated projects. The couple adores traveling, and they endeavor to comb the globe sourcing that perfect antique chair or one-of-a-kind pendant lamp that makes a space extraordinary. They practice sustainable design and believe that part of the process is to encourage clients to act more responsibly towards the environment.
While Hannah focuses on the micro aspect of projects such as fabrics, colors, finishes and details, Clarence looks at the big picture and handles planning, architecture and other macro duties. They are sensitive to the very Hong Kong concerns of fast track timelines, yet their creativity always yields excellent results. Their approach is to form long term partnerships with like-minded clients, with many becoming lifelong friends.
How would you describe your taste in art?
Art that we can relate to the artists who share our design philosophy. We also appreciate new artists who come up with unique media in ways of presenting their work without being overly commercial, which is hard to achieve these days. 
What type of art do you collect?  
We like art that is pleasing to the eye,  projects a sense of well-being, and relates to our way of life. We collect Contemporary Chinese, Photography, Graphic and Pop-Art, and just started Contemporary Burmese.  
What is the one work of art you would want to own if you had an infinite budget?
Hannah: Any work from the "The Wild Horses Of Sable Island" – by Roberto Dutesco
Clarence: Any work by Christopher Myott
What music (genre/band) do you have on your playlist?
U2, Foo Fighters, Gun N' Roses, Lana Del Rey, Green Day, Sam Hui, Leslie Cheung, Coldplay, Young the Giant
How do you select art for your design projects?
After working with our client for a while (our projects usually span 1-2 years), we usually (and hopefully) have a feel of what they like.  We find that art is a very personal thing though, and since it is their living environment, we feel art should reflect their persona. We go to art shows such as Art Basel, roam around art galleries, and even travel with our clients to source art that will not only reflect their taste, but also enhance our design.