Q&A with Chad Eisner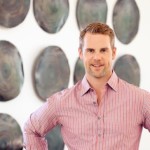 This week, Saatchi Art's Director of Art Advisory to the Trade Hayley Miner chatted with designer Chad Eisner about his weakness for California artists, Jamie xx's new album, and how he incorporates art into design. 
Classically-trained interior architect and designer Chad Eisner founded Venice Beach-based C.W. Eisner, Inc. in 2005 as a full service interior architecture and design studio specializing in tailored-made residential projects. While conceiving the studio's diverse interior projects—which range from a contemporary beach home to a log cabin mountain lodge—C.W. Eisner, Inc. bases each project on the client's life, thus providing a truly customized experience. The studio offers a rare blend of timeless interiors grounded in luxury, while capturing environments that are warm and comfortable.
C.W. Eisner, Inc.'s current projects include a 40,000 square foot Mediterranean-inspired villa in the Hollywood Hills, an Upper East Side Manhattan Apartment, and a beachside family home in Laguna Beach. The studio's projects have been featured in House Beautiful, Elle Décor, Veranda, LUXE, C Magazine, and California Homes. C.W. Eisner, Inc.'s work has also been published in Hearst Book's House Beautiful: The Home Book and Gibbs Smith Fortuny.
How would you describe your taste in art?
I love street art, and artists that got their foundation working on "found canvas." I am also a sucker for artists using new materials as a canvas. Debra Scacco, a wonderful Los Angeles artist, is creating new works on Mylar and they are out of this world cool.
What type of art do you collect?
I am really interested in collecting established artist like Keith Haring, Frank Stella, and Ellsworth Kelly, and new artists like Dennis Koch and JOW. I also have a weak spot for California artists.
What is the one work of art you would want to own if you had an infinite budget?
Andy Warhol's Double Elvis, 1963.
What music do you have on your playlist?
Jamie xx's new album In Colour has a real sexy quality with great rhythm and beats. The new Alabama Shakes album Sound & Color is really moody and haunting. Brittany Howard's voice is beyond unique with so many rich textured.
How do you select art for your projects?
The client is the key. Like all aspects of my projects, my client is always the primary focus. I usually start by showing clients a lot of variety and then we follow the "leads" from there.
Love Chad's style? I can help you find art in line with his aesthetic.