Mid-century Makeover: 4 Must Haves for Modern Eclectic Living Rooms
Wondering how to make over your modern eclectic space? Read on for 4 simple ideas to resuscitate your living room Mid-century style…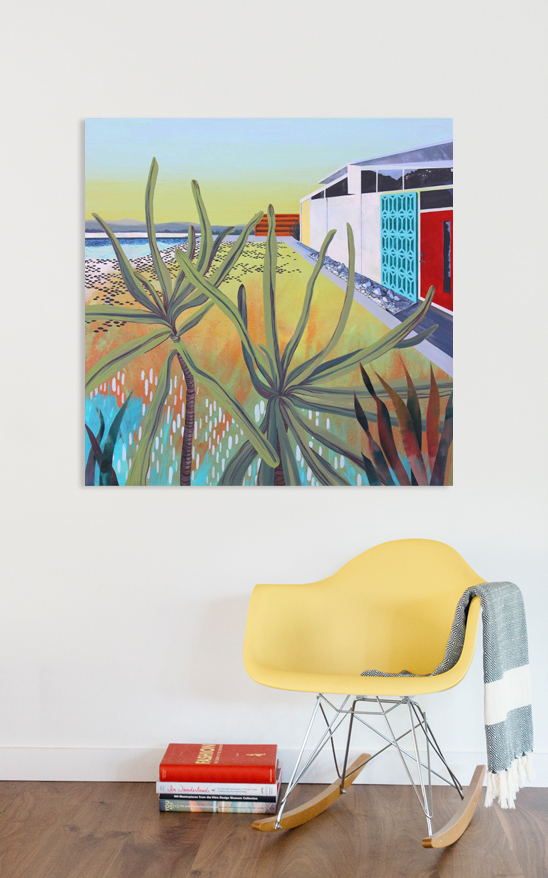 When you're looking for strikingly original artworks to update a Mid-century eclectic interior, our experienced curators are ready to lend a hand. Reach out to Saatchi Art's complimentary Art Advisory for personalized assistance finding art you love today. (Image: Wild Succulents, an original modern landscape painting by Saatchi Art One to Watch artist Lauren Matsumoto)
1. Wood is Good
Natural Materials, especially wood, play a starring role in Mid Century Modern design. Top a clean-lined credenza or teak side table with your favorite art books and accents, sculpted succulents, and modern abstract art to create a swoon-worthy vignette.
(Image: Design by Amy Krane Color Consulting / Photography by Carl Bellavia Photography, Courtesy of Houzz)
For an unexpected way to introduce the beauty of natural wood into a mixed modern space, show off some original wooden sculpture or try using floating wooden shelves to showcase your favorite art.
(Image: Photography by Daniel Sheehan Photography / Architecture by Coop 15 Architecture / Design by Robin Chell, Courtesy of Houzz)
Visit our recent article on Original Art for White & Wood Interiors for additional inspiration.
2. Pick Things Up With Patterns
Layer in some bold graphic patterns in contrasting colors to make your modern eclectic living room feel more fun! Don't be afraid to mix things up a little with Mid-century style patterned rugs, upholstery, pillows, or original contemporary art reminiscent of The Atomic Age…
(Image: Design and Photo by Collected Interiors, Courtesy of Houzz)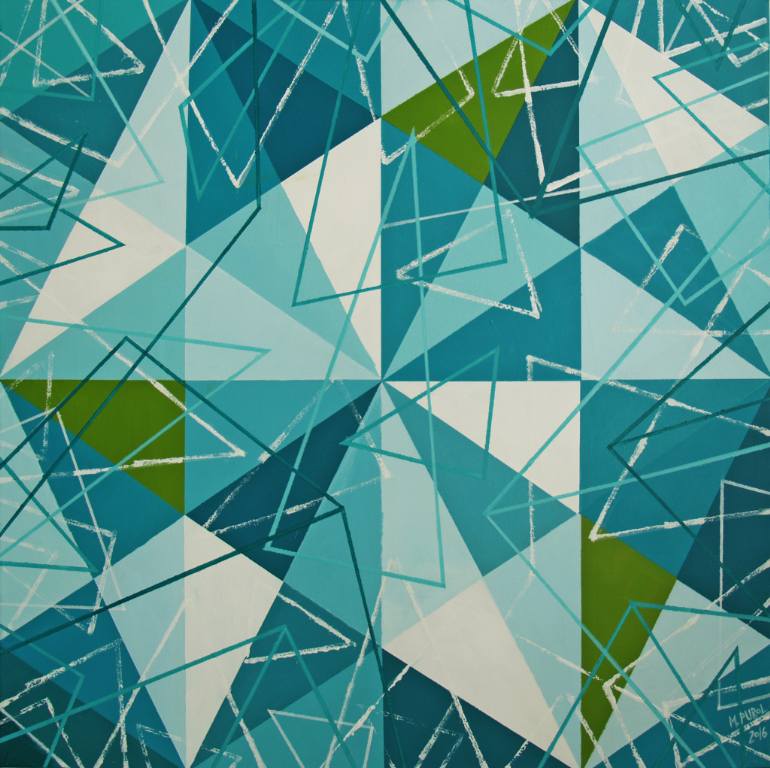 (Image: TRIGO NUM 19, an original geometric abstract painting by Saatchi Art artist Magdalena Purol)
3. Set the Stage With Statement Furniture & Art
Mid-century classics speak for themselves. Grab people's attention with a well-chosen statement chair in Mad Men inspired green, yellow or red, or anchor your modern eclectic look with a standout coffee table. One powerful piece can transform the whole feel of your space, especially when paired up with modern art you love.
Try featuring a modern painting to layer in compelling contrast, color and dimension when combined with natural finishes. (Image: Design by TEW Design Studio / Photography by Bob Fortner, Courtesy of Houzz)
4. Choose the Right Light
Lighting is an essential element in Mid-century eclectic style. Whether you prefer flowing wooden organic forms, stately ceramics, fabulous floor lamps, or Space Age metallic spheres, turn on some statement lighting to offer an eye-catching focal point while flattering your art collection.
(Image: Photography by Francis Dzikowski Photography Inc., Courtesy of Houzz)
Do you dream in modern? Sign up for the Saatchi Art Newsletter to receive the best art and decor tips in your inbox weekly.