Inspiration: Artful Thanksgiving Table Decorations
Thanksgiving is right around the corner. If you're looking for ideas to spice up your décor before the guests arrive, design an artful table. Creating a special tablescape is a sure way to delight your guests and add an extra layer of fun and wonder to your celebration. Here's a few of our favorite harvest-inspired ideas, fun for Thanksgiving, or any time you want to transform a meal into something more magical…
Share the bounty. There's something amazing about displaying a colorful array of fresh vegetables on a rustic table, especially when you're dining outdoors.

(Image: Photo by Anita Diaz, courtesy of Houzz)
Use a pear to hold a place card. This is simple, eco-friendly and beautiful, and works with lots of different kind of small fruits, plants and gourds.
Repurpose your pumpkins… Try painting any leftover Halloween pumpkins white if you're looking for easy and interesting fall tabletop deco with a modern twist.

(Image: Photo by Brian Benda, courtesy of Houzz)
Hollowed out pumpkins and gourds make great vases, too, just be sure to include a container for water inside.
Invite the outside inside. Try using small logs and tree sections as part of your table's decorating scheme, either under plates, or as an elevated stage for candles.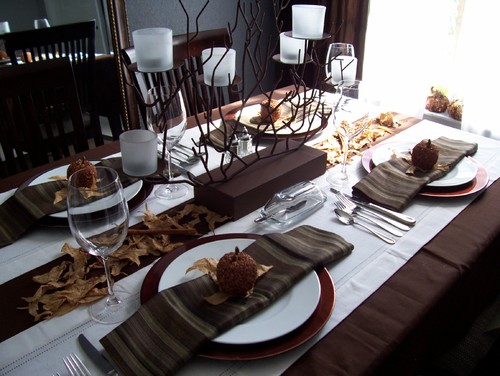 (Image: Photo by Focal Point Styling, courtesy of Houzz)
Branch out…Loose branches are a cost-effective way to add an abundance of style. Display them in a vase to add height and color, or combine different kinds of branches for a simply elegant statement.
If you're craving something more modern, try painting a branch your favorite color and enticing some small decorative birds come home to roost.

(Image: Photo by Jennifer Grey, courtesy of Houzz)
Go for the gold. Spray pumpkins, gourds, leaves, (or almost anything else) gold to make a dazzling statement.
Paper elements are easy way to enhance a holiday table. Try creating colorful confetti with a paper punch.
Use beautiful gift-wrap, wallpaper or craft paper to make a table runner or placemats. It's a budget friendly way to decorate, and it helps with clean up, too, giving you more time to socialize.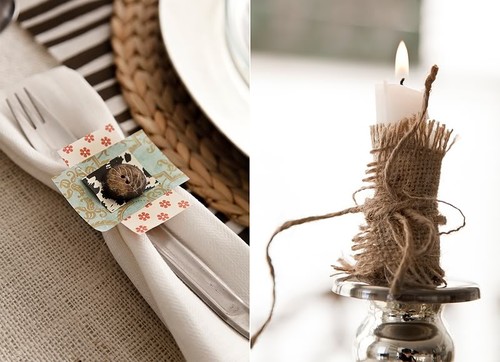 (Image: Photo by The Quirky Sophisticate, courtesy of Houzz)
A photo collage table runner is a winning way to share memories & good times with your friends and family while you dine.
When designing your table, be sure to give thanks for the items you already have, too. Sometimes, it's not so much about buying something new, as it is about re-imagining elements you already have in a new way, and being true to your own sense of style.

(Image: Photo by Rikki Snyder, courtesy of Houzz)
Are you looking for a beautiful way to say thank you or a dazzling gift for your beloved art lover?
Visit Saatchi Art's new 2015 Holiday Gift Guide now and celebrate the joy of giving. There's even a special collection full of unique gift ideas for your favorite foodie!