How-To: 5 Ways to Display Your Art Collection While Renting
Personalizing the look of a rental home or apartment can be challenging, especially for art collectors. Good news: you don't need to choose between your décor and your deposit. Explore these easy and affordable ideas for displaying more of your favorite contemporary art while maintaining the condition of your walls, and get inspired to create an art-filled space you love…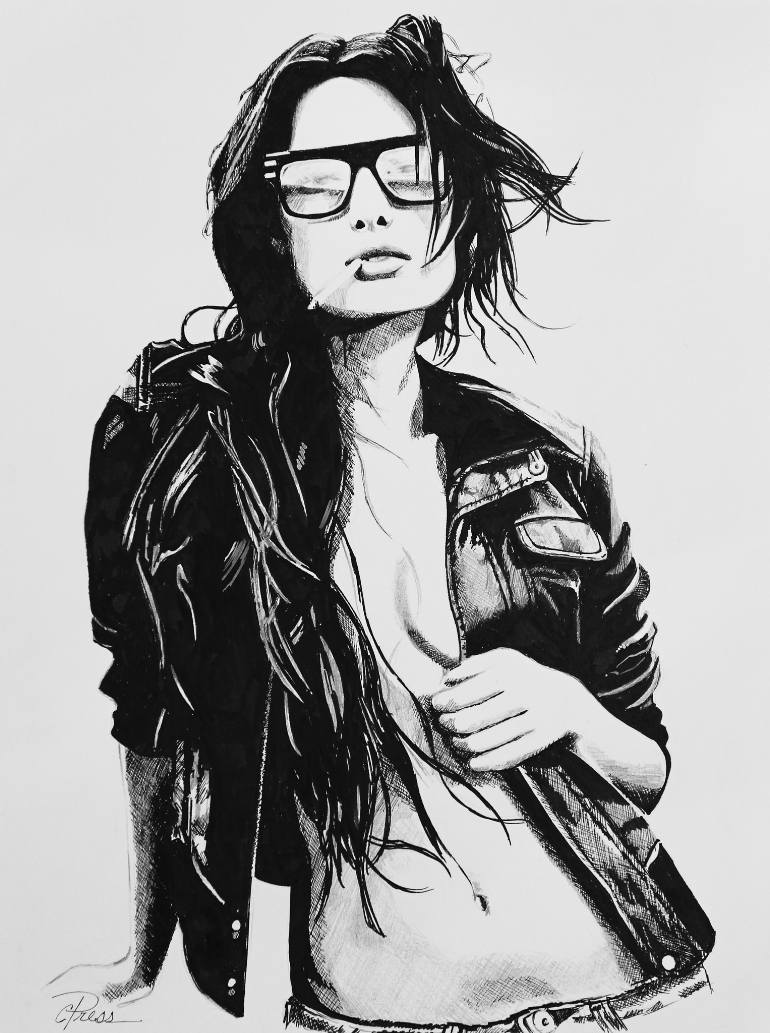 Don't forget to visit New This Week to get a glimpse of some of our Chief Curator's current favorites, like this fashionable figurative artwork in black and white. (Image: Want Me, an original drawing by Saatchi Art artist Cindy Press)
1. Pick up a Picture Ledge 
When you love the look of salon gallery walls, but need to hold off on making hundreds of holes in your own, put up a picture ledge. Just a few screws are needed to hang most ledges, and using a white ledge on white walls means minimal visual impact, all while keeping the appeal and colors of your artwork, photography, and framed prints in the spotlight.
(Image: Design by Studio Revolution / Photography by Thomas Kuoh, Courtesy of Houzz)
Wider ledges and floating shelves can be used to create mixed vignettes with small sculpture, personal treasures, or plants. Ledges also work wonders for displaying lots of art in small spaces.
(Image: Photography by Esther Hershcovic, Courtesy of Houzz)
Picture ledges are available in a wide range of home design styles and prices, starting at about $10. Check out these examples at Ikea, Room & Board, and West Elm.
2. Embrace Impermanence
If you're limited by a no-holes-allowed agreement, skip the nails and try removable washi tape, hooks, or hanging strips instead.  Multicolored patterned washi tape is affordable and easy to remove, making it a good choice for hanging Polaroid pictures or art prints in a more modern eclectic space.
(Image: Photography by Jennifer Young, Courtesy of Houzz)
(Image: Photography by Caela McKeever, Courtesy of Houzz)
When you want to hang heavier framed art, prints, and photography, Command hooks and picture hanging strips can be a good choice, provided they are applied with care to the back of the frame and not to the artwork itself. When applied correctly, the strips and hooks can be removed from most walls and frames without a trace.
3. Lean In
For unexpected impact when displaying statement-sized art photography or oversized paintings, try leaning larger artworks against the wall to show them off. No nails necessary!
(Image: Design by Jenn Hannotte Russet and Empire Interiors / Photography by Kristin Sjaarda, Courtesy of Houzz)
When you have a lot of art or love a layered look, try propping medium and small contemporary artworks on an entryway table, modern console, or mantel to anchor and balance a vignette.
(Image: Design by Monogram Decor / Photography by Adza, Courtesy of Houzz)
4. Easels Aren't Just for Artists
Using freestanding easels to show off a prized abstract or figurative portrait painting can add a creative twist to your space. Visit Jerry's Artarama, or Dick Blick to find your favorite.
(Image: Photography by Mary Prince Photography, Courtesy of Houzz)
Houzz also offers mini-easels that are perfect for displaying smaller artworks on a nightstand, side table, or kitchen counter.
5. Show it Off on Your Shelves
When you're rearranging your apartment and looking for new places to show off your art collection, why not start by styling your bookshelves, kitchen shelves, or built-ins with contemporary art and modern sculpture? You can use small framed works, original drawings, and art prints to add texture, contrast, and dimension to every room in the house, all while leaving your walls in one piece.
(Image: Design & photography by JWT Associates, Courtesy of Houzz)
Create your own interchangeable gallery. Displaying art on shelves makes it easy to mix and match small artworks, framed photography and your favorite art prints. (Image: Design & photography by Ba Design Group, Courtesy of Houzz)
(Image: Top L: Darwin's room, an original abstract painting by Saatchi Art artist Gulyás Edina and R: The flowers whirl away, contemporary Polaroid collage by Saatchi Art artist Andrew Millar)