Fresh Ideas: Reach for the Beach
Do you love the feeling of the sun on your face, the wind in your hair? Longing to hear the roar of the waves, shouts of delight, and the happy buzz of a beach in the summertime? Introducing some beach house style into your everyday décor is an easy way to feel like you're on vacation every day, no matter where you live.
If you're one of the lucky ones who actually have a beach house, adding some new art is a great way to freshen things up for another season of fun. Check out these inspired interiors for ideas on how to combine decoration and art to add a splash of beachy style all year round anyplace you happen to be.
Mantle pieces provide beautiful options for creating your own ocean-themed vignettes. The bright white frame around this light blue coral artwork leaves a lingering taste of the ocean, and gives the art a chance to tie in all light blue and white decor in this elegant living room.

(Image: Photo by Chris Warnes, Design by Public/Private, Courtesy of Houzz)
White borders help original artwork to stay center stage when paired with patterned paper in this tranquil blue oasis.

(Image: Photo by Kate Jackson Design, Courtesy of Houzz)
Use your art to draw attention to your favorite finds. Perching painted seascapes on existing shelves makes a magnificent backdrop for beachy vignettes.

(Image: Photo by Grey Crawford, Design by Clark Collins – Collins Design & Development, Courtesy of Houzz)
The feeling of spaciousness offered in this dreamy beach photograph is accentuated by soaring ceilings and abundant natural light.

(Image: Photo by Mikiko Kikuyama, Design by Axis Mundi, Courtesy of Houzz)
Rustic driftwood frames are an ideal choice for showing off your favorite memories, whilst adding a bit of fun.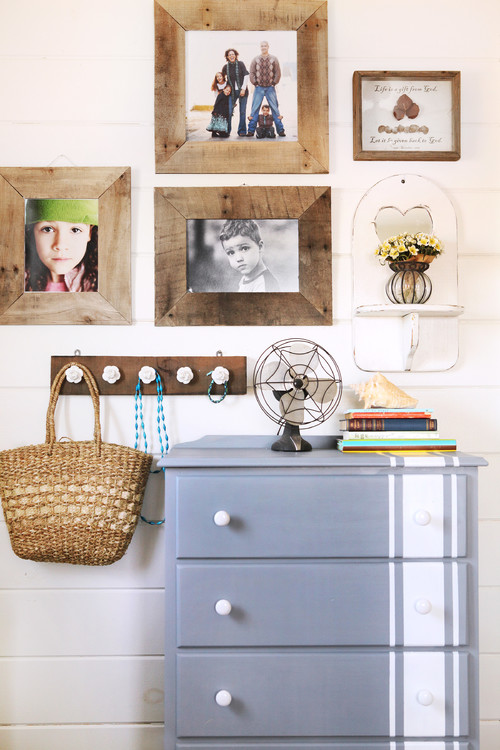 (Image: Photo by Julie Ranee Photography, Courtesy of Houzz)
Beachy décor doesn't always mean blue. If you are looking to highlight the art in your beach house, try featuring some red coral…

(Image: Photo by Lori Hamilton, Design by Laura Hay Decor & Design Inc., Courtesy of Houzz)
Some verdant tropical greens…

(Image: Photo by Viscusi Elson Interior Design, Courtesy of Houzz)
Or literally a bright flamingo in pink…

(Image: Photo by Lisa Zhu, Design by The Home, Courtesy of Houzz)
Or crisp modern white, like a billowing sail… or a perfect cloud.

(Image: Photo by Derek Jones Photography, Design by Gina Fitzsimmons ASID, Courtesy of Houzz)
You can use art to bring the beach with you wherever you go. Try layering small beach paintings and decor on floating shelves to create your own little getaway.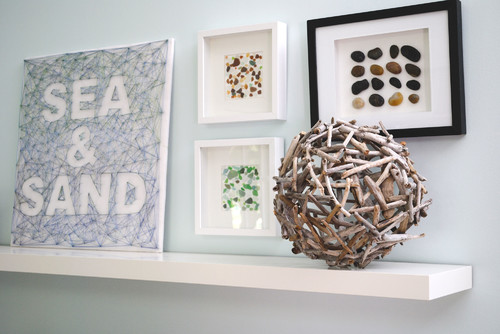 (Image: Photo by Creative in Chicago, Courtesy of Houzz)
Featuring large beachscapes, ocean views or undersea-inspired abstract works like these anyplace in your home adds a feeling of expansiveness and relaxation, whether the beach is right outside your door or miles away.

(Image: Photo by Brad Ford ID, Courtesy of Houzz)
I love how this nautical-themed bedroom captures the appeal of the ocean. Imagine how much fun it would be to pair up some prints with this theme.

(Image: Photo by Reliance Design, Build, Remodel, Courtesy of Houzz)
Ready to dive in?