Forever Summer: Tiki Decor Inspiration
Continuing our focus on Beach House Style, we're bringing you an inspiration vacation celebrating tiki style. Getting a little bit tiki can help infuse any space with an exotic vibe, provide an eye-catching backdrop for your art collection, and can make every day feel right for a party.
First introduced in the U.S. in the 1930's by "Don the Beachcomber" in Hollywood, tiki style gained widespread popularity after World War II into the Mid Century, when Hawaii became the 50th state in 1959. Celebrities and suburbanites alike embraced the lively colors, patterns and sounds of the Pacific Islands and made them their own.
Here are a few ideas to help you get started—let tiki's tropical style work its magic for you.
A brightly painted wall, like this fresh spring green one, really helps a retro gallery wall pop.

(Image: Photo by Stark Carpet, Courtesy of Houzz)
Leafy green botanicals are a popular motif in tropical style. You can use them to provide a lush background…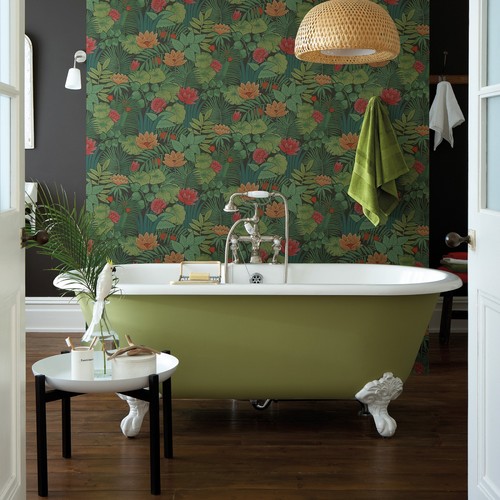 (Image: Photo by Period Property Store, Courtesy of Houzz)
If wallpaper doesn't work for you, graphic print textiles in Hawaiian-style patterns are another stylish way to introduce a touch of Pacific Island style into your décor and complement your art collection.
(Image: Photo by Pablo McLoud, Designed by Fine Design Interiors Inc., Courtesy of Houzz)
Limited in space? A small wooden desk is a perfect stage to show off some art and sculpture. It's an island of tropical style in a clean white space.
If you're dipping a toe into tiki style, start small with throw pillows. Bark cloth pillows are a fantastic way to add some color and texture… Remember: large-scale floral prints equal classic tiki!

(Image: Photo by Sadofoto, Design by Darci Goodman Design, Courtesy of Houzz)
One of the best things about tiki and tropical decor is how beautifully it can be used to unify your indoor and outdoor space, and helps extend your personal style outside traditional living areas. A statement work of art offers a bright focal point inside a covered patio and is a beautiful backdrop for both plants and woven furniture. Who doesn't love an outdoor living room?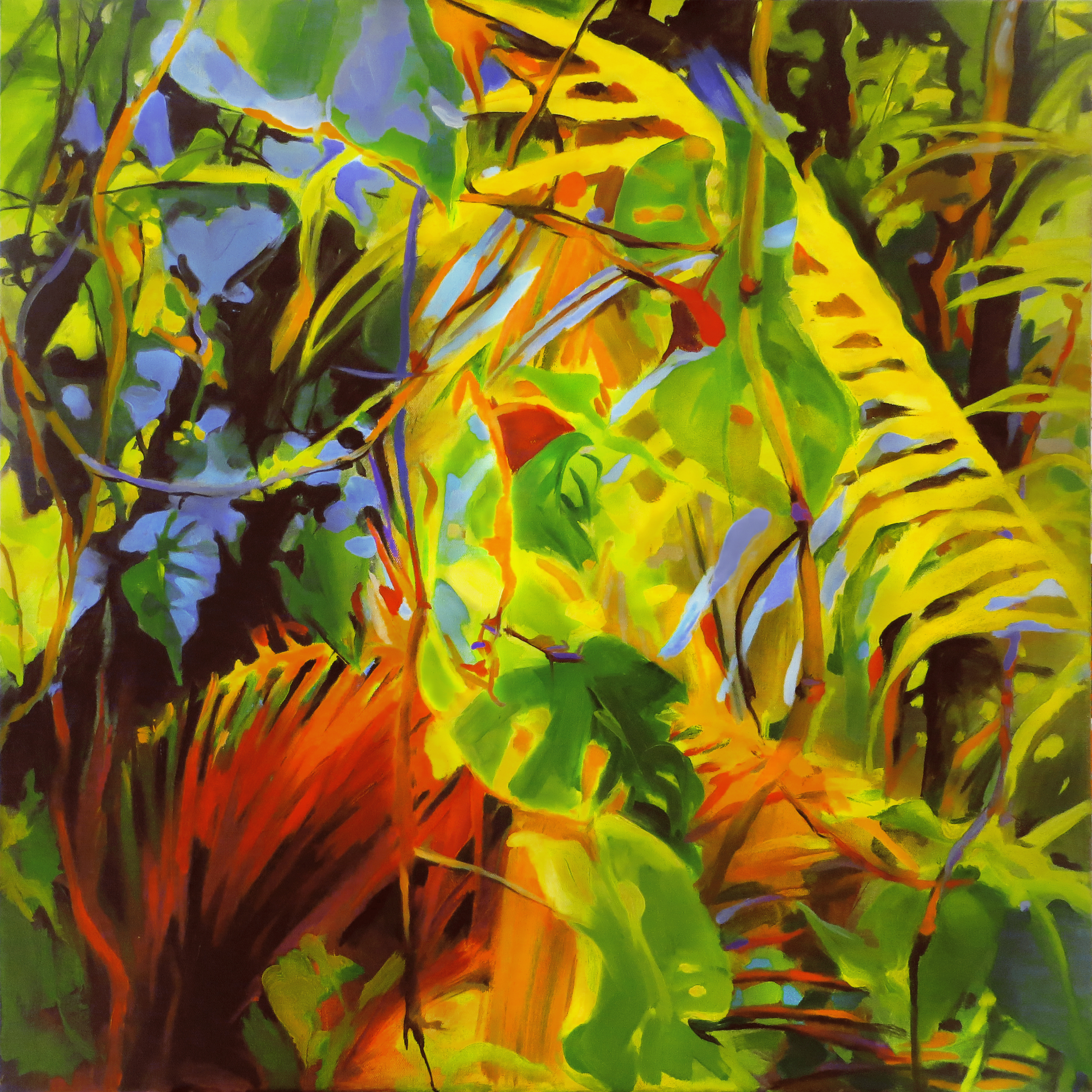 (Image: Jungle by Saatchi Art artist Maxine Davidowitz)
Tiki and tropical style is not just for retro fans and devotees of bold color and pattern. It can be clean and modern, too.
A bit more tropical than tiki, look at how beautifully this light and airy home combines island style, Minimalist décor and contemporary art!

(Image: Photo by Philippe Le Berre, Design by Blake Civiello Architecture, Courtesy of Houzz)
Recreate the look with light walls, bamboo furniture, a large fern or palm plant, and accent pieces that draw on the pinks, purples and teals of tropical flowers.

(Image: Photo by Zulufish, Courtesy of Houzz)
Treat yourself to a tropical vacation retreat with art from Saatchi Art's Tiki Inspired collection.