Amazingly Attainable: Contemporary Original Art for $1,000 or Less
Living with original art you love is within your reach right now… no scrimping necessary!
Introducing Curated Salon Wall Nº15: Originals for $1000 and Under… A brand new collection of affordable contemporary abstract and figurative artworks hand-selected by our curator just in time to celebrate spring. Take a look at a few standout selections or explore the collection today to find your own favorites.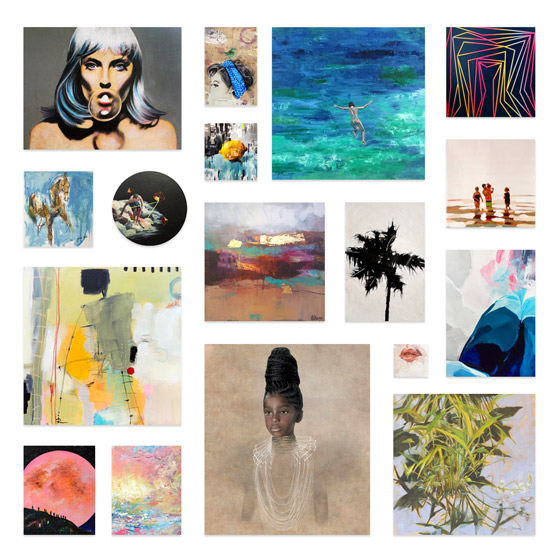 When you're the market for fresh, affordable contemporary art, our newest curated salon wall has you covered… See the sidebar and collection for details. (Image: Whitney Young / Saatchi Art)
1. Pump up the Contrast With Pinks
… and vivid brights on black. Add some pop to a spare space, or re-energize a gallery wall with a colorful contemporary painting.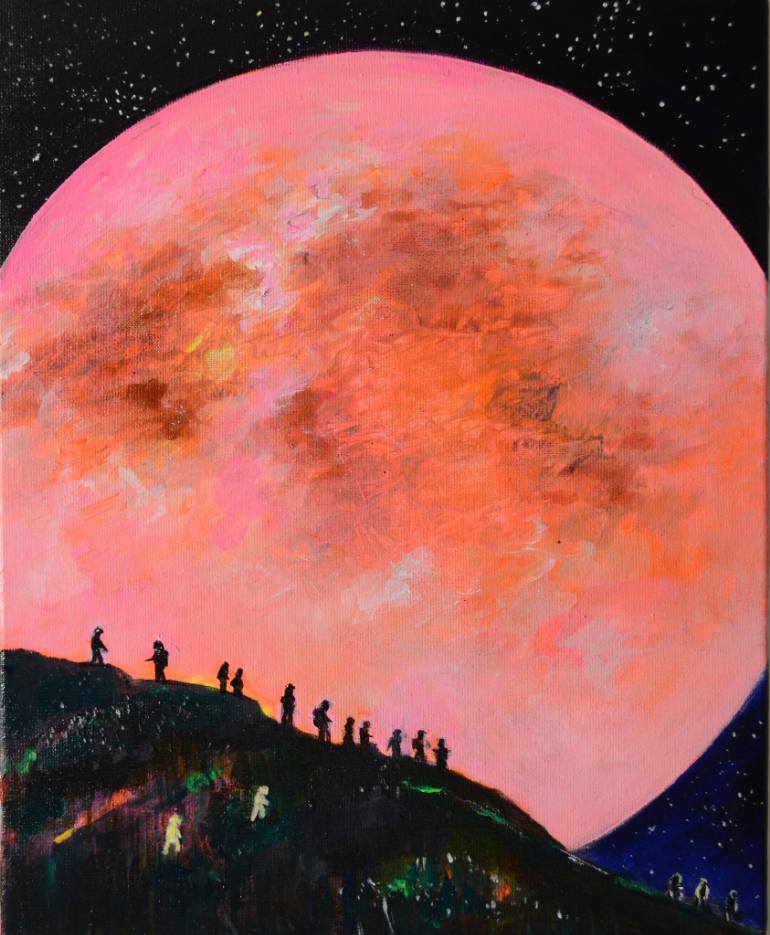 It's hard to pull your eyes away from this modern dreamy landscape painting. You can see more and discover what inspires this artist most at Inside the Studio. (Image: Gone Astray XVI, by Saatchi Art artist Tanja Vetter)
2. Bring in the Beach
Unwind with an ocean toned figurative seascape or choose a more minimal tropical botanical drawing in black and white to add intriguing shape and form to your space.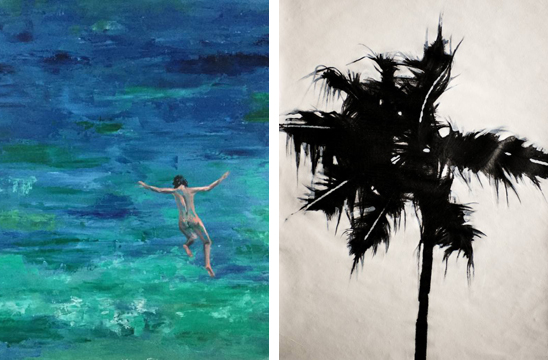 (Image: Details from L: Untitled, an original oil on canvas nude seascape by Saatchi Art artist Alexandra Wilson and R: Diptych Palm – 2, an original monochromatic drawing by Saatchi Art artist enrico salvadori)
3. Choose Cheer
Lighten things up in your living room, dining area, or entryway with a modern abstract painting in optimistic and empowering sunny shades.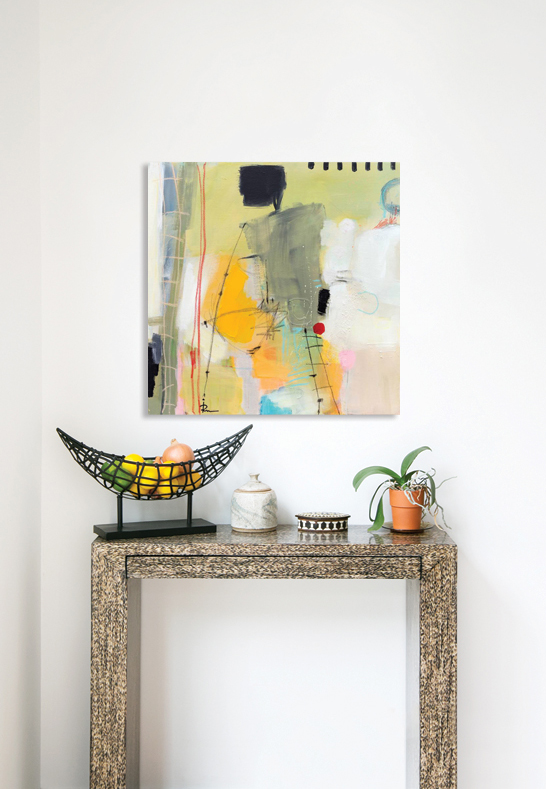 (Image: Untitled -603, a joyfully original mixed media painting by Saatchi Art artist Ira Ivanova)
4. Powerful Portraits
Pick up a stunning figurative artwork and create a new focal point in your home design or office decor. Feature a fresh face to anchor a gallery wall or layer in small figurative artwork to revamp a vignette.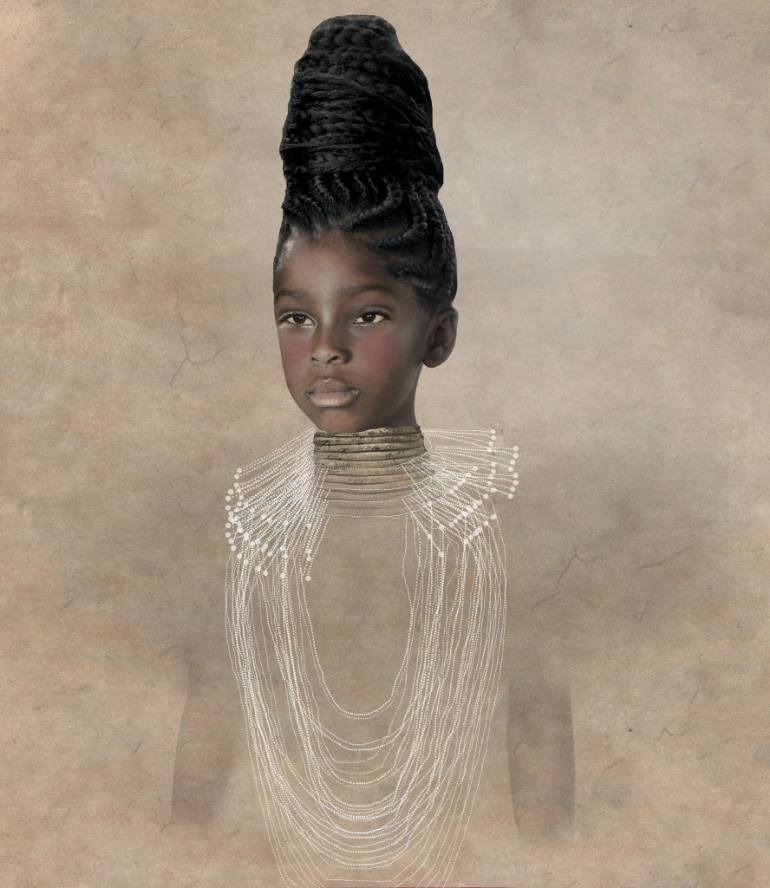 Strikingly original photographic portraits are an excellent way to start collecting affordable art you love. (Image: Heir / CiCi – Limited Edition 1 of 8, art photography by Saatchi art artist Tawny Chatmon)
Fancy Getting Up Close and Personal?
Visit The Other Art Fair in Melbourne, Australia (May 4-7, 2017) and Brooklyn, NYC (June 1-4, 2017), for an exciting opportunity to discover what's new in emerging contemporary art and buy affordable original artwork you love in person. Click the links to purchase tickets and find out more about The Other Art Fair today.
Find Art You Love for Less…
Get 50% off tickets to The Other Art Fair in Melbourne when you use offer code Saatchi50. Act FAST, as tickets are limited…

The more the merrier! 2 for 1 tickets to TOAF Melbourne are a great chance to share art you love with a friend. Use our special offer code Saatchi50 to get yours today… (Image: The Other Art Fair)