Decorating with Delft Blue
Originating in the Dutch city of Delft in the 17th century, Delftware is a style of pottery made to imitate the Chinese blue and white porcelain that was being collected by the European courts. Instead of being made of real porcelain material called kaolin, Delftware was made of clay coated in a milky tin-glaze, making it look very similar to the real thing. It was initially painted with Chinese motifs, but designers had experimented with other patterns and scenes that reflected the local culture.
After her marriage to William of Orange, Queen Mary II of England visited The Hague where she first encountered Delftware. She fell in love with the designs and commissioned hundreds of pieces to be delivered to her various palaces in England and The Netherlands. One of the most popular pieces associated with Queen Mary II is the towering tulip vase, as pictured below. The popularity of Delftware soon after grew like rapid-fire throughout Europe, and other countries such as England and Belgium began producing their own version of it. Today only one 'official' manufacturer remains — Royal Delft.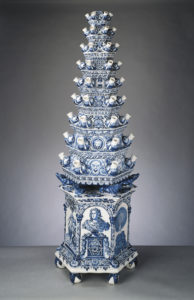 Love reading about all things art? You can have articles from Canvas, curated collections, and stories about emerging artists delivered straight to your inbox. Sign up for the Saatchi Art Newsletter.