9 Ways to Renovate Your Home in a Day With Art
If you're searching for new ways to clear the clutter in your home, keep your house cleaner, or simply make your rooms more beautiful this year, start with art. Read on for some clever ways that original art, photos and art prints can be used for simple, budget friendly renovations that will enhance your everyday quality of life.
1) No headboard? No problem… Hang a tranquil abstract painting or some oversized art photography over your bed instead, and create a beautiful focal point. Hanging a restful original artwork in place of a headboard behind your bed can instantly make your bedroom feel more finished.
2) Are you looking for a clever way to disguise your wall-mounted TV? Hide it behind a pair of paintings or framed art prints, and instantly shift the focus in your living room. Learn how to do it here on Hometalk…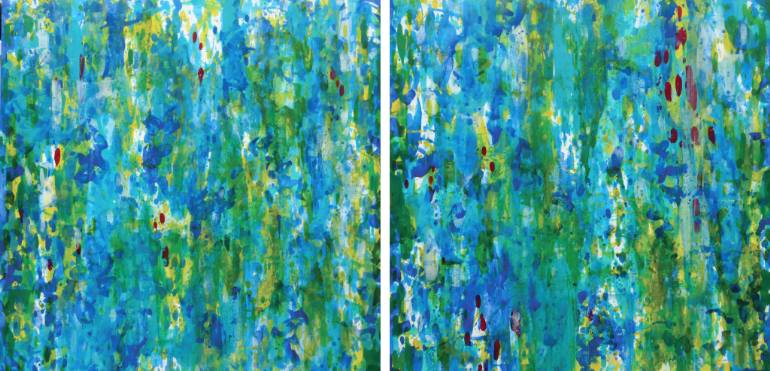 Ready to reclaim living room for entertaining and conversation? Try concealing your TV with eye-catching art. (Image: Summer Rain 4, a pair of framed canvases by Saatchi Art artist Valerie Capewell)
3) Is it time for an Ikea upgrade, but you're not ready to kick Billy to the curb? Add some patterned wallpaper or high quality gift-wrap to the back of your bookcase and create an eye-catching display case for small artwork and books. To learn more about how to make fabric and paper-backed cabinets, check out these tips at Pretty Handy Girl.
4) If you're looking for a way to organize your small photographs and Polaroid instants, and your place has sky-high ceilings, look up for creative inspiration…Grab some clear fishing line and make a mobile art installation. Here's a great example of a photo mobile, spotted on Martha Stewart.
5) Escape visual clutter and easily update an outdated bathroom by installing fresh cabinets with frames on the front. Concealed cabinets can help keep things extra organized and offer a new space for displaying your art prints or small drawings.
6) Put your favorite artwork to work. Hanging framed fine art on hinges can create a secret hiding place for keys in the foyer, and keep things looking neat. With the addition of a frame and a few hinges, original paintings, drawings or art photos can be used to artfully hide keys and other wall mounted things in your entryway. Check out this example of using art to hide your keys, spotted on Country Living.

If clutter in your entryway or office makes you crazy, try stashing switches and keys behind small framed photographs or prints. (Image: Late Winter, Boardman #2 (Print #1 of 25), by Saatchi Art artist MC Reardon)
7) Is there a cord jungle growing under your desk or behind your couch? Turn your tech tangle into your own original wall art! You can shape long light cords into your favorite city skyline or a interesting pattern and minimize clutter and dust in the process.
8) Are you looking for creative ways to divide an open space into rooms? Try hanging an large modern painting on sliders and create a functional, stunning statement door, or visit Contemporary ArtDoors to find out more about their offerings.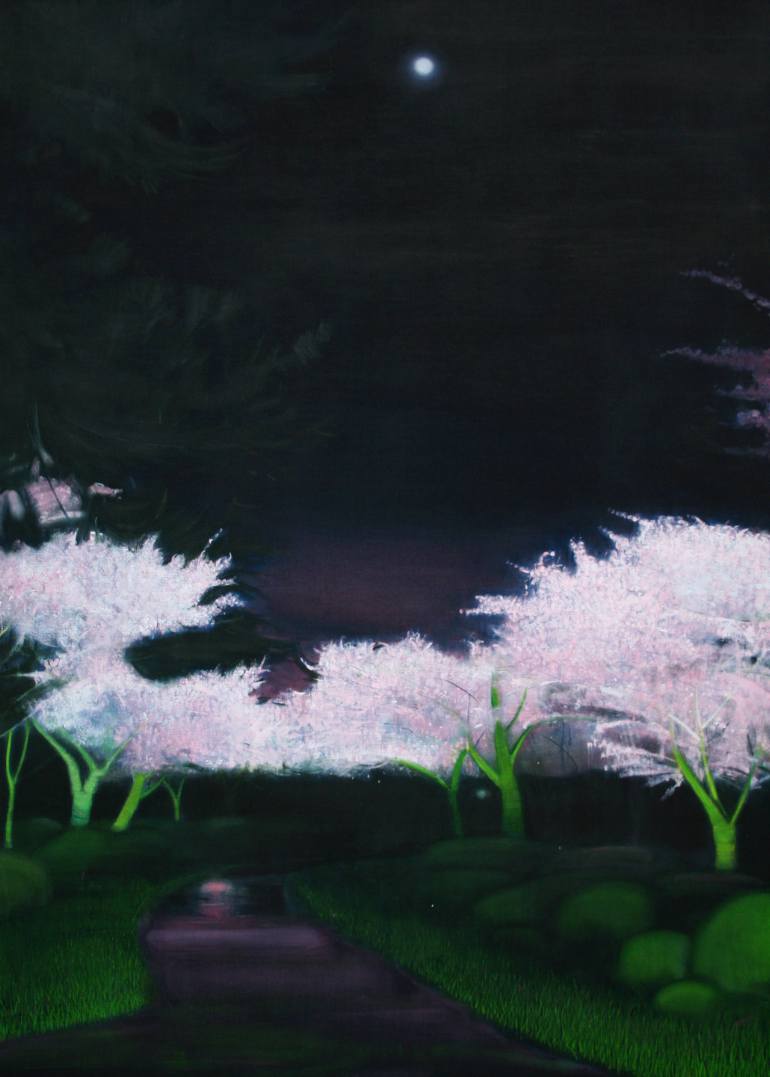 With careful installation, a contemporary painting can make a striking sliding door. (Image: Blossom Trees at Night, by Saatchi Art artist Thomas Lamb)
9) Reward your kitchen for all its hard work this year. Create your own art-inspired backsplash using art prints, paintings or photos protected by clear Plexiglas. A chance to gaze at amazing artwork turns doing the dishes into a treat…cleaner kitchen walls are just an added bonus!
Love reading about all things art? You can have articles from Canvas, curated collections and stories about emerging artists delivered straight to your inbox. Sign up for the Saatchi Art Newsletter.