9 Reasons to Hang a Painting In Your Home
Editor's note: We believe that living with art is not only wholly rewarding, but an opportunity afforded to all. At Saatchi Art, we debunk the myth of art being for the few, offering an unparalleled selection of affordable works by emerging artists. If you're on the path to collect your first piece, let us be your first stop.  
There's no doubt that buying prints and posters is fun (and affordable) — but there's a lot to be said for saving up for a piece of one-of-a-kind art. If you've been sticking with framed prints, let these 9 reasons tempt you into your neighborhood gallery to peruse the paintings instead.

(Image: Photo by Massimo Interiors, Courtesy of Houzz)
1. Buying a painting supports the artist directly
Painters pour their hearts into their work, and it can be difficult to make ends meet in such a labor-intensive and competitive field. Enrich your home and feel good knowing your purchase is helping to support a local artist by shopping at local galleries.
Painting: Australian artist Judith White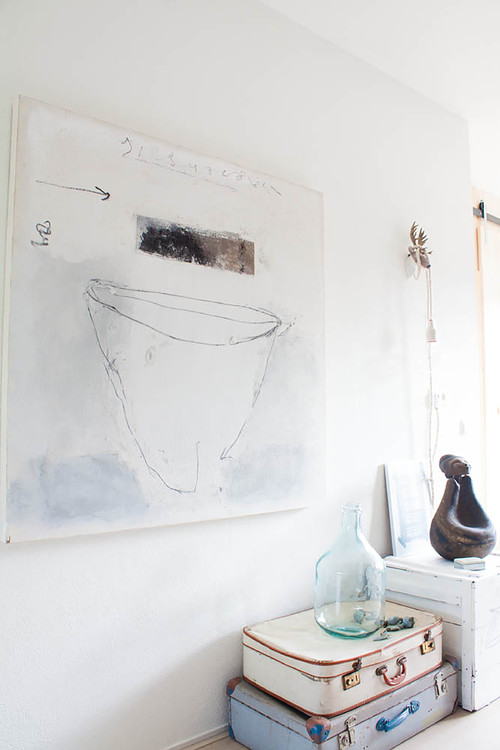 (Image: Photo by Louise de Miranda, Courtesy of Houzz)
2. Paintings are tactile
A print's surface can never match the luscious textural variations of a painting. Whether done on canvas, wood or mottled watercolor paper, original paintings have a touchable quality that sets them apart.
Painting: René van der Hoofd; sculpture: Marjan Rusticus

(Image: Photo by Jessica Helgerson Interior Design, Courtesy of Houzz)
Light it Right – Ceiling Lights to Illuminate Your Art
3. Paintings are perfect for renters
If you rent, it can be difficult to personalize your space when you're not allowed to paint the walls or make certain other changes. But hang a painting or two, and the space instantly feels more you. And unlike bulky pieces of furniture, a painting will fit in any home you live in, making it a wiser investment if you move frequently.

(Image: Photo by Caitlin Wilson Design, Courtesy of Houzz)
4. Paintings are one of a kind
There's something satisfying about having a piece of unique artwork in your home.

(Image: Photo by Bruce Damonte, Design by Nick Noyes Architecture, Courtesy of Houzz)
Not Ready for a Painting? Try Fun Wall Decals Instead
5. Paintings are handmade.
Like handmade knits, hand-thrown pottery, and handcrafted furniture, paintings show the hand of their maker. This quality brings richness and personality to the home — factory-made furniture and slickly printed posters simply cannot compete.

(Image: Photo by Sally Wheat Interiors, Courtesy of Houzz)
6. A painting can make the room
A painting begs to be the focal point of a room. Whether your artistic taste runs to the bold and graphic or to vintage landscapes, the painting you choose is bound to have a big impact on your space — I can't think of another thing that has such an ability to bring that wow factor to a room.

(Image: Photo by Andrew Sherman, Design by En View Interiors by Melanie Bowe, Courtesy of Houzz)
Your Guide to Art Costs and Buying
7. Paintings make a house feel like home
Paintings you've owned for a while become like old friends. Simply pulling out your paintings and putting them up can make any space, no matter where you are, feel like home — even more so if you happen to have paintings handed down to you from your parents or grandparents.

(Image: Photo by Blue Tangerine Art, Courtesy of Houzz)
8. Paintings inspire
Looking at a painting you love refreshes your spirit. Why not give yourself the gift of daily inspiration by saving up for a small painting you adore?
Paintings: Kim Frohsin
9. Curating your own art gallery is fun!
Will you find yourself drawn to pastels, portraits, still lifes or landscapes? Representative art or abstract? Choosing paintings helps hone your personal aesthetic. And let's face it, being the curator of your own personal art gallery is a really fun job.
SaveSave
SaveSaveSaveSaveSaveSaveSaveSave
SaveSaveSaveSaveSaveSave
SaveSave
SaveSave
SaveSave
SaveSave