7 Easy-to-Update Gallery Wall Alternatives
Love the look of a gallery wall, but need to stay flexible? Not to worry. Read on for 7 easy ideas for displaying your art collection gallery style, sans the major planning and putting hundreds of holes in your walls.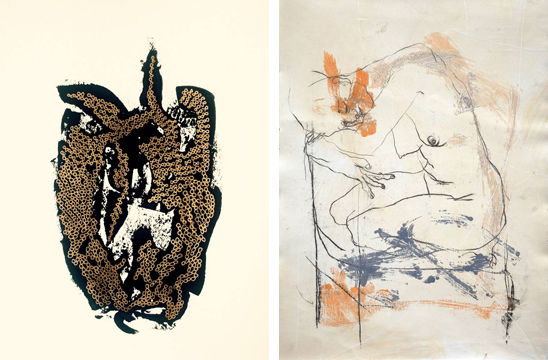 Explore our new Inspired by Klimt collection for sensual original works or a bit of glimmer perfect for a romantic bedroom gallery. (Image: L: Golden Years, original abstract art with metallic accents by Saatchi Art artist bridget griggs and R: Julia, an original nude portrait drawn by Saatchi Art artist Roberto Torterolli)
1. Make a Mantelpiece Gallery
It's easy to display a selection of framed art photography, original drawings, or small paintings on the mantel. Leaning artworks means no nails required, plus fireplaces offer a natural focal point any time of year, drawing all eyes to your favorite artwork.
(Image: Design by Neumann Mendro Andrulaitis Architects LLP, Photography by Ciro Coelho Photography, Courtesy of Houzz)
2. Share Your Good Taste in the Kitchen
When you enjoy cooking or entertaining, spare kitchen shelves can be a great option for sharing a selection of contemporary art you love. Show off paintings, prints, or framed artworks on high shelves to keep your counters clear and your art collection in the spotlight.
(Image: Design and photo by deVOL Kitchens, Courtesy of Houzz)
3. Bump Up Your Bookshelves
Bookcases and built-ins provide lots of options for styling your own modern art gallery. Mix in some small paintings, sculpture, and photography with your library, or style a selection of framed artworks on top of a low bookcase.
(Image: Design and photo by Patrick Brian Jones PLLC, Courtesy of Houzz)
For a different take, try hanging larger framed drawings or paintings on the front of the shelves. Use abstract artwork to add color and dimension to your displays.
(Image: Design by ABD Studio, Photography by Bess Friday, Courtesy of Houzz)
4. Offer More Options With Picture Rail
Picture rail's space and versatility offer an excellent gallery wall alternative for small urban spaces and rentals, or for emerging art collectors who want the ability to easily remix artworks as their collection grows.
(Image: Design by Toronto Interior Design Group | Yanic Simard, Photo by Stacey Brandford, Courtesy of Houzz)
Picture rail's minimal footprint can save on valuable floor space while offering a wealth of flexibility for displaying and rearranging your growing art collection. (Image: Design and photo by Nest Design Studio, Courtesy of Houzz)
5. Learn to Lean…
…And layer your artworks for effortless appeal. Arrange groupings of your favorite paintings, prints and photos in a tabletop vignette for maximum impact with minimal marks on your walls. Varying heights when creating your art displays adds interest.
(Image: Design by Lara Dutto, Laraarchitecture / Architect of Record: David Burton, Photography by Jenny Pfieffer, Courtesy of Houzz)
6. Get Basic Cable
Installing minimal picture cable is an unimposing option for making the most of available wall space, plus it's a snap to display your modern art prints and photographic portraits.
(Image: Design by Entrance Fastighetsmäkleri, Photography by Anders Bergstedt, Courtesy of Houzz)
7. Use Hangers and Clips for a Quick Fix
If you're looking for an affordable and versatile way to display a collection of photos or fine art prints, consider using wooden hangers or metal clips to quickly hang your favorites without framing.
(Image: Photography by Sarah Greenman © 2014 Houzz, Courtesy of Houzz)
(Image: Design and photography by Stylingbolaget, Courtesy of Houzz)
Affordable originals and quality art prints offer endless options for rounding out growing gallery walls and vignettes. Visit Saatchi Art's Print offerings or our Portraits for $500 and under collection to find a new favorite today…