6 Tips for Styling Side Tables With Contemporary Art
When the season for entertaining is takes hold, most hosts are focused on setting a beautiful holiday table. While a decorative dining room is certainly welcoming, using a little contemporary art, fine art prints, or sculpture to spruce up your entryway tables, coffee table, and side tables also makes a strong style statement while offering guests valuable insight into your personal taste.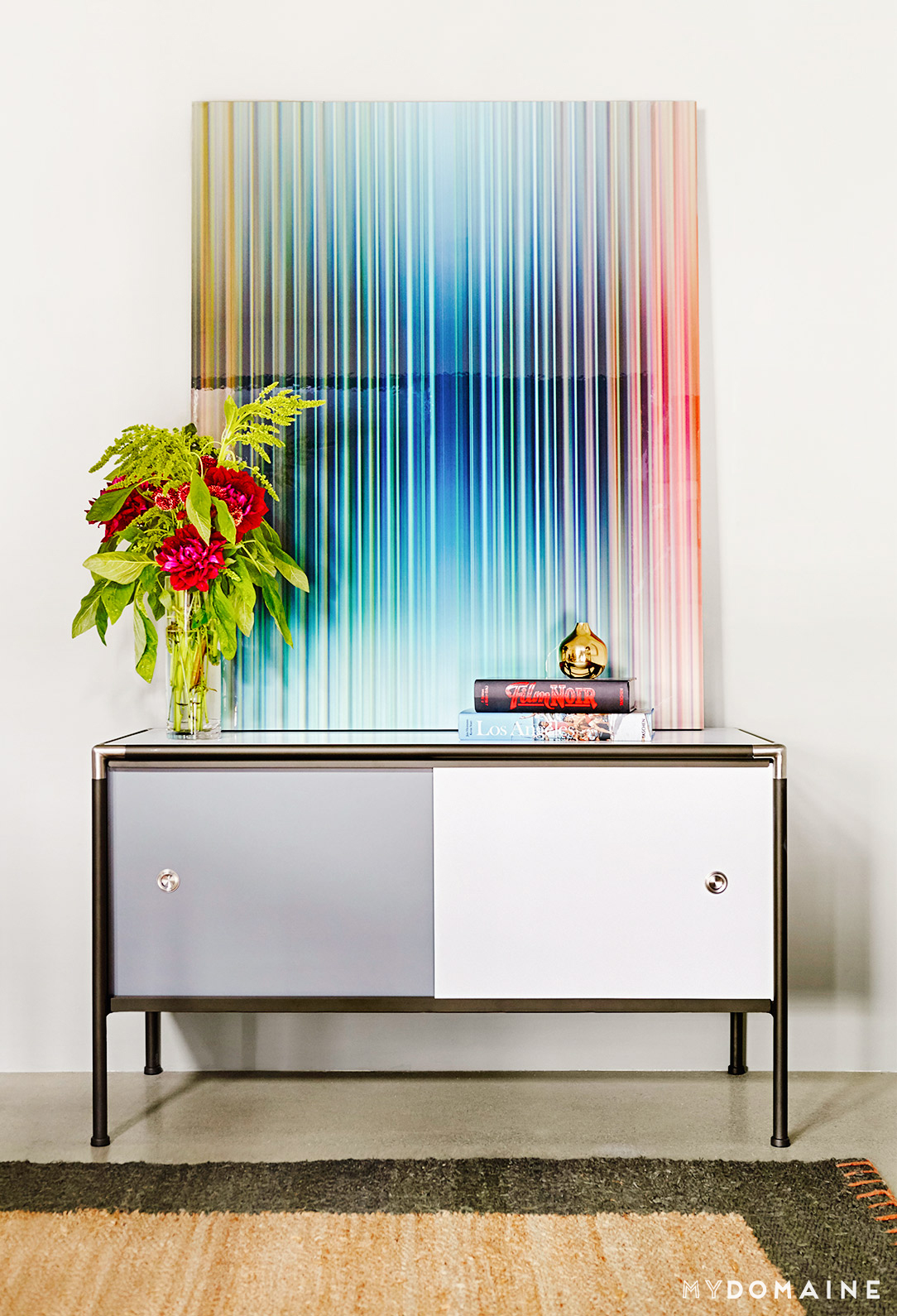 When you're looking for new ways to revitalize your rooms before the guests arrive, try styling a tabletop vignette with contemporary art and photography. (Image: Vibration 16, statement art photography by Saatchi Art artist Kris Tamburello. Photo by Christopher Patey for MyDomaine)
Here are 6 of our favorite décor and design tips for styling side tables and vignettes with art:
1… Develop More Dimension With Layers
To get started styling your console or side table, arrange your largest artwork in the back to create a sense of color and depth. Then layer small art, photography and sculpture in front and next to your most prominent artwork to compliment while adding texture and dimension. Brit + Co. notes "Side tables will look fuller if you add a tall layer and a short layer."
2… Anchor it With Art
When designing a tablescape for a console or side table, use larger works to anchor your display. Houzz recommends arranging tabletop vignettes in an "A" shape, with the highest point in the center, to balance the look of vignettes. Visit our earlier post on how to style tabletop vignettes with art to learn more…
3… Turn Up the Glow With Metallics
Showing off some shimmer increases the visual impact of your home's design, especially during the holidays.

Display some small metallic sculpture, art prints in shiny metallic frames, or metallic modern art to catch everyone's eye while brightening up your space. (Image: A Round Table Discussion, by Saatchi Art artist Adrian Kay Wong. Photo by Christopher Patey for MyDomaine )
4… Add Multiple Heights to the Mix
Feature a mix of art, decorative objects and collectables in a variety of heights to engage their attention. Stacked small boxes or woven baskets can help conceal remotes and other more functional items from view, too. A stack of your favorite art and photography books adds some height and color to consoles and credenzas while giving your guests a clue about your favorite art, style and design.
5… Feature Fresh Shape & Color
Bring in some decorative stones, earthy geodes, shells or succulents to take your side table up a notch. Organic shapes provide interesting contrast when combined with contemporary art.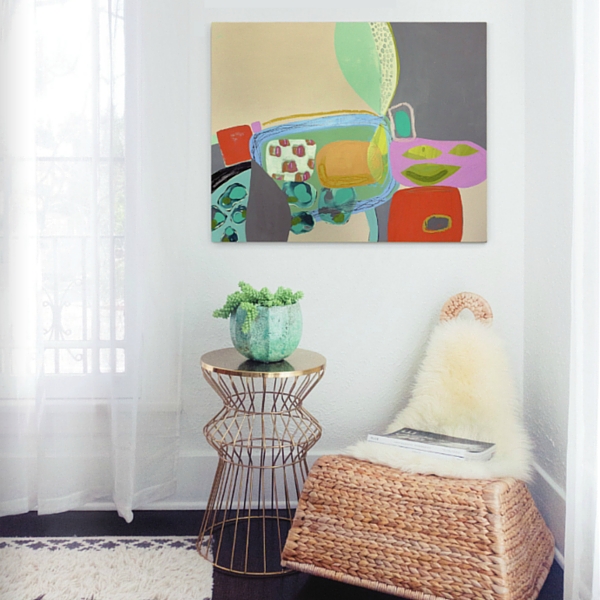 Botanicals pair perfectly with all kinds of modern art. Top your side tables with sculptural green succulents or leafy tropical plants for an instant pick-me-up. (Image: It Finds A Way, by Saatchi Art artist wyanne thompson / Saatchi Art)
6… Layer and Mix Geometric Shapes to Add Interest
Elle Décor offers this tip for the more minimally minded: Try displaying a square tray on a round table to make a lasting, yet simple impression with contrasting geometric shapes. Styling on a tray also allows for a quick getaway, if you need to clear your table temporarily to make extra space.