5 Homes Where Art Takes Center Stage
Art plays such an important role in design, and these homeowners are so committed to it that they planned their homes around their art collections. Large-scale walls, lighting, places for sculpture, color schemes and in some cases, space to create new works play major roles in these art-filled homes. Perusing these homes is a bit like taking a trip to a museum, but with the personal touches of a home — be sure to click on the accompanying links to experience the full Houzz Tours.
My Houzz: Layers of Patina and an Artist's Touch in a New York Colonial
1. At this rambling Shingle-style house in the Hamptons, New York, traditional architecture and modern art make for a happy mix.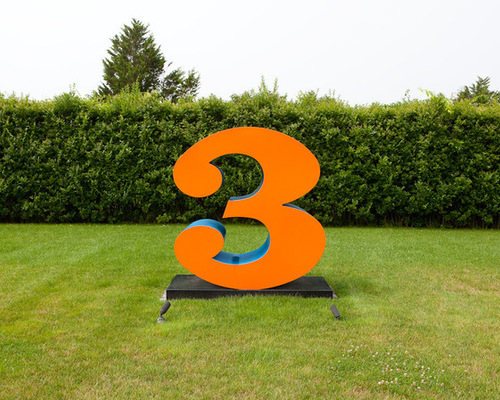 An evergreen hedge is just the right backdrop for a graphic sculpture by Robert Indiana. The sculpture is lit at night so that the owners can enjoy a view of it from the house when it's dark outside.
2. This home in the Clinton Hill neighborhood of Brooklyn, New York, was designed for living and for making and displaying art.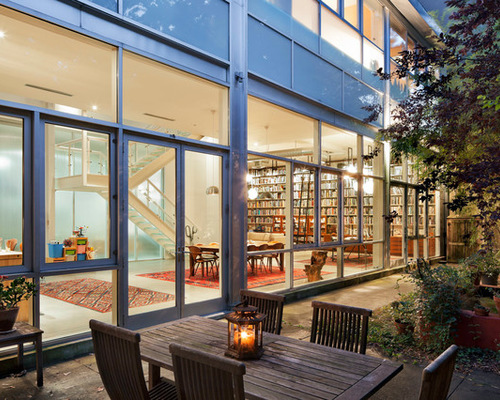 Brazilian artist Vik Muniz and architect Brenda Bello transformed an old light-manufacturing warehouse into Muniz's home and studio. This garden used to be the warehouse's garage, and much of the home opens out to it physically and visually. As you can see through the window, floor-to-ceiling, wall-to-wall shelves provide plenty of room for inspirational items — the artist's collection of favorite books and objects.
3. Painter and architectural designer Richard Roblin designed his home around making the most of the views from Vancouver Island and around displaying and producing art.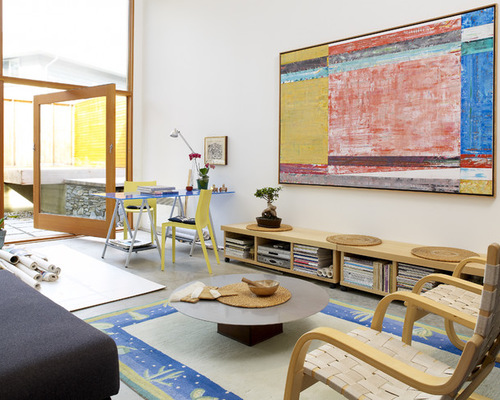 In his studio, the design is also about light; the 14-foot-square windows face north. There is easy access to a courtyard, where he also paints. The painting here is called Barragan.
Enjoy Your Art in More Natural Light
4. In Chicago's Lincoln Park neighborhood, architect Michael Graham and interior designer Bruce Fox helped a client design a unique house crafted of many recycled materials.
As you can see from John Henry's sculpture Chevron, designing a house with room for displaying a collection of large-scale works was the priority. Side note: Apparently a few neighbors were not fans of Chevron, which became known locally as "Big Blue." Now it has a temporary new home along the lakefront in a Chicago park.
5. Interior designer Raji Radhakrishnan has been putting her stamp on her own Northern Virginia home for over a decade.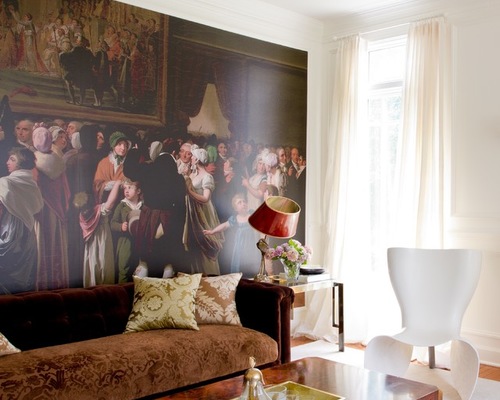 She enclosed some of the rooms in the once-wide-open modern plan, but then layered in the modern touch of floor-to-ceiling photo murals. The designer's love of people-watching inspired her to blow up Louis-Léopold Boilly's painting that depicts a crowd milling around beneath an artwork of the coronation of Napoleon's wife, Empress Josephine. It takes up 90 percent of the wall and provides a grounding focal point for the light-colored room.
Love reading about all things art? You can have articles from Canvas, curated collections and stories about emerging artists delivered straight to your inbox. Sign up for the Saatchi Art Newsletter.