A Guide to Fine Art Prints
Saatchi Art is the premiere portal to affordable and customizable art, ensuring that art is accessible to every art lover. With the expansion of our fine art print offerings, we have an unparalleled selection of high-quality reproductions in a variety of sizes and mediums. If you're new to the world of art prints or need a side-by-side comparison of each type, here's an introduction to help you understand the ins and outs.
Benefits of Collecting Prints
One of the key advantages of collecting art prints lies in their affordability, offering an entry point for art enthusiasts looking to add to their collection without straining their wallets. With accessible price points, collectors can feel at ease exploring evolving tastes and aesthetics. Despite their lower costs, there is an opportunity for greater investment as purchasing prints allows collectors to stretch their budgets and collect from a diverse array of artists.
Another bonus of prints to original artwork is the flexibility to be tailored to a collector's exact needs. The ability to select sizes, materials, and framing ensures the artwork seamlessly blends into any space or lifestyle.
How to Shop Fine Art Prints
1. Pick Your Artwork
From abstract to Pop art, Saatchi Art offers a large selection of high-quality, fine art prints in a variety of artistic styles meaning there's something for everyone.
2. Choose Your Material
(Image: Detail of our fine art acrylic prints)
Prints can be reproduced on canvas, paper, acrylic, or metal to complement any taste, space, and style. Based on the medium and aesthetic of the original artwork, artists provide expert recommendations on the materials that their work would be best presented on.
3. Select a Size
Looking for something small and subtle or large and bold? Our art prints start at just 8 x 12 inches and run up to 32 x 48 inches.
4. Add a Frame
Many Saatchi Art prints are available with optional framing including our fine art paper, photo, and canvas prints.
We offer handmade black, white, natural wood, and light or dark pewter metal frames for our fine art and photo paper prints, making them highly customizable to complement existing decor. For a clean, contemporary look, there are options to add slim float black or white frames to our canvas prints.
5. Hang Your Print 
We package each print with protective care—your fine art print will arrive ready to hang with a certificate of authenticity. Our metal and acrylic prints are exhibition mounted and include hanging hardware, and framing options are available for our other print options.
Editions: Open Vs. Limited
When an artist sells open edition prints, there's no predetermined limit on how many prints will be offered. This does not mean that an art print will be available indefinitely, so when you discover art you love, it's always a good idea to act on it.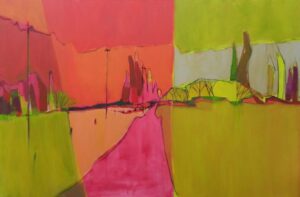 (Image: Through the Valley, an abstract landscape by Saatchi Art artist Virginia Chapuis. Prints available from $40.)
Open edition prints can save the day when a favorite original artwork gets scooped up by someone else or you're trying to maximize your budget. Saatchi Art works directly with a professional printer to process and send these orders to you. Visit our Prints page to start exploring now.
Limited edition prints mean that only a certain number of prints are available. These prints are created by the artist and sent directly to you; some are signed and numbered. Because they are exclusive, limited edition prints are considered more valuable and usually cost more than open edition prints.

Picking out open edition prints? You can see an example of what borders and framing will look like on the art detail page when you make your selections. (Image: See What I See, by Saatchi Art artist Annie Terrazzo.)
Types of Open Edition Art Prints
Currently, Saatchi Art offers 5 types, or materials, of open edition art prints, with options for framing:
Metal
Perfect for interiors ranging from modern to rustic, metal art prints offer a sleek contemporary look for any space. The state-of-the-art coating infuses artwork directly to the aluminum, resulting in a unique sheen and luminosity that make the colors pop among other artworks and home decor. Saatchi Art metal prints are exhibition mounted, making them easy-to-hang. Find a striking selection of fine art prints here.
Acrylic
Featuring vibrant, saturated colors and a sleek contemporary look, acrylic art prints offer a high-impact, one-of-a-kind look. Face-mounted to durable plexiglass and printed with archival pigmented inks, the reflective surface enhances the clarity and creates a three-dimensional effect, giving the artwork a sense of depth and vivid detail.
For an effortless addition to an existing gallery wall or a hassle-free update to a blank space, these prints arrive ready-to-hang with install hardware. Explore curator-approved options.
Canvas Prints
If you love the look of paintings, consider buying a canvas print.
Our canvas prints are museum-quality giclée (pronounced "gee-clay") reproductions created using an advanced ink jet printing process specially designed to capture the look of painted pigments and capable of reproducing more than 36 million colors. The artwork is professionally printed, wrapped in matte bright white or black canvas, and expertly affixed to hand-cut, eco-friendly wooden stretcher bars. Each canvas is also coated with a UV protective layer, designed to shield your print from scratches and sunlight and keep your art looking its best.
To provide you with even greater control over the final aesthetic of your wall art, we offer 3 framing options: classic black, clean white, or frameless. The frames are designed to be unobtrusive, hugging the edge of the canvas to create a modern floating effect that emphasizes the artwork. Discover canvas prints from top emerging artists.
Fine Art Paper Prints
A classic print option, our fine art paper prints are also high-quality giclée reproductions, except that instead of printing the art on canvas, they're printed on natural white archival quality European paper made especially for Saatchi Art. Fine art paper prints feature soft color fidelity on a slightly textured surface similar to watercolor paper. Each fine art paper print includes a 3-inch white paper border. Uncover artwork suited for paper prints.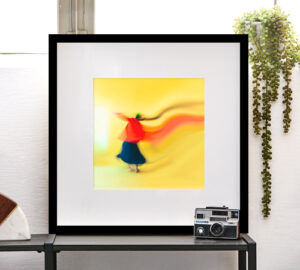 (Image: DANCE (part II) n°28, by Saatchi Art artist Emilie Möri. Prints available from $100.)
Gallery Photo Paper Prints
If you love art photography, get to know our gallery's photo paper prints.
Fine photo reproductions feature sharp color fidelity on smooth, bright white paper with a satin luster finish. Our gallery photo paper is custom-made in Europe exclusively for Saatchi Art. All gallery photo prints include a 1/16th of an inch white border for ready-made framing. See more photo print options.
With their endless possibilities, prints are empowering and enriching options for collectors who want to try something new, are just starting out, or need to follow a budget. For more art print inspiration, our Chief Curator has rounded-up some of her favorite prints to help you on your search. Find them here.
Do you love being the first to share something new? Sign up for Saatchi Art's newsletter today to stay in the know…