5 Can't Miss Tips for Styling a Salon Wall… Plus, Shop This Look!
Styling your own salon gallery wall is an exciting avenue for adding exceptional texture, color, and a sense of dimension to your rooms. Whether this is your debut display, or you're in the market to energize an existing salon wall in your home, getting started is easy when you keep a few guidelines in mind. Read on for five can't miss ideas for making gorgeous mixed medium galleries at home, then shop this wall to grab some of Saatchi Art's original gems for yourself today.
1… Mix up mediums to maximize interest.
As seen in the animation above, including a variety of paintings, drawings, photography and prints generates layers of eye-catching texture, color and shape. Use your gallery wall to tell a story or give a glimpse into your personal style. Feel free to work in some of your own works, a small wall sculpture, or unique vintage finds for a little something extra.
2… Go big at the beginning.
When styling your salon wall, leading design resources suggest creating a central focal point with your largest or most visually-striking work and building out from there. Brit + Co notes that "the eye will be drawn to it first, so that means the surrounding artwork should scatter naturally around it."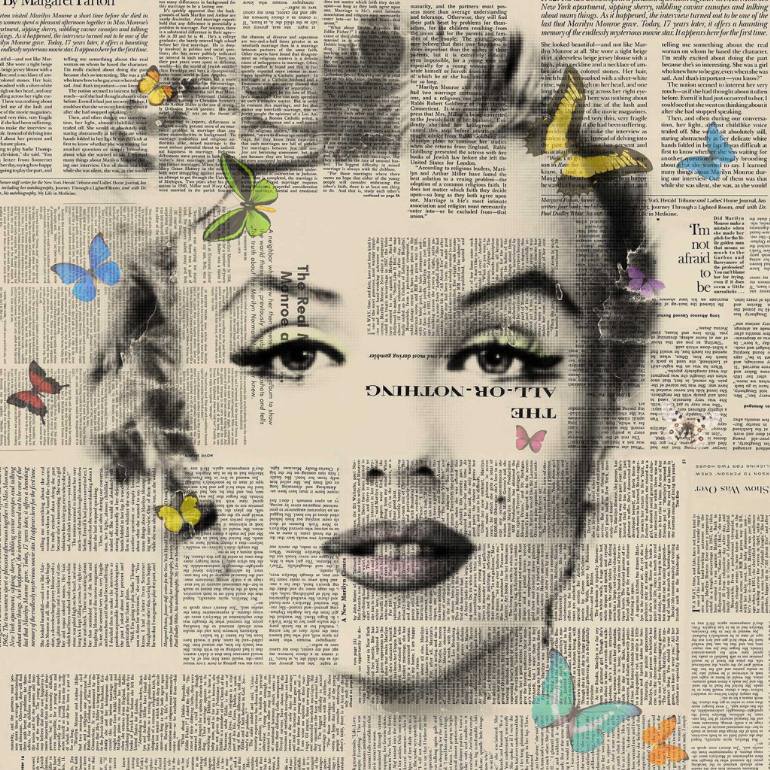 Give your wall star power. Iconic Marilyn provides a striking focal point in our gallery wall while drawing viewers in with her gaze. (Image: Marilyn Monroe – Butterflies 4, a large limited edition print by Saatchi Art artist Vee Bee.)
3… Create consistency with color and shape.
Pick a palette of 2-3 compatible colors to help your wall hang together. Furniture, rugs, and decorative accents in similar colors can also be used to anchor your gallery wall. In this wall's selection of works, shared blue, golds and black are a constant, and several of the artworks feature black silhouetted shapes.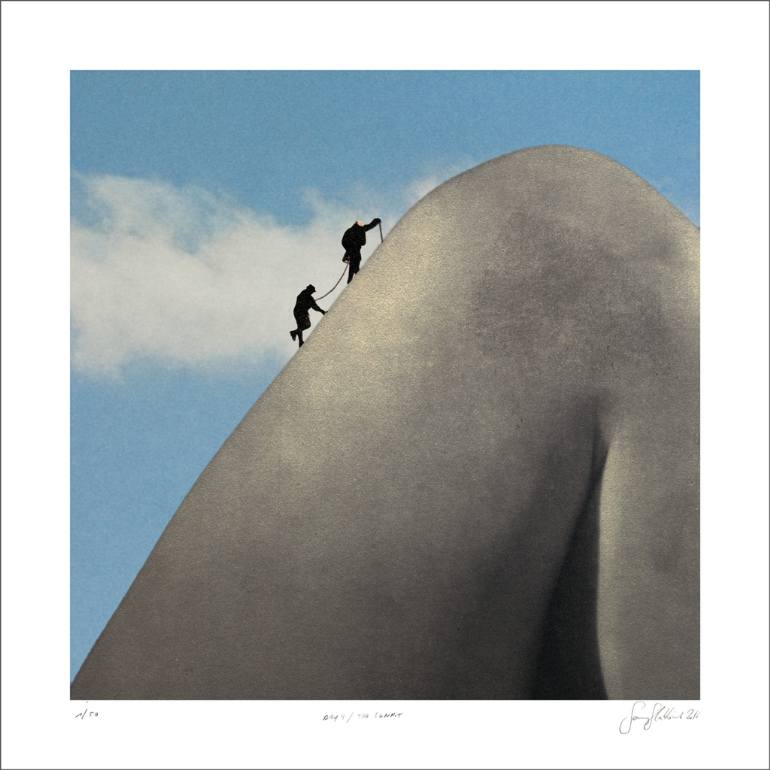 Shared sky blue tones and human silhouettes help these artworks work together.
(Image: Day 4/The Summit, a paper collage by Saatchi Art artist Sammy Slabbinck)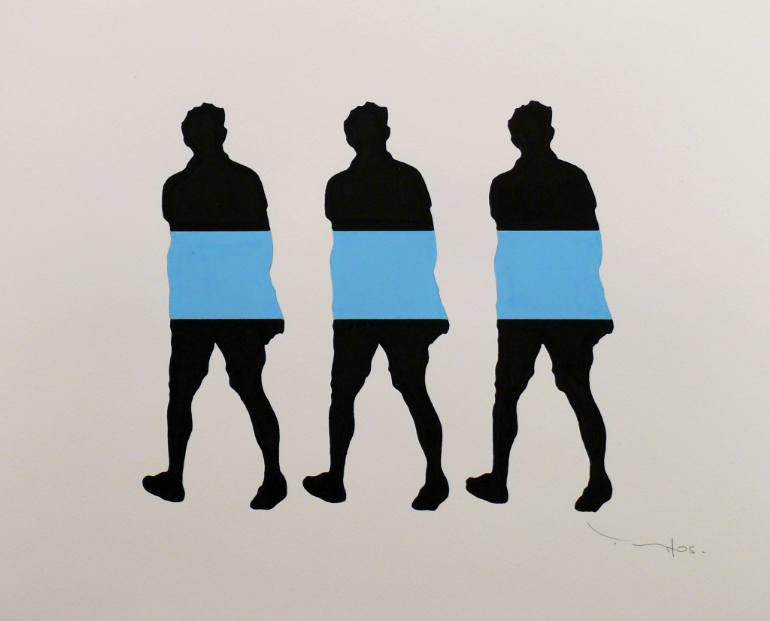 (Image: Three walking men, a drawing by Saatchi Art artist Tehos Frederic CAMILLERI)
4… Use a family of frames to unify your look.
Featuring a mix of artworks in frames of the same color or materials can tie everything together.
5… Plan it with paper.
If you're planning a salon-style wall for the first time, or you're ready to rework an existing gallery wall, laying your artwork out with paper templates before grabbing a hammer can help minimize missteps. View this video from our friends at Leaf TV to learn how easy it is to DIY.

(Video: 3 Steps To A Mix & Match Art Wall, by Leaf, via YouTube)
Explore our sidebar selections to shop this wall today or visit Saatchi Art's latest catalog to discover our curators' freshest picks for fall.
We love special requests. If you have something special in mind, you can contact our free Art Advisory service anytime for assistance in creating a one-of-a-kind salon wall just for you.