3 Steps To A DIY Gallery Wall
Gallery walls are one design trend we hope never goes out of style. Whether your art collection is eclectic or specific, an art wall is the perfect, high impact way to bring all of your original artworks together.
Follow this simple guide from our friends at Leaf.tv to create your own art wall in 3 easy steps. Want even more inspiration? We've pulled together some of our favorite examples of gallery walls below. With so many possibilities to explore, get ready to create the perfect art wall for your style and space.
A gallery wall is the perfect way to display a grouping of similar artworks, or to bring together a collection of mix and match pieces. When selecting pieces for your art wall, the subject and medium of your artworks matters less than the color and size of the pieces. Look for artworks with complementary color palettes and a nice variety of small and large pieces.
This poppy, mixed-media gallery complements the size and orientation of the wall, as well as the palette of the room's decor.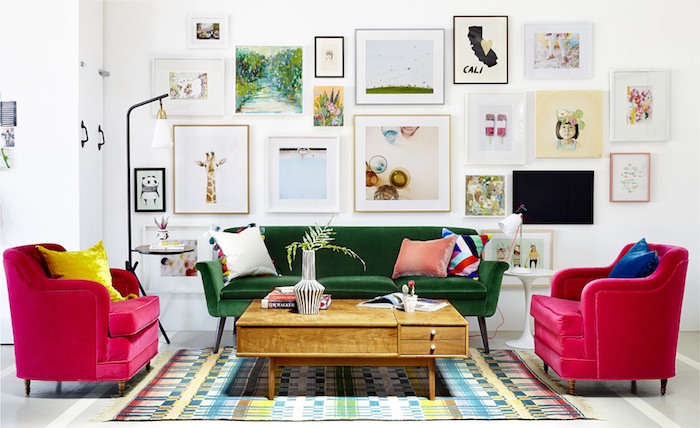 A more masculine take on the art wall, we love the way the bold, abstract artworks span all the way from sofa to ceiling. Just be sure to leave a few inches above and below your highest & lowest artworks, respectively, to ensure your collection doesn't look cramped.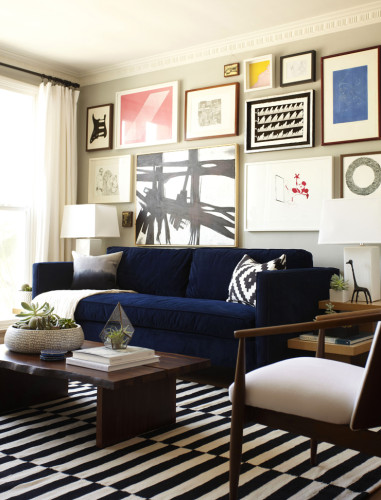 If organic shapes aren't your thing, hang artworks in a grid form for a more clean and polished look.
A grid art wall necessitates more homogeneity in subject matter and medium than the more relaxed, organic shapes of traditional gallery walls. To nail this look, you'll want to stick with one medium, one frame type and 1-2 subject matters. You will also want to stick with one color palette. We love the black and white photography example above.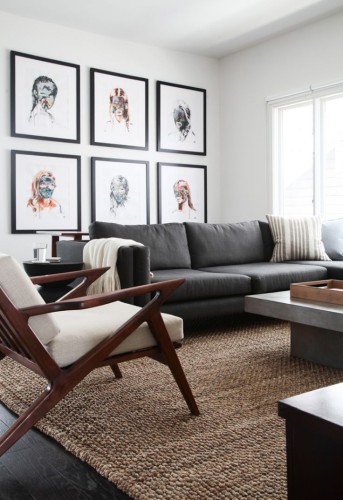 Check out our Art For a Gallery Wall Collection for great pieces of all sizes to compliment any collection. Happy hanging!