Where Are They Now? A Look at Past Invest In Art Artists
In 2013 Saatchi Art launched the first ever edition of Invest In Art. Created by Chief Curator and VP Art Advisory Rebecca Wilson, the series aims to promote promising emerging artists around the world whose artworks show strong potential to increase in value. Honed in part by seven years spent as a Director of the prestigious Saatchi Gallery in London where she created the highly regarded emerging art prize New Sensations, Wilson has an exceptional eye for rising talent. While there are never any guarantees when investing in art — you should always buy what you love first and foremost — many of the artists carefully chosen for our Invest in Art series have gone on to have significant career success and see the value of their artworks more than double.
Introduced in previous editions of Invest In Art, Bradley Wood (2014), Fanny Nushka (2013) and Andrew Salgado (2013) are three such success stories. These emerging artists demonstrated particular promise at the outset of their careers, and have added numerous accolades, prizes, and solo shows to their resumes in the past few years, in addition to their works increasing in value and being much in demand. Read on to learn more about where these past Invest In Art artists are today.
Bradley Wood

Artist Bradley Wood poses with his painting, "Still Water Perch (2015)." (Image: the artist's Twitter, @bradleywood5)
Featured in Invest In Art 2014: Edition III as well as Saatchi Art's "Best of 2014" list, Bradley Wood was born in Canada and is currently based in New York. Likened to a "slacker Vuillard" for his buttery oil paintings of tony, decadent domestic scenes, Wood graduated from Rhode Island School of Design in 2006 and in 2016 his solo exhibition at PULSE New York was shortlisted for the fair's prize for "an artist of distinction." The works at the fair sold out.
Check out the video below of Bradley Wood at work while preparing for his first solo exhibition in New York, "Domestic Fictions" presented by Saatchi Art in 2015.
Fanny Nushka

Saatchi Art artist Fanny Nushka Moreaux. (Image: Saatchi Art)
Featured in Invest In Art, 2013: Edition II, Fanny Nushka Moreaux was born in 1983 in Lille, France, and lives in Paris and Southern France. She studied political science in Science Po but has always focused on painting. Representation of the body is a recurring subject in her works which are characterized by thick brushstrokes and a timeless quality. Since being featured in Invest In Art, Nushka has added several solo shows to her resume, including 2015 exhibitions in Dubai and France. In 2014, her work was featured in the prestigious New Collectors Book and most recently, Artsy named her painting, Second Study for Pink Silk-Revisiting Sargent, 2016 one of "The Most Collectible Works at Art Southampton 2016."
Check out the video below of Fanny Nushka Moreaux at work while preparing for her recent solo exhibition in France, "Details Contemporains" presented by Saatchi Art.
Andrew Salgado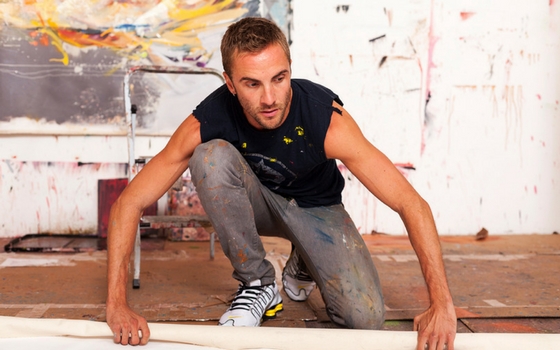 Selected by Wilson to be featured in Invest In Art: 2013 Edition I, Andrew Salgado earned an MFA (Honors) from Chelsea College of Art, London. Born in Canada, now based in London, Salgado's large-scale figurative paintings have hung in exhibition with Tracey Emin and Gary Hume. By 2014, just 5 years out from receiving his MFA, Salgado has already enjoyed 10 straight sell-out solo exhibitions in London, New York, Ottawa, Cape Town, Copenhagen, Oslo, Miami Beach and Basel. By 2015, his works had more than tripled in price in less than two years.
Watch the video below to see Salgado as he prepares for "Storytelling," his third solo exhibition at Beers Gallery in London, October 2014.

Andrew Salgado: Storytelling from Elizabeth Cassidy on Vimeo.
Ready to invest in an emerging artist's work? Explore Saatchi Art's brand new edition of Invest In Art; featuring 20 of the most promising emerging artists from the U.K and U.S., hand-selected by Chief Curator Rebecca Wilson.
Want to brush up on your art investment knowledge? Check out our free e-book, 7 Essential Steps to Collecting Emerging Art.
Note: There are no guarantees when it comes to buying art and you should always feel happy with what you're buying as it may be on your walls for a pleasurably long time. But if you are interested in the investment side of buying art then acquiring works by emerging artists is a great way to begin.