Where Are They Now? A Look at Our Rising Stars Alumni
Since 2013, Saatchi Art has published an annual list of up and coming artists recognized as Rising Stars, our most prestigious feature for Saatchi Art artists. These international artists are personally chosen by our Chief Curator and VP, Rebecca Wilson, for the promise they show and the distinct practices they have developed. Below, meet a few of the Rising Stars alumni who have continued to grow their careers to critical acclaim and commercial success, and collect their works while you still can.
Juliet Gibbs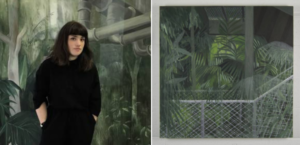 Juliet Gibbs was named a 2018 Rising Star upon earning her BA in fine art, with honors, from Falmouth University in Falmouth, England. The next year she was named the winner of the Open Contemporary Young Artist Award at the Biscuit Factory Gallery in Newcastle, UK, and she participated in the UK Young Artists Artshake Residency in Shanghai. In her painting practice, Juliet Gibbs turns an analytical eye on greenhouses, juxtaposing their mundane human architecture with the exotic plant life held within. More broadly, Juliet explores the symbiosis and tension between manmade and natural environments through unexpected compositions and understated palettes anchored by careful draftsmanship. See more of Juliet's work here. 
Sam Shendi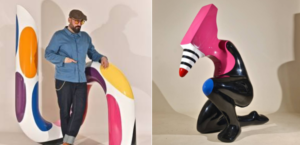 Born and raised in Egypt, the now UK-based sculptor Sam Shendi credits the architectural traditions of his home country with his lifelong interest in large-scale sculpture. In 1997, he earned a BA with honors from Helwen University of Fine Arts in Cairo, specializing in monumental sculpture. Today, Sam creates colorful biomorphic sculptures that speak to both his penchant for the absurd and his aptitude for fantastical 3D design. Sam partakes in a Post-Minimalist practice, borrowing the sleek industrial materials of Minimalism—steel, aluminum, and plastic—to render humanlike forms on the verge of abstraction, while still retaining distinct bodily forms and emotional expression. Named a Rising Star in 2015, Sam Shendi has since exhibited his work across Europe and South Africa, including at Saatchi Gallery in London. In 2019, he was the winner of the Liverpool Plinth award for public art. See more of Sam's work here.
Kim Byungkwan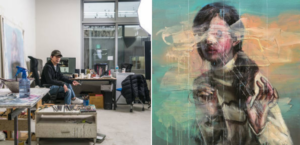 Kim Byungkwan distorts pop and historical icons into phantasmal paintings with the power to both transfix and disturb. With saturated palettes and textural brushstrokes, Kim smears and scrapes back his meticulously rendered figures, blurring them into liminal space à la an aggressive, irreverent Gerhard Richter. Through this process, Kim exposes the strangeness lurking beneath the everyday. Named a Saatchi Art Rising Star in 2015, Kim has gone on to exhibit his work across Europe, the United States, and Asia, including at the Seoul Museum in Seoul, South Korea, where he is based. His work is now held in private collections around the world. See more of Kim's work here.
Cody Bayne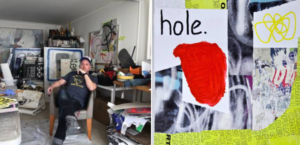 2016 Rising Star and mixed-media artist Cody Bayne forges a link between contemporary art and visual culture, incorporating found and discarded media and graffiti into aesthetically-conscious compositions—all with raw texture and an unmistakably punk ethos. Having exhibited alongside the likes of Shepard Fairey, Cody falls into a lineage of American street art and neo-expressionism. Cody is heavily involved in the art scene of his homebase, Los Angeles, with recent exhibitions and projects at Castelli Art Space and Gabba Gallery; in 2017, he was recognized for his work with the Los Angeles Alley Project, which seeks to beautify local alleyways with public murals. Cody's collages and mixed media works on canvas can be found in private collections across the United States, Canada and Europe. See more of Cody's work here.
Rossina Bossio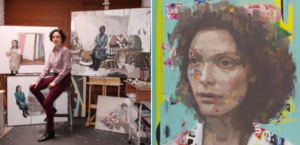 After studying visual art at Pontificia Universidad Javeriana in her hometown of Bogotá, Colombia, Rossina Bossio went on to earn a degree in fine art from L'École des Beaux-Arts in Rennes, France, in 2009. In her paintings, Rossina explores the complexity and ambiguity of the gender ideals that colored her upbringing, primarily through staid and thoughtful female subjects. The solidity of her figures contrast surreal, unstable backgrounds, visually representing the flux and uncertainty of our existence. Recognized as a 2014 Rising Star, Rossina has since been featured in Vice and Hi-Fructose. A multimedia artist, Rossina has shown her short films at international festivals, including at The Americas Film Festival in New York in 2018, while her paintings and performances have graced the galleries of the Grand Palais in Paris and the Imperial City Art Museum in Beijing. See more of Rossina's work here. 
Love reading about all things art? You can have articles from Canvas, curated collections, and stories about emerging artists delivered straight to your inbox. Sign up for the Saatchi Art Newsletter.