Curator's Pick: Rising Stars — Hannah Benassi
Since the 2013 publication of our very first MFA graduate feature—formerly titled "Invest in Art"— many of the artists selected by Chief Curator Rebecca Wilson have gone on to achieve significant acclaim. For the latest 2019 edition, we are excited to share 31 emerging artists from top schools in the US and UK, chosen by our curators Monty Preston and Aurora Garrison, and Chief Curator Rebecca Wilson.
Rebecca draws on over 15 years' experience working with emerging artists, honed in part by 7 years spent as a Director at the Saatchi Gallery in London where she created the highly regarded emerging art prize New Sensations.
View Saatchi's 2019 Rising Stars Collection Here
While there is never a guarantee when it comes to investing in art—we encourage collectors to always buy what they love first and foremost—many of the artists chosen for the Rising Stars series have gone on to enjoy great success with the value of their artworks more than doubling.
We hope you enjoy this selection of our 2019 Rising Stars, all of whom we are very excited to have discovered and believe show great promise.
Curator's Pick: Hannah Benassi
Hannah's creative process is founded on extensive research and artistic intuition. First, she researches ancient ruins and rustic architecture and deconstructs these images to their most simplified forms. The artist then pieces them back together through layers of color, often neutral and earth-toned. Through the her process of deconstruction and recreation, Hannah's paintings seem a perfect balance of lightness and structure.
About the Rising Star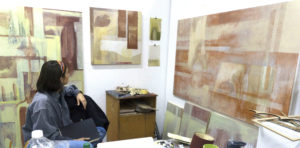 Hannah Benassi's paintings are comprised of simplified textural forms derived from an interest in antiquity, her Italian heritage, and how organic forms interact with man-made environments. The Edinburgh-based artist received her BA at Duncan of Jordanstone College of Art and Design and she will start her MFA at the Glasgow School of Art in autumn 2019. She has participated in a number of exhibitions in Scotland including at Generator Gallery, The Biscuit Factory, and Doc Street Studio, and is the recipient of the 2019 Farquhar Reid Trust Prize.
Love reading about all things art? You can have articles from Canvas, curated collections, and stories about emerging artists delivered straight to your inbox. Sign up for the Saatchi Art Newsletter.