Collectors Favorites: Bestselling Artists of December
Ever wondered what other people are buying for their personal art collections? Though your tastes may differ, seeing what others are purchasing can help you discover new artists whose works you might not otherwise have considered. Below, meet 5 artists who have proven to be popular favorites with our collectors.
For more ideas, browse our recently sold works and contact our curators who can help you find similar works in your budget.
Sumit Mehndiratta

New Delhi based artist Sumit Mehndiratta describes his practice as experimental and technical. Creating his own tools and exploring art forms ranging from photography to painting to sculpture, the MSc graduate takes pleasure from witnessing how different individuals react to and interpret his work. Sumit has exhibited in solo and group shows in Italy, Japan, India and the UAE. His works have been acquired by collectors in the US, Spain, Australia, UK, Netherlands, Singapore, Switzerland, Ireland, Israel and South Africa to name a few. Sumit donates 10% of his artwork sales to Friendicoes, an animal welfare organization based in New Delhi. See more of Sumit's works here.
Lorette C Luzajic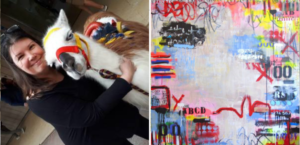 Lorette C Luzajic's work is founded on the principle of curiosity, and engages the practices of painting, collage and drawing. Graduating from Ryerson University, Toronto, with a Bachelor of Applied Arts (Journalism) her work explores art history, literature, religion, pop culture and human behaviour, resulting in a style that is very much her own. Her extensive exhibition history spans cities including Edinburgh, Brisbane, Bristol, Los Angeles, San Francisco, and Chicago, with other international exhibitions reaching as far Mexico and North Africa. Her works are held in private collections in the US, UK, Australia, Canada, Japan, Italy and Netherlands. See more of Lorette's works here.
Guang-Yu Zhang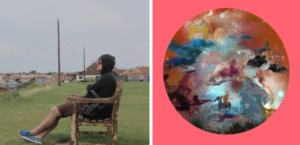 Having graduated from Central St Martins, London in 2012, Guang-Yu Zhang has taken the art world by storm. Selected to exhibit at Tate Britain and Saatchi Gallery in London, Guang-Yu was also nominated for the Art Gemini Prize and Photo X Prize in 2017. He has exhibited in solo exhibitions across Hong Kong and London; in group shows in Beijing, Seoul, London, Tel Aviv, and Shanghai; and at art fairs including Scope Miami at Art Basel, Asia Contemporary, and The Affordable Art Fair. His works fuse eastern and western art traditions, with something almost extraterrestrial. The rhythmic movement of his compositions and soft yet vibrant colour choices create mysterious and deep worlds that beg for visual exploration. He has collaborated with leading design firms on hospitality projects all over the world, and his pieces have been acquired by private collectors globally. See more of Guang-Yu's works here.
Karolina Maszkiewicz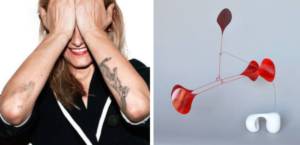 Karolina Maszkiewicz is a Polish-born sculptor living and working in Los Angeles. Incorporating kinetic elements and floral concepts into her artworks, Karolina is inspired by 20th century artists such as Niki de Saint Phalle, Gertrude Goldschmidt and Eva Hess. Exhibitions include cities such as Santa Fe and San Francisco, and her work headlined a recent feature in TMagazine, (December, 2018) highlighting the next generation of sculptors challenging the classic Calder mobile. Her pieces have been acquired by collectors across the US. See more of Karolina's works here.
Alan Fears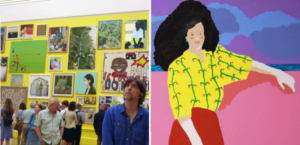 British Artist Alan Fears graduated with a BFA from Nottingham Trent University, and a degree in Art and Design from the Eastbourne College of Arts and Technology. Depicting his subjects and their environments in a simple yet direct style, his works are a humorous reminder of how 'great and stupid' life can be. His work has been featured in publications such as Metal Magazine, and in 2018 he collaborated with top fashion house MARNI in a launch video for their new Parisian atelier. His work was shortlisted for the 2018 John Moore Painting Prize, and his paintings were included in the Royal Academy Summer Exhibition this past year. His works have been widely collected across the US, UK, South Korea, Germany, Australia, Belgium, Switzerland, and France. See more of Alan's works here.
Love reading about all things art? You can have articles from Canvas, curated collections, and stories about emerging artists delivered straight to your inbox. Sign up for the Saatchi Art Newsletter.