Collector Favorites: Bestselling Artists of September
Ever wondered what other people are buying for their personal art collections? Though your tastes may differ, seeing what others are purchasing can help you discover new artists whose works you might not otherwise have considered.
Below, meet 5 artists who have proven to be popular favorites with our collectors. For more ideas, browse our recently sold works and contact our curators who can help you find similar works in your budget.
Viet Ha Tran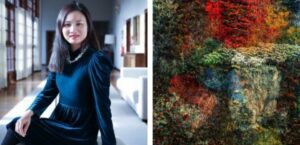 Madrid-based fine art photographer and multidisciplinary artist Viet Ha Tran's work has been published in over 100 newspapers and art magazines worldwide. Her lush photographs of ethereal vegetation and flowers transport the viewer to an otherworldly place. Viet Ha has participated in numerous international group and solo exhibitions, and Louis Vuitton France commissioned her in August 2020. See more of Viet Ha's work here.
Cristian Armenta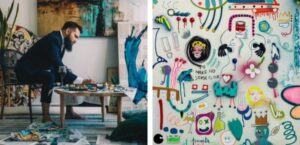 Experimental artist and Mexico City native Cristian Armenta creates vibrant multimedia abstract and pop artworks. His work includes watercolors and experiments with alcohol, gasoline, and other industrial materials. Cristian has exhibited at The Other Art Fair, his work has been featured in the Saatchi Art catalog, and he was named one of Saatchi Art's "Top 20 Artists to Watch in 2020." See more of Cristian's work here.
Luis Kaiulani
Miami-based sculptor Luis Kaiulani draws inspiration for his vibrant abstract sculptures from his childhood in Hawaii and his Venezuelan heritage. His attention to fluidity, mindfulness, and color brings his sculptures to life. Luis is a self-taught artist and has exhibited extensively in the Miami area. See more of Luis's work here.
Martyna Zoltaszek
Matryna Zoltaszek is a Polish-born painter based in the UK. Martyna's whimsical paintings are inspired by the natural world and the complexity of human inner emotional life, often featuring animals immersed in exotic landscapes or juxtaposed against geometric patterns. She earned her MFA from The Academy of Fine Arts in Wroclaw, Poland, and her designs have been featured at Anthropologie. See more of Martyna's work here.
Juliet Vles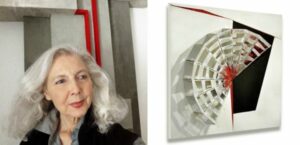 Swiss artist Juliet Vles creates minimalist multi-media artworks which combine painting and sculpture. Juliet's architectural artwork is a combination of the sober geometric structure and the multilayered, rough texture of the painted surface. Her work has been exhibited across Europe in many group and solo shows. See more of Juliet's work here.