Collector Favorites: Bestselling Artists of September
Ever wondered what other people are buying for their personal art collections? Though your tastes may differ, seeing what others are purchasing can help you discover new artists whose works you might not otherwise have considered.
Below, meet 5 artists who have proven to be popular favorites with our collectors. For more ideas, browse our recently sold works and contact our curators who can help you find similar works in your budget.
Sara Roberts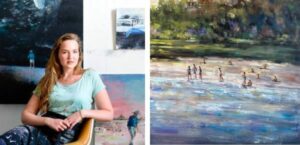 Sara Roberts is an Australian visual artist who works primarily in oil paint. Often meditating on specific locations, her work reflects memories of places she has been, interwoven with more idyllic and imagined elements of the environment. Sara's sublime landscapes are intrinsically nostalgic, evocative, whimsical, and ethereal. Exploring ideas of personal and cultural identity and one's sense of belonging within a place, she draws inspiration from her experience of living in between countries and relocating many times in her life. Born in Sydney and growing up in Mexico, France, Sweden, and Poland, the feeling of being foreign in an unfamiliar land has influenced Sara's art practice. See more of Sara's work here.
Cheraine Collette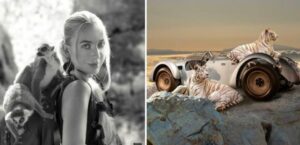 Cheraine Collette's work is dedicated to showing the constant battle between nature and humanity, the beauty and vulnerability of nature, and historic buildings. Cheraine hopes her work will inspire future generations and celebrate our shared natural and cultural heritage. Cheraine's work covers every aspect of photographic production, from photographing her subjects to manipulating and digitally painting over her images. Since 2019, Cheraine has won 100 prizes in internationally acclaimed photography competitions such as the International Photography Awards (IPA), the Prix de la Photographie Paris (PX3), the Julia Margaret Cameron Awards (2020), the Pollux Awards, the Siena International Photo Award (SIPA), and more. See more of Cheraine's work here.
Virginia Garcia Costa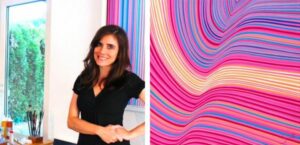 Virginia Garcia Costa is an Argentinian artist based in Switzerland. Virginia produces paintings and wall sculptures inspired by elements of nature. Virginia arranges her materials into what looks like a surface of drips, or water flow, making her style truly unique. Her colorful series is inspired by light and vibrant colors to immerse oneself in joy and hope. When viewed slightly in askance, the perpendicular lines give the piece a fresh sense of three-dimensionality. The artist trained as a painter at the National Academy of Fine Arts in Buenos Aires and has been shortlisted for the Rise Art Prize in London, UK, and has gone on to receive awards for her art in Switzerland from Arte Binningen, p.i.n.k.elefant, and Suisse-Art. See more of Virginia's work here.
Kaili Smith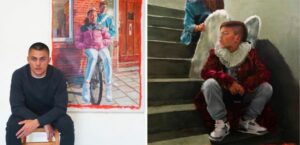 Kaili Smith's current work examines inner-city youth culture, offering alternative perspectives through paintings and film. Kaili's large-scale paintings are influenced by his upbringing and experiences growing up as a child and his teaching experience and research into behavioral psychology. Kaili has participated in numerous gallery and museum exhibits throughout Europe and the US. He sold out his graduation show in July 2018 at WDKA in Rotterdam, where he received his BFA. Kaili also holds an MFA from Parsons School of Design and recently had a solo show, "A Utopia Where The Problems Are Not Fixed" at Thinkspace Gallery in California. See more of Kaili's work here.
Ben Wakeling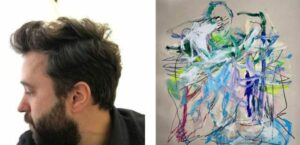 On top of being a full-time artist working from his studio in Hackney Wick, London, Ben Wakeling is also employed as an artist for the NHS North London Forensic Service. Having used these services for himself due to a Bipolar diagnosis, Ben creates deeply personal artwork that displays emotions from early childhood trauma and dangerously exciting life experiences. Deeming his raw, violent, and sexually charged paintings as self-portraits, Ben displays authentic and rebellious energy in his relationship with art. His intentional activist artworks aim to link his local community within NHS and bring about positive change. See more of Ben's work here.
Love reading about all things art? You can have articles from Canvas, curated collections, and stories about emerging artists delivered straight to your inbox. Sign up for the Saatchi Art Newsletter.