Collector Favorites: Bestselling Artists of September
Ever wondered what other people are buying for their personal art collections? Though your tastes may differ, seeing what others are purchasing can help you discover new artists whose works you might not otherwise have considered.
Below, meet 5 artists who have proven to be popular favorites with our collectors. For more ideas, browse our recently sold works and contact our curators who can help you find similar works in your budget.
Lynne Douglas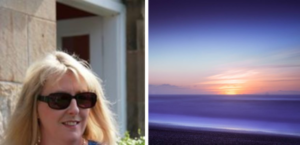 Lynne Douglas's atmospheric photographs are full of dramatic lighting, skies, and water. Her work pushes the boundaries of photography to abstraction. She often captures her home and inspiration, the Isle of Skye, through long exposure photography that creates her signature misty effect. She also extends her artistic practice into pure abstract paintings that are grounded in her photography. Lynne is a self-taught artist who pursued photography after a career as a research scientist in complex therapeutics. She and her husband own the Skye Blue Gallery in Scotland, where her works are continuously exhibited. Additionally, she has shown at the Sky Art Gallery and the Museum of Colours in Seoul, and the Agora Gallery in New York City.  See more of Lynne's work here.
Tetiana Bond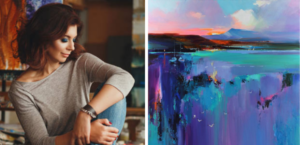 Using a consistent, bright, painterly style, Tetiana Bond's work covers diverse subject matter including figurative works, abstracts, landscapes, and still lifes. Her style naturally lends itself towards capturing movement and the fluttering effect of light. She writes that "the moment" is her primary inspiration and that the subject matter is of less importance than the formal compositional elements. Tetiana has studied graphic design in Ukraine, as well as architectural design at the Salvador Dalí Academy of Contemporary Arts in Kyiv. At Ukrainian Art Week in 2016, Tetiana earned First Prize in Abstract Painting as well as First Prize in Animalistic Painting. Her work has been exhibited at international art fairs in Miami, London, Ankara, and Venice. See more of Tetiana's work here.
Colin McCallum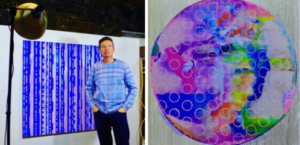 Painter and printmaker Colin McCallum works almost exclusively in an all-over, abstract style. His work goes through different iterations and variations, but with a remarkable diversity of design. Colin earned his Honors BA in Painting from the Camberwell School of Art in London in 1979. Since then, his work has been widely exhibited throughout the UK, the US, and Spain, including several solo exhibitions, most notably at Sala Gracia in Barcelona, Bicha Gallery in London, B&C in Barcelona, and Lever Gallery in London. His work is also held in the permanent collections of Granada TV, Coopers and Lybrand, and Deloitte. See more of Colin's work here.
Theophilus Tetteh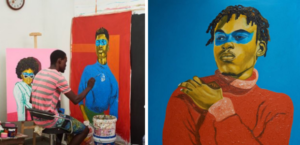 Theophilus Tetteh's latest series elevates his subjects to hero status by the application of a colored stripe across their eyes, effectively drawing the viewer directly to them. Each person has a unique personality and attitude conveyed through their varying angle, pose, or gaze. Brightly colored but empty backgrounds offset the subjects further, focusing all attention on the human element. Theophilus was an artist of the month at BE OPEN art in 2020. Since 2017, Theophilus has exhibited in several solo and group exhibitions in Accra, including at the National Theatre of Ghana, the Alliance Française Accra, and the Ghana Association of Visual Artists. Most recently, he has exhibited in London with J/M Gallery and Coningsby Gallery. See more of Theophilus's work here.
Naomi Vona
Inspired by the concept of time travel, Naomi Vona uses vintage photographs as collage elements in her work to blend old and new. Her found materials, once altered with paint, pen, and other illustration media, take on new life. Her bright, sunny color choices add vibrancy to the otherwise sepia and black and white photographic elements. Naomi studied photography at the Brera Academy of Fine Arts in Milan, Italy, and her work can be found in collections across the US, Canada, and Europe. She has exhibited her work in solo and group shows across the US and Europe, including at the Kimball Art Center in Park City, Utah; SOMArts Cultural Center in San Francisco; and Mercado de Antón Martín in Madrid. See more of Naomi's work here.
Love reading about all things art? You can have articles from Canvas, curated collections, and stories about emerging artists delivered straight to your inbox. Sign up for the Saatchi Art Newsletter.