Collector Favorites: Bestselling Artists of September
Ever wondered what other people are buying for their personal art collections? Though your tastes may differ, seeing what others are purchasing can help you discover new artists whose works you might not otherwise have considered. Below, meet 5 artists who have proven to be popular favorites with our collectors.
For more ideas, browse our recently sold works and contact our curators who can help you find similar works in your budget.
Nick Moran

Nick Moran is a London based artist who's steel sculptures embody motion and expression in their abstract forms. Nick studied blacksmithing at the Hereford College of Art, has won awards for outstanding craftsmanship from the Worshipful Company of Blacksmiths, and his sculptural commission for Duplo International was exhibited at the Tate Modern. He was commissioned by FINA to create the Lifetime Achievement Award given to Michael Phelps at the 2012 London Olympics, and his works are held in public and private collections across the globe. See more of Nick's works here.
Kwadwo 'Kojo' Marfo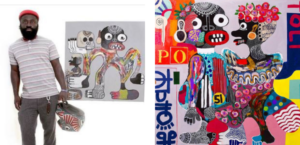 Kwadwo 'Kojo' Marfo is a Ghanaian painter based in England. His vibrant artworks juxtapose his past and present lives, incorporating visions from his childhood into his current reality. He has exhibited internationally, including shows in Paris, Tokyo, Amsterdam, New York City, Barcelona and London. His works are held in private collections around the world. See more of Kojo's work here.
Tracy Kerdman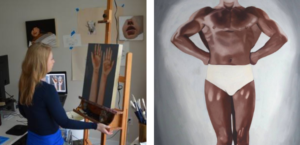 American artist Tracy Kerdman studied painting and drawing at the College of Charleston, and the National Academy Museum and School in NYC. Her work features doll-like portraits and strangely subverted subjects in grayscale or technicolor tones, calling to mind old Hitchcock movies and vintage photographs. Tracy has exhibited in Germany, Canada and across the US, and her works are held in private collections in Canada, US and UK. See more of Tracy's work here.
Chuck Hipsher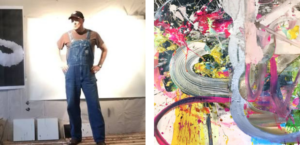 Chuck Hipsher is a firm believer in painting like he lives: 'Make bold strokes, be well-composed, but allow room for discovery and surprise.' Evident in the physicality of his vibrant and gestural works is the raw feeling he draws upon during his exploratory painting process. Having lived and worked in Chicago, NYC, Detroit and Houston, Chuck's exhibition history extends across the US. He studied at the School of Art Institute, Chicago, and has recently returned to his home state of Iowa. Chuck's works can be found in private collections across the US and UK. See more of Chuck's work here.
Scott Curtis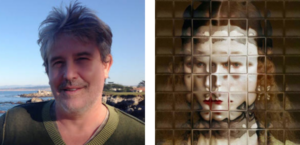 Scott Curtis is a painter and designer based in Durham, NC. Having worked in the arts for over 30 years, Scott merges his love of design and oil painting through the creation of his experimental and imaginative portrait works on wood panels. His subjects, often characters from literary classics, are painted with exquisite attention paid to narrative expression. Scott received his BFA from the University of Florida and his works have been exhibited in New York, Los Angeles, Zurich, Chicago, Austin and San Francisco among others. His pieces have been acquired by collectors across the US. See more of Scott's work here.
Love reading about all things art? You can have articles from Canvas, curated collections, and stories about emerging artists delivered straight to your inbox. Sign up for the Saatchi Art Newsletter.