Collector Favorites: Bestselling Artists of October
Ever wondered what other people are buying for their personal art collections? Though your tastes may differ, seeing what others are purchasing can help you discover new artists whose works you might not otherwise have considered. Below, meet 5 artists who have proven to be popular favorites with our collectors.
For more ideas, browse our recently sold works and contact our curators who can help you find similar works in your budget.
Rie Kono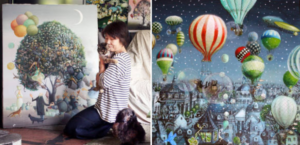 Japanese painter Rie Kono's dreamlike nature scenes and cityscapes typically include at least one hot air balloon—for Rie, the balloon functions as a symbol of hope and childhood dreams. Rie's surreal paintings act as studies in nostalgia and idealism, and her storybook style further imbues the rambling scenes with a sense of wonder and infectious optimism. Rie has exhibited widely across Japan and China, including a solo exhibition at the Ikeda 20th Century Museum of Contemporary Art. See more of Rie's work here.
Rudi Sebastian
Inspired by the impressionist mark making of Monet, photographer Rudi Sebastian explores the destabilizing transformation of familiar, three dimensional spaces onto a flat plane, manipulating many of his photographs to the point of dizzying abstraction. In these photographs, everyday objects and structures are divorced from their visual references to take on ephemeral and ambiguous qualities. Rudi's work has been exhibited across Europe and the United States. In 2015 he was a finalist for the Sony World Photography Award, and in 2016 he won a Wildlife Photographer of the Year award. See more of Rudi's work here.
Chris Stevens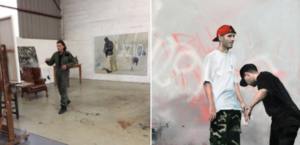 Figurative painter Chris Stevens portrays unidealized subjects—donning sweatshirts and neck tattoos, caught mid movement or mid sentence—against sparse backdrops, often incorporating gestural strokes and paint drips reminiscent of street art. The result is an exploration of space and identity through scenes that are at once quiet and uncanny. Alongside his painting practice, Chris curated the 2015 traveling exhibition REALITY, which showcased twentieth century masters of representational painting. His works are held in prestigious collections such as the Victoria & Albert Museum and the National Museum of Wales. See more of Chris's work here.
Iryna Yermolova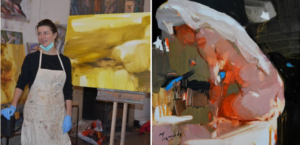 Ukrainian painter Iryna Yermolova likens her intuitive process to meditation, and her expressive mark making attests to her interest in capturing the present moment. Using broad, textural strokes and sensual color palettes, Irina explores the subtle eroticism of movement. Iryna won first place in the 2011 Windsor & Newton Prize for Life Drawing Portraits. She has exhibited in solo and group shows across Europe, including the Hampstead Affordable Art Fair and Mall Galleries in London. See more of Iryna's work here.
Salvatore Battaglia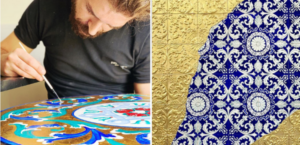 Drawing on the history and decorative traditions of his Sicilian roots, Salvator Battaglia creates vibrant multimedia works on canvas that pay homage to the intricate designs and time-honored practice of majolica ceramics. In an effort to combat the Sicilian Mafia's enduring influence over his home's economy, Salvatore donates a portion of his sales to Addiopizzo, a grassroots organization that seeks to protect local businesses from extortion. Salvatore has exhibited consistently throughout London, where he resides and practices, as well as New York and Zürich. See more of Salvatore's work here.
Love reading about all things art? You can have articles from Canvas, curated collections, and stories about emerging artists delivered straight to your inbox. Sign up for the Saatchi Art Newsletter.