Collector Favorites: Bestselling Artists of May
Ever wondered what other people are buying for their personal art collections? Though your tastes may differ, seeing what others are purchasing can help you discover new artists whose works you might not otherwise have considered.
Below, meet 5 artists who have proven to be popular favorites with our collectors. For more ideas, browse our recently sold works and contact our curators who can help you find similar works in your budget.
Idris Habib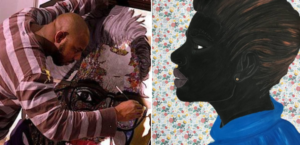 A self-taught painter based in New York City, Idris Habib paints bold, high-contrast portraits using black acrylic paint on decorative backgrounds. Inspired by the people he meets on his frequent travels across Europe, Idris captures the nuanced expressions and characteristics of people going about their daily lives. Most often depicting black models on floral backgrounds, Idris' paintings take on an iconic quality akin to Kehinde Wiley's historically-inflected portraits. Idris has exhibited his work at Dumbo Art Festival in Brooklyn and was a finalist in the 2014 Bombay Sapphire Artisan series. His work is held in private collections around the world, including in the United States, Canada, Europe, and Brazil. See more of Idris' work here.
Matthew Dibble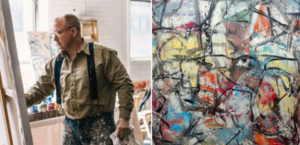 Matthew Dibble graduated from the Cooper School of Art in Cleveland, Ohio, in 1978, and in the decades since has become a master of gesture and abstraction. Matthew's work shows a reverence for art history: his dense and textured compositions recall abstract expressionists such as Jackson Pollock and Willem de Kooning, while the stark black mark making that anchors his compositions is reminiscent of later minimalist artist Brice Marden. Dibble has exhibited his work at the Cleveland Museum of Art, First Street Gallery in New York, The Other Art Fair in Brooklyn, and the Greenville Center for Creative Arts in Greenville, South Carolina. See more of Matthew's work here. 
Kristin Moore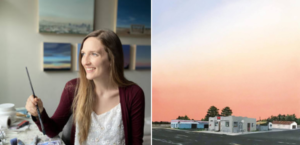 Texas native Kristin Moore earned her MFA at Otis College of Art & Design in Los Angeles. Now based back in Texas, her paintings capture the sparse but colorful landscapes of California, Texas, and "the highways in between." Kristin's contemporary twist on the landscape genre sets industrial structures and fast food restaurants against expansive skies, turning quotidian scenes into compositions that are both lighthearted and sublime. Kristin was named one of Saatchi Art's 20 Artists to Watch in 2020. She has exhibited in numerous solo and group exhibitions, including at The Other Art Fair in Dallas, Vignette Art Fair in Dallas, and the Bolsky Gallery in Los Angeles. See more of Kristin's work here.
Alta Berri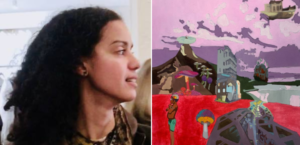 Alta Berri's mixed media works drop the viewer into the midst of a fantastical dystopian world. Executed with the stylization and narrative cadence of a video game, Alta's recent paintings follow the story of Mochila, a traveller to a strange planet whose inhabitants occupy districts underground, underwater, and in the sky. An artist, animator and game designer, Alta holds an MA in media design from The New School in her hometown of New York City. She has exhibited her work at SCOPE Miami and The Other Art Fair in London, Los Angeles, Dallas, and Brooklyn, where she lives and works. See more of Alta's work here.
Emilie Möri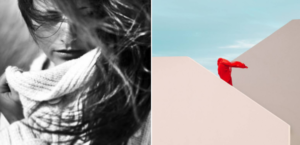 French photographer Emilie Möri reimagines a world of perfect proportions and surreal encounters, employing chromatic colors and stark shadows to bring her subjects' environments to life. Through her focus on architectural motifs and abstractions of the human form, Emilie's photographs embody feelings of solitude and desolation. In 2019, Emilie exhibited her works at The Other Art Fair London, and her work has been published in major European publications including Aesthetica Magazine, The Guardian, Figaro Littéraire, Le Monde and La Vie Magazine. See more of Emilie's work here.
Love reading about all things art? You can have articles from Canvas, curated collections, and stories about emerging artists delivered straight to your inbox. Sign up for the Saatchi Art Newsletter.