Collector Favorites: Bestselling Artists of March
Ever wondered what other people are buying for their personal art collections? Though your tastes may differ, seeing what others are purchasing can help you discover new artists whose works you might not otherwise have considered.
Below, meet 5 artists who have proven to be popular favorites with our collectors. For more ideas, browse our recently sold works and contact our curators who can help you find similar works in your budget.
Surabhi Gaikwad
Qatar-based artist Surabhi Gaikwad creates endearing portraits of women adorned in vividly colored patterned fabrics surrounded by lush foliage. Her work is influenced by her childhood in India and the country's diverse plants. Surabhi received her Master of Fine Arts in painting from Central University of Hyderabad, India, in 2005. Her paintings are held in private collections in the United States, United Kingdom, Germany, Qatar, and India. Her work was recently selected to be part of the Polaris project, a space program created by NASA that launches artworks to the moon in four-time capsules. See more of Surabhi's work here.
Steven Page Prewitt
Steven Page Prewitt's colorful and richly layered landscapes invoke the beauty of the Blue Ridge Mountains that define the geography of his home in Boone, North Carolina. Inspired by the art of Monet, van Gogh, and Matisse, Steven mixes mediums and techniques (such as collage and mono-printing) to create his lively abstract landscapes. He has exhibited locally and in juried exhibitions across the Southeast and participated in The Other Art Fair Chicago in 2019. Steven also teaches summer art workshops, something he has done since 1993. See more of Steven's works here.
Ilya Volykhine
Ilya Volykhine's work is informed by his early life in the USSR before emigrating to the United States, Australia, and New Zealand. Ilya seeks to portray the human psyche through his contemplative figures while maintaining a wry sense of humor about his subjects. Ilya's compositions often use collaged scraps of text or pieces of his mother's handwritten letters. Since 2013, Ilya has participated in over thirty solo and group exhibitions. See more of Ilya's work here.
Agostino Veroni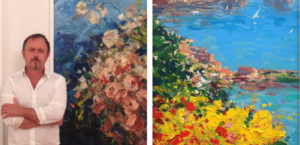 A native of Livorno on the west coast of Tuscany, Agostino Veroni paints vividly colored seascapes and landscapes of Italy's coast and countryside. His lively brushstrokes and use of color theory bring these scenic images to life, transporting the viewer to these idyllic places. Agostino has participated in many group and solo exhibitions across Italy and America, and his work is held in collections across Italy. See more of Agostino's work here.
Silvia Poloto
Self-taught multimedia artist Silvia Poloto began her artistic career with metalworking, painting, and photography while working as an electrical engineer. A Brazilian immigrant to California, Silvia's work is unrestricted by the artistic conventions of the American academic system. Her current work focuses on collage and the visual effects of layering. Her work is held in over 80 corporate collections and hundreds of personal collections internationally. Her work has been exhibited globally, and she recently held an artist residency at the De Young Museum in San Francisco. See more of Silvia's works here.
Love reading about all things art? You can have articles from Canvas, curated collections, and stories about emerging artists delivered straight to your inbox. Sign up for the Saatchi Art Newsletter.