Collector Favorites: Bestselling Artists of March
Ever wondered what other people are buying for their personal art collections? Though your tastes may differ, seeing what others are purchasing can help you discover new artists whose works you might not otherwise have considered.
Below, meet 5 artists who have proven to be popular favorites with our collectors. For more ideas, browse our recently sold works and contact our curators who can help you find similar works in your budget.
Karenina Fabrizzi 
Karenina Fabrizzi brings her fascination with flora and fauna to the canvas, distilling the decorative qualities of Early Renaissance paintings into minimalist compositions that invite viewers to commune with nature. With their balanced forms and subdued color palettes, Karenina's works quietly reawaken our primordial connection to the natural world. Now based in Barcelona, Karenina has studied at the School of Visual Arts in New York, and once worked as a painting assistant for Jeff Koons. She has exhibited her work throughout the US, Europe, and East Asia, including at PULSE Miami, Affordable Art Fair New York and Singapore, and the Glasgow Art Fair. See more of Karenina's work here. 
Eric Stefanski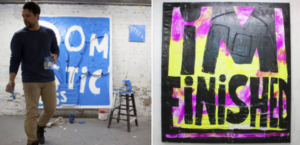 Eric Stefanski creates irreverent, large-scale paintings that poke fun at the trope of the struggling artist and challenge the ways art history can take itself too seriously. By incorporating found objects and layers of fiberboard into his work, Eric pushes the boundaries of the canvas to create dynamic and unexpected three-dimensional forms. Now based in Chicago, Eric holds an MFA from the School of the Museum of Fine Arts in Boston. Eric has been featured in the Boston Globe and Artscope magazine, and his work is held in private collections throughout the US, Europe, and the Middle East. See more of Eric's work here. 
Ralph Lazar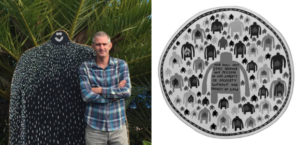 From articles of the US Constitution to the race and gender makeup of the US House of Representatives, Ralph Lazar translates weighty political issues into lively and thought-provoking illustrations. Ralph's interest in making politics accessible can be traced to his extensive background in law and economics: Born in South Africa, he earned degrees in both law and economics from the University of Cape Town and the London School of Economics before working in finance for six years. He now resides in California, where he and his partner Lisa Swerling co-write and illustrate books as the creative studio Last Lemon, which has sold more than a million of Ralph's illustrated books in over 20 languages. See more of Ralph's work here. 
Nina Lance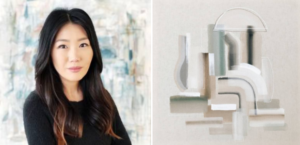 As a former fashion designer and professional photographer, Los Angeles-based artist Nina Lance brings her eye for color and structure to her art practice, which spans precise contour drawings and delicate paintings. With sparse color palettes and minimal forms, Nina's works make an impact with strong line and structure, resulting in compositions that are refreshing in their simplicity and integrity. Nina's photography has been published in Italian Vogue and The Knot, and her fine art is held in private collections throughout the US and Europe. See more of Nina's work here.
Vicente Aguado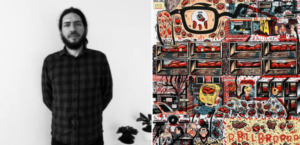 Vicente Aguado explores politics, conspiracy theories and consumer culture through an unsparing yet humorous lens of social critique. With a background in drawing and graphic design, Vicente works with recycled materials, mixed media, and printmaking to make cartoonish and confrontational images. Vicente holds an MA in contemporary art and visual culture from the Polytechnic University of Valencia in Spain. Now based in Edinburgh, Scotland, Vicente was one of 30 fine artists included in the 2019 Scottish Portrait Awards exhibition, a national project showcasing exceptional up-and-coming artists. His work is held in private collections across the US, Europe, Australia, and East Asia. See more of Vicente's work here. 
Love reading about all things art? You can have articles from Canvas, curated collections, and stories about emerging artists delivered straight to your inbox. Sign up for the Saatchi Art Newsletter.