Collector Favorites: Bestselling Artists of June
Ever wondered what other people are buying for their personal art collections? Though your tastes may differ, seeing what others are purchasing can help you discover new artists whose works you might not otherwise have considered. Below, meet 5 artists who have proven to be popular favorites with our collectors.
For more ideas, browse our recently sold works and contact our curators who can help you find similar works in your budget.
A Ruiz Villar

A Ruiz Villar uses acrylics, spray paint, ink, gesso and graphite to create interdimensional shape play on wood. His works contradict the concept of certainty, with no commitment to technique, structure or material. Villar's works are held in private collections across the US, the UK and France. See more of Villar's works here.
Philippe Vignal

Philippe begins his work with a black canvas, and uses white paint to create hyper-realistic shape and form out of highlights. Born in Mozambique, his inspiration comes from childhood memories of powerful faces and bodies of men and women. Philippe's works have been acquired by collectors in the US, Switzerland, Italy, Austria, UK, Luxembourg, Mexico, UAE, Spain, France, Canada, Australia, and the Netherlands. See more of Philippe's work here.
Susan Washington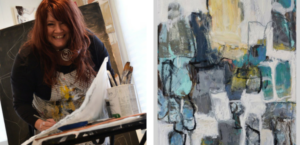 Displaying constant evolution of practice, Susan Washington uses oil paint sticks, palette knives and her fingers to create her newest series of highly textural abstracts. Freshly dense surfaces invite the viewer to question relationships between shapes and edges, pushing the boundaries of the medium. Susan's work is held in private collections in Canada, the US, Phillipines, UK, Australia, Portugal, Austria, China, and Belgium. See more of Susan's work here.
Oriol Angrill Jorda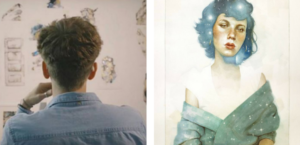 Oriol Angrill Jorda's captivating portraits bring together his fervent love of illustration and his affinity for hyperrealism. Upon first look, his works present as a double-exposure photograph; in reality, they are the product of masterfully honed technique in watercolor, pastel, pencils, acrylics and charcoal. Oriol's work is held in private collections in the UK, Norway, Singapore, US, Germany, Canada, Australia, Russia, Switzerland, South Africa, Belgium, Netherlands, Saudi Arabia, Brazil, Hong Kong and Italy. See more of Oriol's work here.
Guy Sargent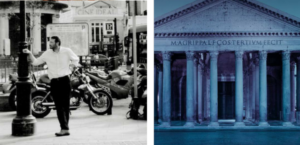 Guy Sargent's photography is driven by a curiosity and appreciation of the world around him. Covering a wide and eclectic collection of subjects, from beaches to historical architecture, Guy employs many different cameras and techniques to bring his final vision to life. His work has been acquired by collectors across the United States, UK, Portugal and New Zealand. See more of Guy's work here.
Love reading about all things art? You can have articles from Canvas, curated collections, and stories about emerging artists delivered straight to your inbox. Sign up for the Saatchi Art Newsletter.