Collector Favorites: Bestselling Artists of January
Ever wondered what other people are buying for their personal art collections? Though your tastes may differ, seeing what others are purchasing can help you discover new artists whose works you might not otherwise have considered.
Below, meet 5 artists who have proven to be popular favorites with our collectors. For more ideas, browse our recently sold works and contact our curators who can help you find similar works in your budget.
Stefanie Schneider
Stefanie Schneider, who splits her time between Los Angeles and Berlin, uses expired Polaroid film stock to create hazy, dreamlike images imbued with cinematic narratives. Stefanie photographs her cast of characters in the sun-drenched landscapes and liminal motel rooms of the American West, creating fragmented narratives akin to the confusion and ephemerality of dreams. In March 2019, Stefanie curated "Instant Dreams," a group exhibition of Polaroid photographers at The Other Art Fair Los Angeles. Her work has been featured in Frieze magazine and is held in private collections throughout Europe, the United States, Singapore, and China. See more of Stefanie's work here. 
Paola Bazz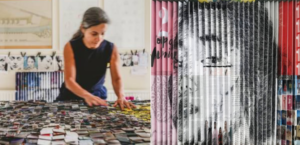 UK-based artist Paola Bazz explores the malleable nature of identity through portraiture, using scraps from magazines, newspapers, discarded brochures and shopping catalogs to construct portraits of celebrities and strangers from social media. Like the people she depicts, her portraits are composed of fragmented stories and idiosyncratic memories, and—much like the nature of identity itself—Paola's portraits morph and drift in and out of readability according to the viewer's perspective. Paola was featured as one of 50 women artists in the 2019 Promopress book "Collage by Women." She has exhibited her work in solo and group shows throughout the US and Europe, including at the Affordable Art Fair New York and London and at the metamatic:taf gallery in Athens, Greece. See more of Paola's work here.
Sumit Mehndiratta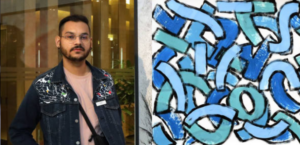 Multimedia artist Sumit Mehndiratta refuses to tether himself to one medium or style. Rather than honing a single technique, Sumit revels in the excitement and spontaneity of picking up a new tool or making a mark for the first time. His impulsive and intuitive approach to art making has yielded a prolific body of abstract work with something that speaks to everyone, which, according to Sumit, is part of his mission statement as an abstract artist: "I love abstraction and the fact that everyone perceives it differently. It brings me pleasure to see how people relate to different shapes and colours, and interpret them differently." Based in New Delhi, Sumit has exhibited his work in the UK, United Arab Emirates, Japan, Italy, China, and India. See more of Sumit's work here.
Michele Rizzi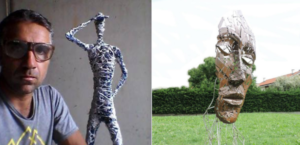 Michele Rizzi's metal sculptures explore what he calls the "condensation and dispersion of matter." Drawing inspiration from sources as varied as Giacometti, ancient Minoan art and archeological ruins, Michele builds dynamic, willowy figures seemingly on the brink of dissolution. Through a combination of steel, wire, and iron mesh, Michele contemplates the entropic relationship between solid matter and voids. Michele holds a degree in architecture from the Polytechnic Institute of Turin in Turin, Italy. Based in Pianezza, Italy, Michele has exhibited his work in solo exhibitions throughout Italy, and he has been included in the Trucioli d'artista-Rivoli International Sculpture Symposium. See more of Michele's work here. 
Manuela Karin Knaut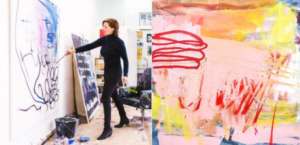 With a playful attitude, Manuela Karin Knaut brings graffiti and expressionist techniques to large-scale canvases. After applying broad, gestural brushstrokes, Manuela builds up her canvases with collage, sewn-on objects, and silk-screened text. Manuela earned her MFA in from the University of Witwatersrand in Johannesburg, South Africa. She has exhibited her work in solo and group exhibitions throughout both South Africa and Germany, where she splits her time. She has also exhibited her work at numerous art fairs, including the Affordable Art Fair Hamburg, The Other Art Fair London, and Turbine Art Fair Johannesburg. See more of Manuela's work here.
Love reading about all things art? You can have articles from Canvas, curated collections, and stories about emerging artists delivered straight to your inbox. Sign up for the Saatchi Art Newsletter.