Collector Favorites: Bestselling Artists of February
Ever wondered what other people are buying for their personal art collections? Though your tastes may differ, seeing what others are purchasing can help you discover new artists whose works you might not otherwise have considered.
Below, meet 5 artists who have proven to be popular favorites with our collectors. For more ideas, browse our recently sold works and contact our curators who can help you find similar works in your budget.
Paolo Damiani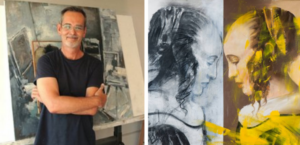 Italian artist Paolo Damiani revisits and reinvents classical subjects with a modern, abstract twist. Born in Rome to a family of artists, Paolo's passion for art began at a young age, and he has since devoted his life to experimenting with different painting styles and techniques. Inspired both by graphic design and the artistic traditions of Northern Europe, Paolo's combined use of oil, tempera, and acrylic paint blend and balance his subjects. He has exhibited extensively throughout Italy, France, Germany, and Malta, including solo shows at St. Stephen's Cultural Centre in Rome and the Chateau de Flamanville in France. See more of Paolo's work here.
Tatiana Iliina
Growing up near St. Petersburg, Russia, Tatiana Iliina was inspired by the Monet, Kandinsky, and Andrei Rublev masterworks she saw when she visited the nearby Hermitage Museum. She later earned her Master of Arts degree from the Stieglitz St. Petersburg State Academy of Art and Industry before moving to Montreal, where she has lived for the past 30 years. Tatiana brings life and vibrancy to her canvases with bold color compositions and quick, thick strokes of paint from her palette knife. Tatiana has established an international following and collector base from her viral painting demonstration videos on Youtube to her numerous exhibitions online and throughout Canada and Russia. See more of Tatiana's work here.
Larissa Eremeeva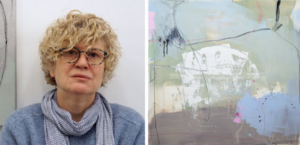 Dutch artist Larissa Eremeeva lived and worked in the Netherlands and the United States before settling in Italy, where she currently resides. In her recent work, Larissa seeks to inspire introspection and translate the depth of human emotions onto her canvases using texture, linework, and soft colors. She hopes that viewers of her evocative abstract paintings will feel gently pulled back to significant emotions and memories in their lives. Larissa's paintings have been exhibited throughout the United States, the Netherlands, Belgium, and Italy and are also held in collections across North America, Europe, and Asia. See more of Larissa's work here.
Gyula Sági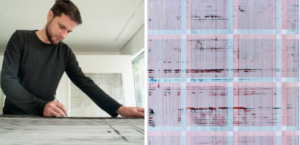 In his unique geometric line drawings, Hungarian artist Gyula Sági experiments with form, pattern, and the intersection of technology and nature. Taking inspiration from graphs, digital mapping, and machine code, Gyula approaches his work as if he is solving a mathematical equation: he analyzes and breaks down data, then synthesizes the pieces into a visual construction. His works on paper use ink, pencil, pen, and acrylic to recall not only scientific analysis but also abstracted, gesture-based landscapes. Gyula graduated from the University of Western Hungary in 2010 and has since been based in Berlin. His work has been exhibited in solo, and group shows across Europe. See more of Gyula's works here.
JunJun Li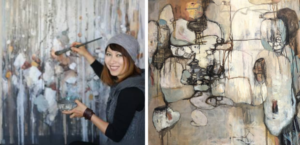 Through her expressive paintings, JunJun Li intends to reveal both the endless possibilities of life and share her own dynamic encounters with nature. Her work also reflects on her cross-cultural experience moving from China, where she was born and raised, to California. JunJun paints out of her outdoor studio in the deep woods of Sebastopol when not traveling or teaching. Her work belongs to several public collections around the Bay Area, including commissioned paintings for the UCSF cancer center Mission Bay and the 49ers Levi's Stadium art collection. See more of JunJun's works here.
Love reading about all things art? You can have articles from Canvas, curated collections, and stories about emerging artists delivered straight to your inbox. Sign up for the Saatchi Art Newsletter.