Collector Favorites: Bestselling Artists of February
Ever wondered what other people are buying for their personal art collections? Though your tastes may differ, seeing what others are purchasing can help you discover new artists whose works you might not otherwise have considered.
Below, meet 5 artists who have proven to be popular favorites with our collectors. For more ideas, browse our recently sold works and contact our curators who can help you find similar works in your budget.
Charles Wilkin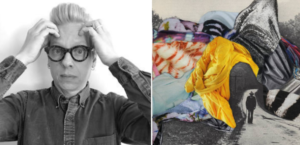 For multimedia artist Charles Wilkin, collage captures the "frenetic and inherent collision of people, culture, and emotions we all experience." Combining imagery from contemporary and vintage magazines, Charles lets the physical constraints of his materials inform the conceptual trajectory of his work. Charles has been featured in Hyperallergic and has exhibited his work internationally, including at the 2016 and 2018 International Weird Collage Shows in Barcelona and London. Charles holds a BFA from Columbus College of Art and Design in Columbus, Ohio, and he is now based in Narrowsburg, New York. See more of Charles' work here. 
Carlos San Millán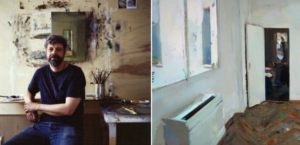 Spanish painter Carlos San Millán finds as much beauty in a messy studio or quiet hallway as he does in pastoral landscapes. He captures all of his subjects—sparse interiors, dewy landscapes, understated still lifes—with the immediacy of a photograph, subtly suggesting that a narrative that lurks within each painting. Carlos' textured brushstrokes revel in the tactility of paint, and his attention to light yields delicate compositions. Carlos studied at the School of Fine Arts at University of the Basque Country in Bilbao, Spain. He has exhibited his work in solo and group exhibitions across Spain, the US, and Latin America. See more of Carlos' work here. 
Niki Hare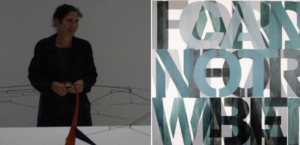 In her abstract work, Niki Hare paints intuitively, building up and scraping off paint until her finished product becomes a dense historical record as much as a work of art, revealing each successive layer of painting and mark making. She approaches her iconic text-based paintings with the same abandon, stenciling word upon word until their meaning is obscured. Based in Tewkesbury, England, Niki has exhibited her work throughout the US and Europe, including at The Other Art Fair in London, The Royal West Academy Annual Open Exhibition in Bristol, and Ramon's Tailor in San Francisco. See more of Niki's work here.
Khaled Morad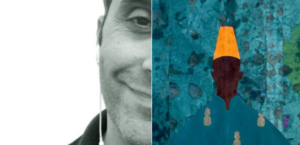 Born in Alexandria, Egypt, Khaled Morad draws upon the mythology, architecture, and artistic traditions of his home country to create paintings that are both autobiographical and universally resonant. Combining the design principles of Western modernism with Egyptian motifs, Khaled's cross-cultural works are striking in their geometric compositions, graphic patterns, and rich texture, which is made all the more prescient by the handmade paper Khaled incorporates into his canvases. Khaled's works are held in collections throughout the US, Europe, and Australia. See more of Khaled's work here. 
Victor Tkachenko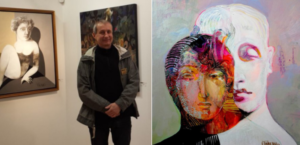 Victor Tkachenko draws on expressionism, surrealism, and the iconographic qualities of Byzantine art to paint otherworldly figures illuminated by vibrant color palettes and exaggerated by attenuated lines. With a degree in architecture and engineering from Kiev University, Victor expertly manipulates volumetric relationships, yielding subjects that alternate between flatness and depth, solidity and fluidity. Victor exhibits his work regularly in solo and group exhibitions, most recently at Super Wonder Gallery and Crescent Hill Gallery in Toronto, where he lives and works. His work is held in private collections around the world, including in the US, China, Australia, and Europe. See more of Victor's work here. 
Love reading about all things art? You can have articles from Canvas, curated collections, and stories about emerging artists delivered straight to your inbox. Sign up for the Saatchi Art Newsletter.