Behind the Scenes: Miss Aniela's Surreal High Fashion Photoshoot for Guo Pei
Saatchi Art photographer Miss Aniela is on the shoot of a lifetime. The artist is on the Great Wall of China for a collaboration with Chinese couturier Guo Pei, the designer best-known for Rihanna's iconic 2015 Met Gala dress.
Known for her stylized portraits of women in couture, Miss Aniela is shooting Pei's fantastical dresses in fairytale settings around Beijing. Take a peek at a few of Miss Aniela's elaborate photoshoots for the designer, and see one of her gorgeous final photographs.
Holiday shopping for someone with everything? Fly to London with a special plus one, and get photographed by Miss Aniela in a private session at her UK studio. A personal concierge, chauffeur, five-star meals, and more are included in this special experience that is part of 3 extravagant holiday gifts tailor-made to impress that person on your list who has it all.
1. BBC features Miss Aniela's shoot on the Great Wall.
2. Get lost in the intricate details of Miss Aniela's photography.
3. At sunrise, Miss Aniela shot a stunning red dress with thousands of prayer cards.
4. The shoot wouldn't be complete without a green peacock.
5. In grand style, Guo Pei saved the best for last.
About Miss Aniela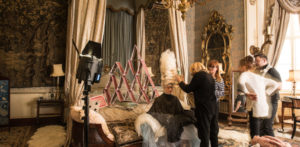 Miss Aniela's work has been exhibited at the Saatchi Gallery in London, Prins Eugens Waldermarsudde Museum in Stockholm, the Crillon in Paris, and at the Palm Beach Art Fair in 2018. Her work has been featured by the BBC, El Pais, and NY Arts. In 2016 she won Nikon's "I Am Photographer Award," in 2017 she was featured in the Young Masters Art Prize exhibition, and in 2018 she was shortlisted for the Hopper Prize. Learn more about Miss Aniela in an interview with Saatchi Art.