Year in Review: Top Painters of 2019
As 2019 comes to a close, it is time to celebrate a few artists who have helped contribute to an exciting year of emerging art. Below, meet 4 painters who have proven to be popular favorites throughout 2019.
For more ideas, browse our Best of 2019 Collection and contact our curators who can help you find similar works in your budget.
Stefanie Kirby
Stefanie Kirby started her creative journey as a contemporary jazz dancer and later switched to painting in her late teens where she fell in love with the fluidity and freedom of painting. She obtained a BFA from Mount Allison University School of Fine Arts, Sackville, New Brunswick where she was awarded the title of best drawing her second year. Stefanie's floral series is a like a dance in each works expressive colors and gestural brushstrokes. Stefanie has exhibited her artwork across North America and has been included in private and corporate collections globally. View more of Stefanie's portfolio here.
Lisa Krannichfeld
Lisa Krannichfeld was born in Arkansas, US, and grew up in a fascinating mix of both Southern and Chinese cultures. She received her BA in Studio Art from Colorado College. Lisa attempts to capture the fleeting nature of human emotions—making the impulsivity of watercolors the perfect medium to work with. She often takes women as her main subject matter, as she attempts to define what it means to be beautiful in our contemporary culture. She allows the watercolors to run and bleed together, so that the features of her women subjects become blurry and indistinct. She then applies a high gloss resin coating which creates a reflective surface, so that the viewer's image becomes a part of the artwork. Lisa has been featured in numerous blogs and magazines, including The Jealous Curator and Anthology Magazine. See more of Lisa's portfolio here.
Liam Hennessy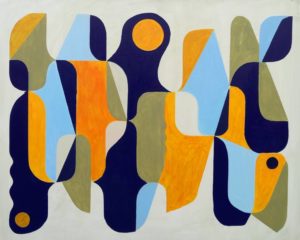 Born Suffolk, England, Liam Hennessy received his BFA from the Colchester School of Art, Colchester, UK. Influenced by early 20th century abstract artists like Paul Klee and Franz Ackermann, Liam paints with the idea that the surface of his canvas acts as a field of sensations and rhythms, and hovers between abstraction and representation. The artist applies his paint intuitively and directly, creating a visual record of his fleeting desires and thoughts. View more of Liam's portfolio here.
Tommy Lennartsson
Swedish painter Tommy Lennartsson draws on the visual culture of street and pop art when making his works. Guided by intuition, Tommy builds up his canvases with charcoal, acrylic and spray paint, often sewing and stitching elements together to create striking scenes that ignite the viewer's imagination. Tommy has caught the attention of collectors from across the world, including the US, Europe and China. His work has been featured in the Spanish arts and culture magazine Lamono and was selected as the cover art for the spring 2019 issue of New England Review. See more of Tommy's portfolio here. 
Love reading about all things art? You can have articles from Canvas, curated collections, and stories about emerging artists delivered straight to your inbox. Sign up for the Saatchi Art Newsletter.