Virtual Editions: AMFM X The Other Art Fair
The Game Changers. The Rule Breakers. The Innovators. Discover some of the fantastic emerging talent showcasing their work at The Other Art Fair.
A brief scroll through AMFM's Instagram feed (@amfmlife) and you are instantly captivated by the vast array of independent artists you are greeted by, all promoted with such pride and value. Oh – and their pretty iconic retro-pink-cassette-tape logo! It is evident that each artist's unique work and narratives are the product of hard work and devotion, all represented from a place of love and honor; something Founder Ciera McKissick has set out to do since 2009. 
AMFM is an innovative brand established to merge the arts, writing and magazine publishing. Ciera opened an AMFM gallery space in 2016 to host exhibitions, live events and artist-in-residence spaces, laying out the foundation of the brand – championing emerging talent in Chicago to cultivate community, diversity and inclusivity. 
(Above: Ciera McKissick)
The Other Art Fair are delighted to be partnering with AMFM again for our upcoming Global Virtual Editions Launch in March (10 – 14, Register here). The brand will be featured as a solo booth at the fair where you can buy artworks from eight Chicago-based exhibitors, as well as a Friday Late talk hosted by Ciera to offer greater depth into the brand. 
Ciera explains "We are presenting 13 pieces total, and as a part of the curation of the booth, each artist has included an audio clip of them talking about the inspiration behind one of their pieces and a bit about their practice". 
(Above: Barry Johnson in Studio)
"In addition to the audio clips, each artist presented a song that speaks to or resonates with their work presented. These songs have been compiled into a Spotify playlist that visitors to our booth can access by clicking on the pink headphones icon on the floor. Outside of working with visual artists, AMFM also focuses on music, and a large component of the work we would do with The Other Art Fair Chicago was curate music performances for their Friday Late Night event. We are also presenting a DJ set from Calid B, a musician and producer who runs Afrobang, a collective of creatives who amplify the African Diaspora through music and storytelling."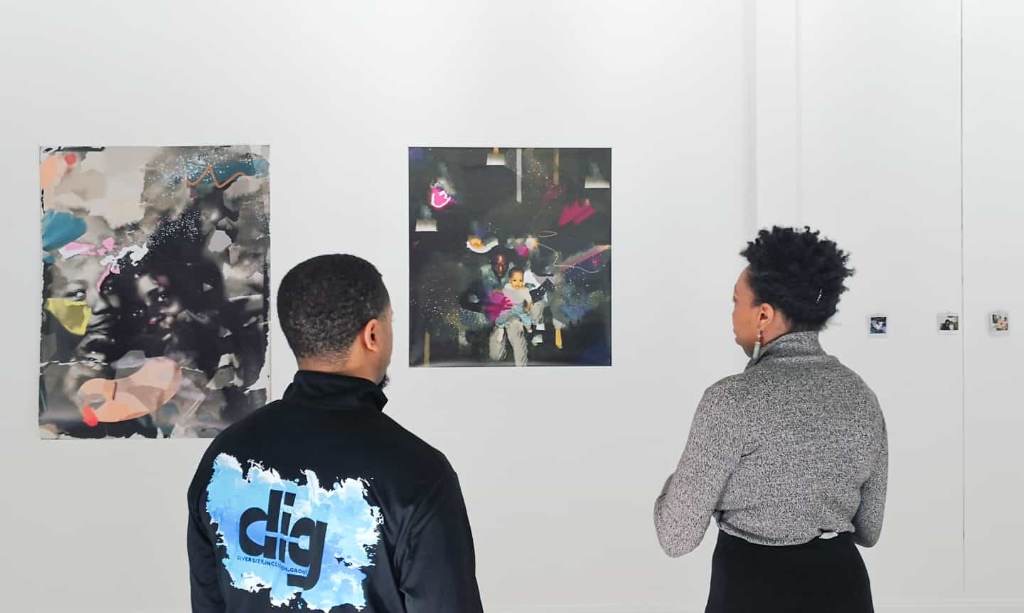 (Above: Andrea Coleman)
AMFM will be showcasing the incredible work of; Marcelo Eli, Andrea Coleman, Barry Johnson, Beata Chrzanowska, Candace Hunter, Caroline Liu, Roland Santana and Ramiro Silva.
"All of the artists that we are representing are BIPOC (Black, Indigenous, People of Color), most of them from Chicago, and one from Seattle, Washington. The work is a combination of paintings, digital collage, and mixed media – from figurative work, to surrealism and abstraction, and there is LOTS OF COLOR. 
(Above: Roland Santana in Studio)
The booth starts with Ramiro Silva's pink abstract shapes on a turquoise background. Some pieces are tactile, like Caroline Liu's piece "oh HELL hello," which includes this vibrant green and baby blue fur cradling the figures in her piece, or like Roland Santana's work made from mesh and foam. His work has recently been moving more in this direction of working with unconventional materials in his experimentation with Polystyrene foam. 
The work of Andrea Coleman and Barry Johnson both work with distortion of images, particularly in Coleman's piece "White Out," which includes her signature digital color block mark making on archival family photos, and Johnson's piece "Untitled 183," which underneath the black and white linework, is a smeared image. His other piece, "Untitled 181," is made entirely out of iron oxide. At first glance, I thought it was charcoal and was really drawn to the richness of the black, but also the drips and smears.
Marcelo Eli's work are two completely different styles of work, which I really feel shows his range as an artist. I love his use of oil paint, which if you zoom in close enough to the 'Untitled' piece with the color blocked figure, you can see the texture of the oils."
(Above: Candace Hunter)
Which leads us to the question, at a global art fair, why invest in the Chicago arts scene? We asked Ciera for some further insight into the creative community of the city…
"Chicago has always been at the epicenter of movements, not just in art, but also social movements. The city has a rich artist community that is incredibly diverse and collaborative, a lot of the artists here have social and public practices, or hold many disciplines, and there's a certain accessibility to even the more established artists here. It's a great city to experiment and grow as an artist and it's a great place for incubation."