The Other Art Cities Detroit Spotlight: Michael Polakowski
The Other Art Fair is proud to present The Other Art Cities Detroit Spotlight. A new feature showcasing some of the best emerging talent from around the world. First stop Detroit!
Michael Polakowski is a Detroit based artist and curators whose paintings radiate a light and color that create a futuristic effect that challenge the very way we expect to see a  painting. We asked Michael about his work, being an artist in Detroit and how his practice has evolved over the last six months.
Tell us a bit about yourself,
I am a fine art painter currently living and working in Detroit, MI. My work features observations of my life in the Midwest through surreal and absurdist paintings. My visual language is a mashup of textures, lush patterns, and vibrant colors communicated through the medium of acrylic painting.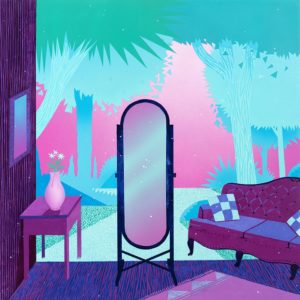 All Intents and Purposes, Michael Polakowski
What are you inspired by at the moment?
Currently I am interested in documenting small moments of reflection and calm. This has been a consistent theme in my work for years but the solitude afforded to me by the pandemic has pushed my work further in that direction.
What are some of the best things about art in Detroit/ being an artist in Detroit?
The art scene in Detroit right now is pretty exciting to be around! There are a lot of talented people who are making a name for themselves on their own terms and putting out great work. I'm curating a show right now with some of my favorite Detroit painters and plan on exhibiting it in an artist run space. That's the type of thing that excites me about being here, having access to wickedly talented people and the community spaces to share their work in.
What are you working on at the moment?
Oh man, that's a lot! I have a three person show next year at Playground Detroit that is a pretty big focus for me. With that body of work I'm pushing what is possible with maximalism and really feeding off of what my work will look like next to the other two artists (Jack Joyce and Sheila Nicolin). I'm also following up on my online exhibition through 1xRun with a series of works on paper. That body of work is all about simplicity and drawing as an act of meditation. Besides painting, like I said I am curating a ten-artist group show in Detroit at KO Studio gallery. It is heavily influenced by the Chicago Imagists and I can't wait to see what the artists produce for it.
Drowned Mosquitoes Late Summer, Michael Polakowski
How has your practice shifted over the last 6 months?
For a while I was working out of my home studio and had to simplify my process a ton! Michigan had a pretty strict stay at home order so I just treated it like a residency. I did nothing but paint for three months and explored a lot of new subject matter, including a renewed interest in figural work. Before the pandemic my work was sparsely populated with figures and it took almost complete seclusion to make me start representing people again. I became really interested in appropriating images from old fashion and advertising photography. They all just seem so surreal if you really dissect it; often times single figures are depicted in overtly pristine environments. I don't know, there is just something so bizarre about all of that and it fits right in with my work.
The Detroit Artist Spotlight is first in The Other Art Fair's Other Cities Series. The series aims to showcase some of the best emerging artists in undiscovered art hubs to our global platform, providing exposure to these up and coming stars and bringing collectors and buyers from around the world to new destinations.