The Art of Work From Home
Think back to Spring 2020. Where were you? What were you thinking? If you're like many American professionals, you probably spent as much time worrying about toilet paper as you did about the new work from home reality many of us were thrust into. Of all the priorities, decorating a home office was probably low on the list. Flash forward to today. How are the walls in your home office looking? Are they a good representation of your professional self? Do they motivate you to do your best work? For the office-going crowd, the option to work from your home will probably not go away any time soon, making this the perfect time to upgrade your walls. This is the perfect time to consider investing in original art for your home office.
For one, wall art will make you more productive. We've come a long way since the era of inspirational posters next to the office water cooler, but the thinking was solid—blank walls don't exactly inspire. Artwork can bring fresh creative energy to a workspace and make you happier as well.
Another reason why art for your home office can be important? Your video conference says a lot about you. Pre-COVID, whether you had the corner office or a cubicle, chances are you did something to make it uniquely yours. Artworks and photography on your walls could show your welcoming personality or maybe they channeled your inner strength. If you haven't put that same personality into the video frame recorded by your computer, you're missing out on the fun.
Finally, buying and collecting art is no longer a privilege that only those with significant wealth can enjoy. Bill Gates, Elton John, and Oprah Winfrey have all amassed fabulous collections of works in their home offices. But you don't have to live like a celebrity for your home office to be filled with original works by emerging artists that also happen to have the potential to increase in value.
Need help getting started? Saatchi Art can be your gateway to a whole new world of original art from an unparalleled selection of emerging talent. As the world's leading online art gallery, our curators make it their mission to connect people with art and artists they love. Here they share four tips to get you thinking about your home office in a new way.
Saatchi Art Associate Curator Monty Preston advises, "Color is a make-or-break. There is no 'right' way to go about it, as long as it works for you. You work hard every day—let your walls do the same. Your home office is a great place to experiment with the effects that color has on your mood and find exactly what tones excite or soothe you." Find works that will energize your office space with color here.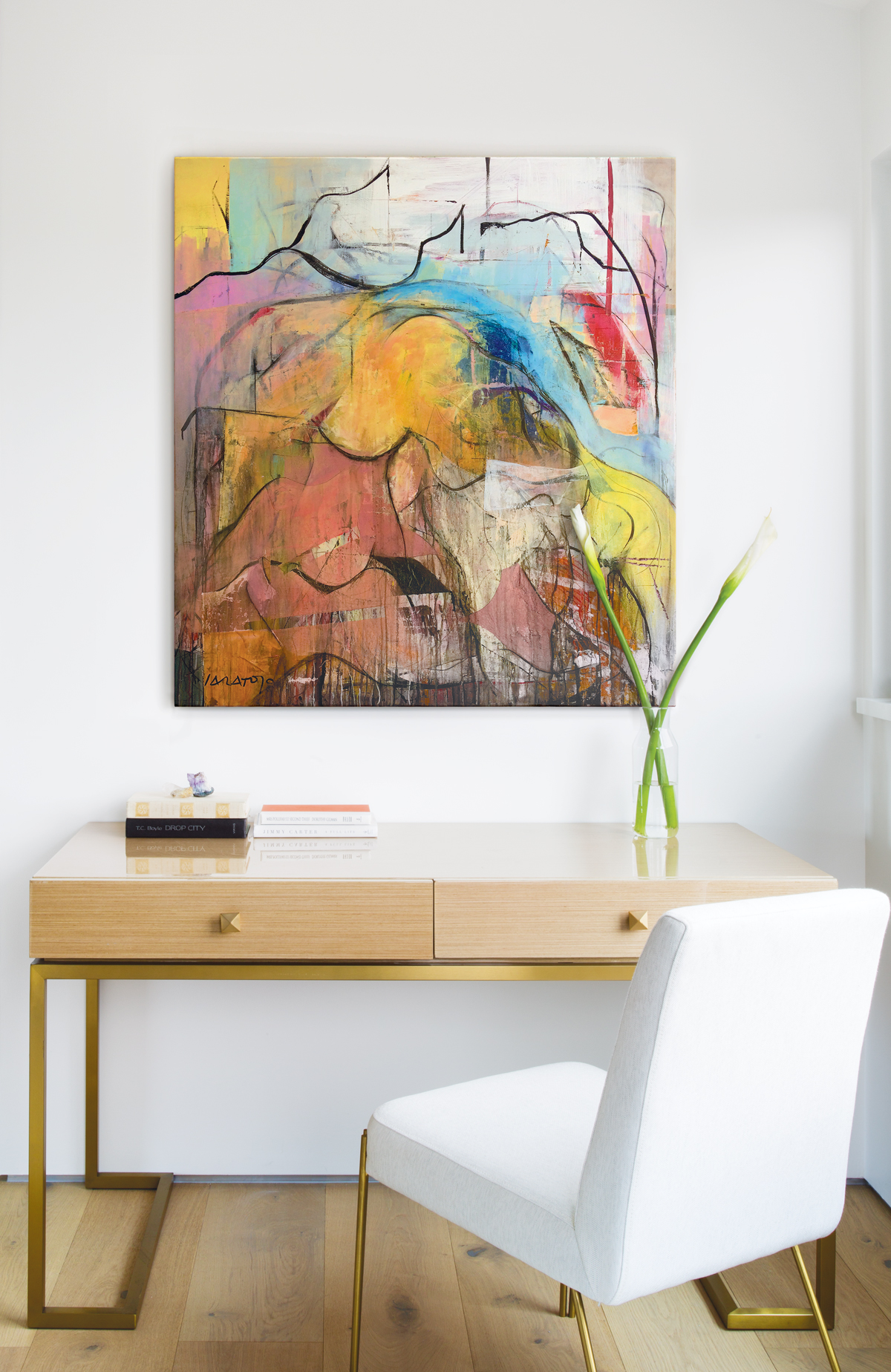 Assistant Curator Megan Wright says, "Art can provide an environment conducive to productivity, whatever your line of work. To create a space of focus, look for minimalist works featuring clean lines and soothing forms." Explore a collection to get you inspired here.

Assistant Curator Aurora Garrison recommends, "Unless you want a specific statement piece, don't limit yourself to one work, style, or look. Variety is the spice of life, so let your home's art create a beautiful dish!" Discover different styles in this curated collection.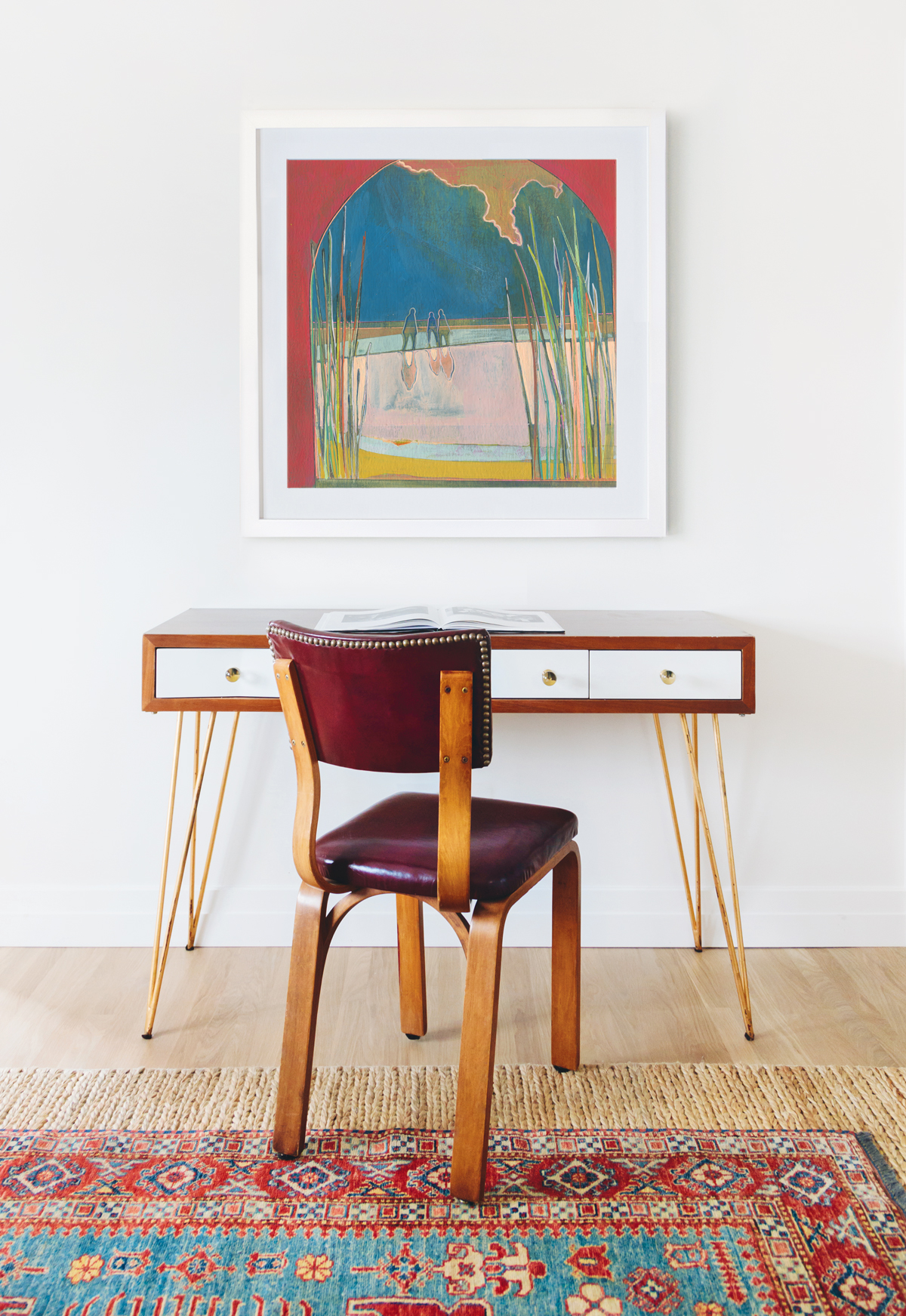 Saatchi Art Associate Curator Victoria Kennedy suggests, "At the end of the day, whatever art you buy, make sure it's something you love. If you want something lighthearted and funny to brighten your day, embrace it. If you need something for zen, go for it. There's nothing stopping you!" See original works that you just might fall in love with here.

Make use of our complimentary Art Advisory service to get personalized art recommendations for your home office.
Love reading about all things art? You can have curated collections, stories about emerging artists, and more delivered straight to your inbox. Sign up for the Saatchi Art Newsletter.