Speak Out: HyunRyoung Kim
"Be sincere to your beliefs and actions for they are the things that will bring growth to your dreams."
– HyunRyoung Kim
On the occasion of Women's History Month, Saatchi Art's curators spoke with artists about their process, inspiration, and the ways in which their identity as a woman is relevant to their art.
Based in Canada, South Korean artist HyunRyoung Kim has shown her works across Canada, the UK and France. She received an Honorable Mention as an emerging artist for the 2012 Marty Awards. More recently in 2018, she presented works with Propeller Gallery, John B. Aird Gallery and Papermill Gallery in Toronto, Ontario. She participated in the Society of Canadian Artists International Open Juried Exhibition in 2018.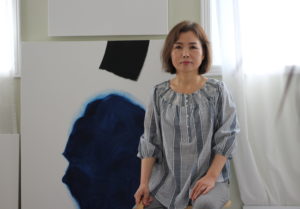 What does it mean to you to be an woman in art?
It is a fact that women, including artists of female gender, have been discriminated by men and have been isolated from social involvement in the past. Even today, although there has been improvement in the discrimination, it is still in progress because in order for women to build growth in certain professions, there are greater walls and difficulties for them to overcome.
Which female artist inspires you most – past or present- and why?
Frida Kahlo.
Frida Kahlo is a female artist that has underwent immense amount of hardship and life of adversity. However, even those times of affliction could not stop her aspirations for creation and passion for art, this mentality has given me a lot of inspiration through my journey as an artist.
What is your advice to a young woman who aspires to be an artist?
Hold tightly to dreams that are dear and be sincere to your beliefs and actions for they are the things that will bring growth to your dreams.
What are the themes you pursue in your work?
Understanding of self and everything else in relation to defining my identity and the philosophy of life to pursue what is true freedom.
Can you tell us about your process? Do you begin with a sketch, or do you just jump in? How long do you spend on one work? How do you know when it is finished?
In most cases, rather than a sketch, I dive right into creating my work, greatly driven from both the conscious and the unconscious aspects to portray the most natural and unexpected expression. The time required on each work is not stable, but on the average it is completed within the day, in some cases the finishing touches are not set therefore time is lengthened in that situation.
If you couldn't be an artist, what would you do?
If I couldn't be an artist, I would assume I would have pursed in the field of design or as a writer. To be frank, my dream since childhood have been an artist. However, due to financial difficulties and the surrounding environment, I had to follow a different route which was in financial sector of in my 20s and 30s. After those times have passed, I have decided to pursue what I have yearned to be – the artist I am now today.