Saatchi Art's Guide to the LA Art Book Fair
Art book lovers from far and wide will be trekking to the Geffen Contemporary at MOCA, Downtown LA this weekend for the fourth annual LA Art Book Fair (LAABF) presented by Printed Matter. More than 300 presses, artists, and independent publishers – hailing from more than 20 countries – will be represented at the fair. Open to the public and presented for free, the LA Art Book Fair is an awesome way to spend an art-filled afternoon in the city this weekend. And for those of you planning on doing just that, we've put together a list of the must-hit booths and related local happenings, below:
1) Machine Project's Floating Library on Echo Park Lake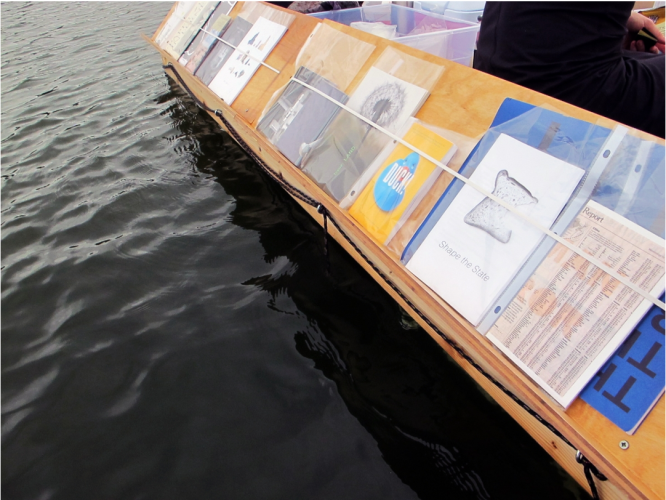 Some raft-bound reading options from Machine Project's "Floating Library" in Echo Park Lake. (Image: The Floating Library)
For those looking to take in some sun this weekend, head to Echo Park Lake where you can rent paddle boats and make your way around to Machine Project's rafts equipped with artful reading material. Thursday-Sunday, Feb 11-14, 11am-4pm. Click the link above for ticket prices and info.
2) Alice in Wonderland 150th Anniversary Festival at Pasadena Antiquarian Book Fair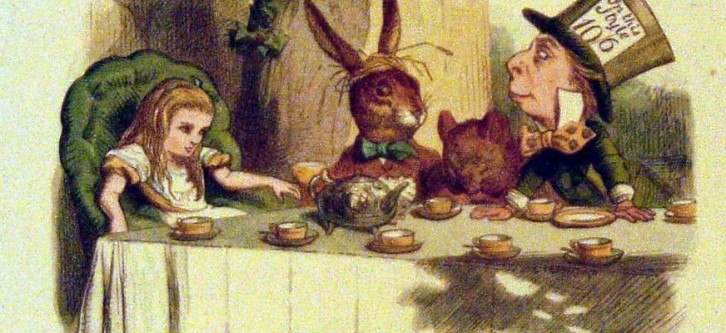 Highlights from this exhibition include key selections from a local family's collection of over 3,000 books, manuscripts, and objects created by or about Lewis Carroll including Alice illustrations by Salvador Dali. Fri-Sun, Feb 12-14. Click the link above for open hours and more info.
3) The Thing Quarterly Issue #29 Release Party at Ace Hotel DTLA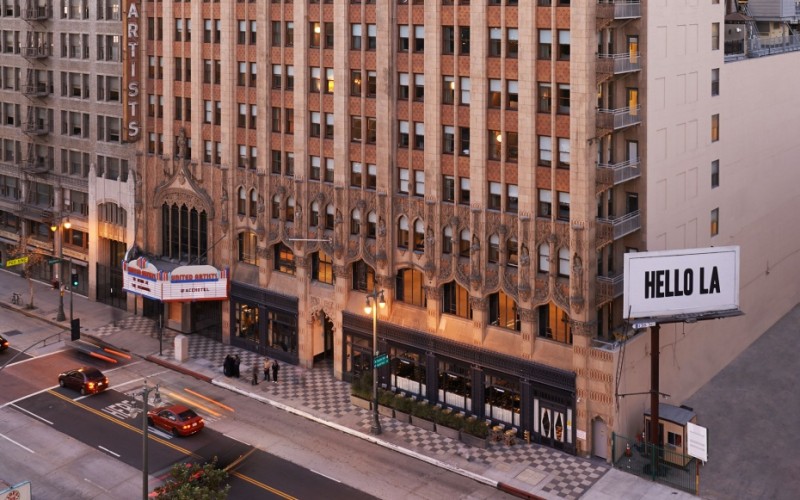 In conjunction with LAABF, The Thing Quarterly is releasing Issue #29 of their publication by visual artist Ricky Swallow. With a DJ and video set by Dave Muller of 3 Day Weekend, it's sure to be a packed event so arrive early! Feb 12, 8:30pm. Click link above for more info.
4) Gagosian's presents "Living on the Edge of Obscurity"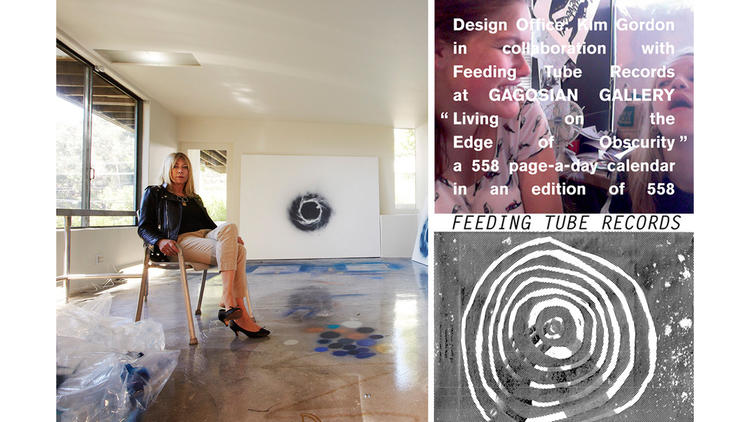 Former Sonic Youth front-woman Kim Gordon is creating a tribute to Feeding Tube Records in the Gagosian Gallery space, a Massachusetts shop known for its dedication to the avant-garde. (Image: Gagosian Gallery)
Gagosian's presentation of Kim Gordon in conjunction with Feeding Tube Records will include thirty iconic record covers by artists like Rita Ackermann and Richard Prince made to accompany a vinyl produced by Gordon and Bill Nace under the name Body/Head. Visitors to Booth J can enjoy a listening station as well as choice selections from Feeding Tube's collection. Fri-Sun, Feb 12-14. Click link above for more info.
5) Semiotext(e)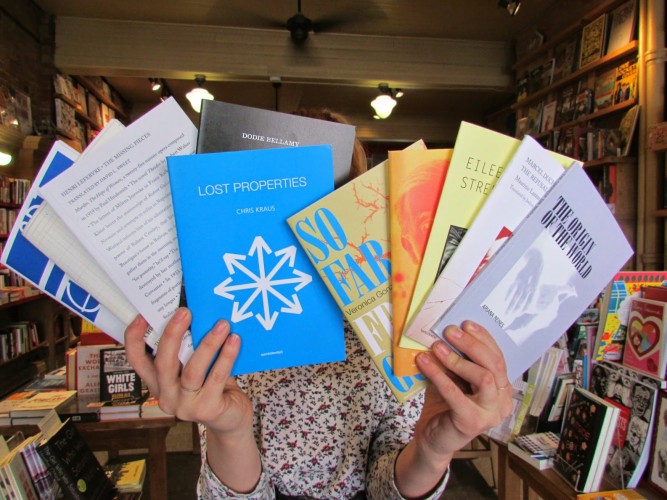 Founded as a journal in 1974 by Sylvère Lotringer with a group of Columbia University graduate students, Semiotext(e) were trailblazers of the "high/low" aesthetic. (Image: Drawn and Quarterly)
Originating as a journal in the 1970s, Semiotext(e) is beloved by contemporary art conneisseurs for its merging of critical theory, underground culture, and high/low aesthetic. In addition to art theory, it also incorporates poetry, criticism, and activism for a bold read. Check out their booth for copies of their widely-appreciated issues. Fri-Sun, Feb 12-14. Click link above for more info.
6) Women's Center for Creative Work

WCCW presents Together in Real Life as a commentary on non-coercive interaction. (Image: WCW)
With the mission to engage with an audience under the guise of Soft Power, the Women's Center for Creative Work presents ten artists in residence seeking to participate in a marketplace exchange that's devoid of coercion and instead meaningful and cooperative. This community marketplace may also include pop-up performances so be sure to check it out. Fri-Sun, Feb 12-14. Click link above for more info.
7) Ooga Booga

Check out the Ooga Booga booth for the release of a zine by Brooks Headley of Superiority Burger. (Image: @oogaboogastore)
A staple of LA's independent art and books scene, Ooga Booga is also famed for their production of events, performances, film screenings, and readings. They've also been known to publish books, zines, and recordings from time to time. Check them out at LAABF for the release of a zine they've published for Brooks Headley. Fri-Sun, Feb 12-14. Click link above for hours and more info.