Saatchi Art Presents "Hormazd Narielwalla" at Timothy Everest, London
Saatchi Art is launching a new series of solo shows, starting with Showdown-winning artist Hormazd Narielwalla.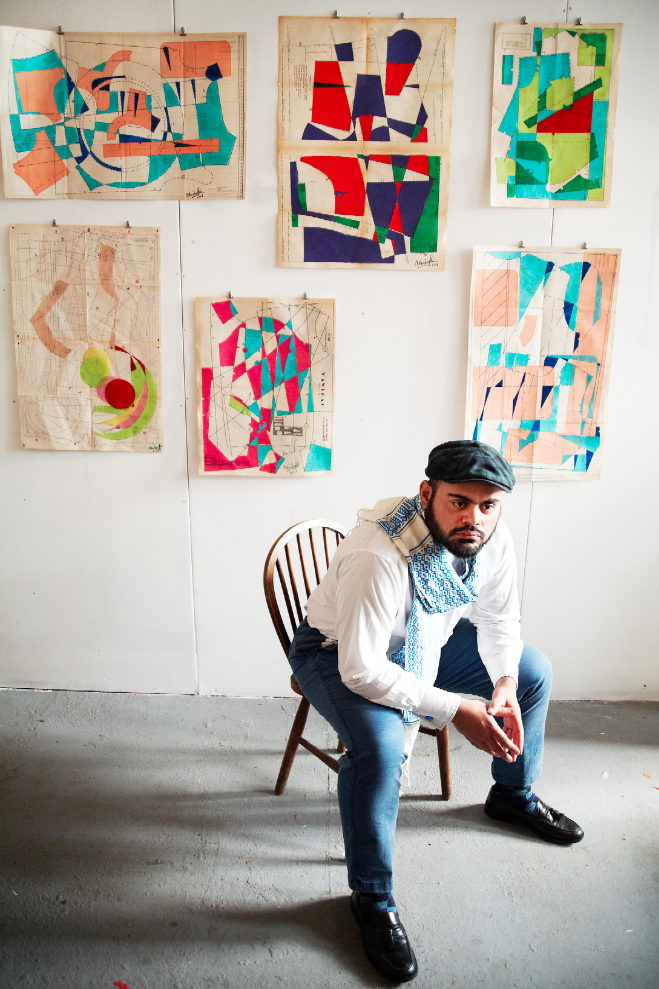 Hormazd Narielwalla
March 4 – 21, 2015
Timothy Everest, London
Today we announced that we will be presenting Hormazd Narielwalla's second solo show in London at the Georgian atelier of bespoke tailor Timothy Everest. This marks the debut of our new series of solo shows highlighting the work of exceptional emerging artists from all over the world who are part of Saatchi Art.
Hormazd, winner of Saatchi Art's Showdown Prize, uses bespoke Savile Row tailoring patterns, and their antiquarian and contemporary trade counterparts, to create artworks exploring the body in abstract form. His practice began in the workrooms of the tailoring firm Dege & Skinner in London's Savile Row, with an artist's book, Dead Man's Patterns (2008), which reflects on the bespoke suit patterns of deceased customers. Hormazd has worked with patterns from many sources, including 1970s luxury lingerie, antique magazine inserts, uniforms from the British Raj, and a 1920s tailoring manual. Freed from the function of the original pattern sheets, his artworks propose a new interpretation of tailoring patterns as abstracted drawings of the human form.
The venue for the exhibition couldn't be more fitting – a Georgian house in which one of London's most celebrated tailors transforms tailoring patterns into bespoke clothes for the likes of Gilbert & George and Tracey Emin.
"I've often said that tailoring is an art form," says Timothy Everest, "and now Hormazd Narielwalla has demonstrated the literal truth of that statement, with a series of works based on discarded tailoring patterns from establishments such as ourselves. He layers colored acetates and tissue paper onto various sections of the original pattern to form a dynamic abstract composition – a sort of bespoke bricolage."
Hormazd's first solo show in London, Study on Anansi, was exhibited by Sir Paul Smith in 2009. In 2013 Saatchi Art announced Hormazd as "One to Watch" and in 2014 he won the Saatchi Art Showdown Prize. His work has been commissioned by the UK Crafts Council for the national touring exhibit Block Party (2011) and Collect 13 at the Saatchi Gallery (2013). He exhibits regularly in London, and has shown work in Melbourne, Stockholm and Athens as well as at Scope Art Fair in New York (2010) and the India Art Fair, New Delhi (2014).
Other collaborations and associations include Centre of Possible Studies/Serpentine Gallery; Beams Tokyo; V&A Museum Shop; Artbelow; Jigsaw; Tiger of Sweden; Hyatt Regency London – The Churchill and CHART gallery. Hormazd's work is held in public and private collections worldwide, including the British Library; the National Art Library, INIVA; Fashion Institute of Technology, New York; and Parsons School of Art & Design, New York. Hormazd holds a PhD from University of Arts, London, and is the author of a biography of Master Tailor Michael Skinner, The Savile Row Cutter (Benefactum, 2011).
The exhibition will be open to the public from March 4 to 21.
Opening hours: 9am-6pm Monday through Friday and by appointment Saturday.
Timothy Everest Bespoke Atelier | 32 Elder Street London E1 6BT 
Media contact: Nicole Garton |  nicole@saatchiart.com  | +1 310.869.7797