Meet Vicky Barranguet — 2018 Fall Catalog Artist
We're thrilled to present to you Saatchi Art artist Vicky Barranguet. Several of her abstract expressionistic works are featured in our 2018 Fall Catalog, but there is so much more for you to discover within her portfolio. Read on to learn more about Vicky and follow the link to browse more of her artworks.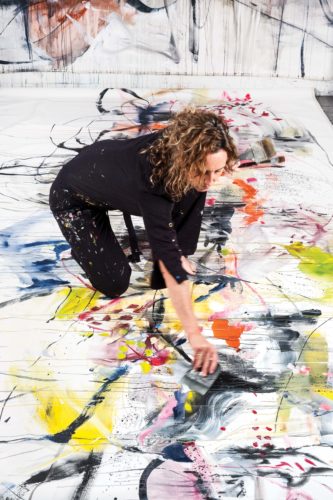 Vicky was born in Montevideo, Uruguay, and now lives and works in New York. Her large-scale works are inspired by her life, emotions, and music and constantly shift in style, sharing an underlying exploration of gesture, improvisation, form and space.
"I see the canvas as a mirror — a diary written in colors, interacting forms, and connecting lines that expresses what goes on in my life and in the world. " — Vicky Barranguet
Vicky has exhibited her works in solo and group exhibitions in New York, Miami, London, Paris, Shanghai, and Tokyo. In addition to her artworks being held in numerous corporate collections, most notably an 18-foot artwork for PwC's Park Avenue headquarters in New York, private collectors in North, Central and South America, Europe, and Asia have all collected her works. Vicky was featured by Saatchi Art for their Inside the Studio feature in 2016. Explore Vicky's portfolio here.