Meet Two New Sculptors to Keep an Eye On
Meet Kate Nelson and Valerie Wilcox. While these two artists share a medium, their practices remain distinctly unique concerning themes, materials, and approach to sculptural techniques. Both artists provided insight about communication, philosophy, and their practice.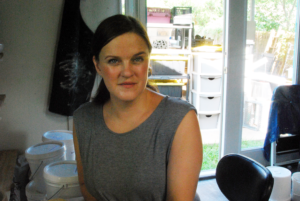 Kate Nelson points her early interest in art to a pivotal moment in the St. Louis Museum of Modern Art. After seeing Chuck Close's Keith, Anselm Kiefer's Breaking of the Vessels, and the work of Max Beckmann, Nelson was drawn to contemporary art. She pursued an MFA at Texas Woman's University, which brought ceramics, clay, and pottery to her attention. It didn't take long to realize that she preferred a hands-on approach to art, and eagerly began to make objects out of clay.
It wasn't only the process of creation that drew Nelson to the medium, but the created objects themselves. Nelson's works tell a story of a singular moment in time. Art is often physical manifestations of a particular moment, or feeling. They are compositions, literally, as they form or arrange parts into one whole.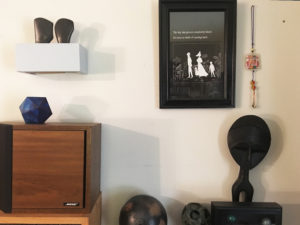 One of the joys Nelson experiences through her work is seeing collector reactions to a particular work. While the artwork may mean something personal to Nelson, it's powerful to view reactions to the sculptures. Her works seek to deconstruct the gestures and body language of human nature to a distilled, essential form. Although each artwork contains two or more sculptural elements, Nelson encourages collectors to play and arrange the elements as they please. Changing the position of a work can lead to a new perspective.
Nelson currently resides in Austin, Texas, and has received numerous invitations to exhibitions worldwide from her exposure on Saatchi Art. After years of working in the academic world, Nelson took a year off to build a private studio, study, relax and meditate on her next move. She believes that her artistic practice is headed towards a more complex direction, as she aims to produce works that engage in multiple conversations on many physical levels. Currently, her works include hand-made shelves, and she intends to employ more to create multiple interactions.
Valerie Wilcox always knew she wanted to be involved in the arts. She received her BFA from California State University in Long Beach majoring in Graphic Design, and later studied at the Art Center College of Design and Otis College of Art and Design. She is strongly influenced by the constructed environment, be it architecture, fashion, product, or interior design. This was exemplified by her career in graphic design, which leaned heavily towards packaging design.
Over time, she incorporated all of these influences into her fine art and started to move away from a two-dimensional approach toward three dimensions. She was interested in how objects are put together structurally, so she began creating a unique body of hybrid constructions/paintings. Working with remnants of other projects, wood and bits from demolished homes, cardboard, foam core, and fabric, she launched a series she calls "Constructs." These ambiguous and often surreal sculptures play with space, shadow, and light, emphasizing the materials and painted surfaces from which they are made.
With Constructs, Wilcox draws from both natural and man-made environments for inspiration. She engages the Japanese philosophy of Wabi Sabi; finding beauty and acceptance in the quirks and anomalies of imperfection and impermanence. In this way, she lends a new, re-imagined life to the humble materials she began with.
While looking at Wilcox's work, one is drawn not only to the sculpture itself, but the interplay of each element on the wall, and the texture of materials. For example, her "Sculptural Scribbles" series is a 3-D representation of a 2-D line drawing. She plays with ideas of space and perception, calling attention to shadows, movement, and shape. Move three feet to the left or right, and you perceive a very different artwork. As on paper, the lines of her sculpture are infused with energy and move as if an invisible hand has drawn them. The sculptures themselves are created using an armature made of aluminum wire covered in papier mâché, which she covers in graphite (or oil pastel), thus being literally graphite on paper – much like a drawing, but in a three-dimensional space.
For the coming year, Wilcox plans to continue exploring where she can push her sculpture as well as put more time into curating shows through the artist collective she's part of, Durden and Ray. She will be showing her work next month in Berlin at HilbertRaum and in Brisbane at TW Fine Art.
Interested in viewing more emerging sculptors on Saatchi Art? Go here.